27 February 2018
Series of town hall meetings to he held across the north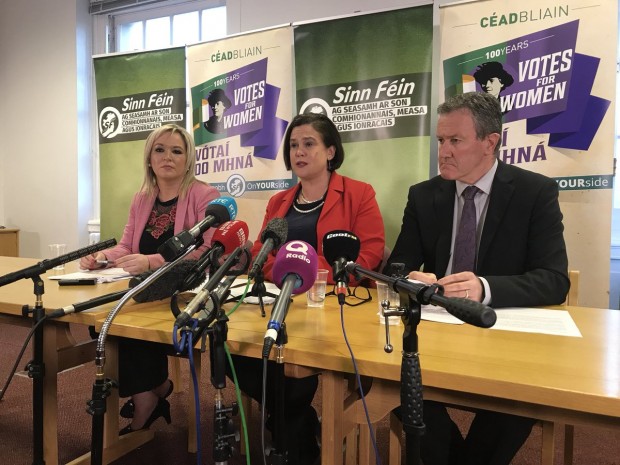 "I would encourage people to come along to their local meetings as we plan the way forward for this society and ensuring the two governments now move to convene the British Irish Intergovernmental Conference to ensure the full implementation of agreements and to protect and promote the rights of all citizens." - Michelle O'Neill
A series of town hall meetings will be held across the north this week to discuss the current political situation caused by the DUP's collapse of the negotiations to form an Executive recently. 
The meetings, organised by Sinn Féin, will see large public meetings held in venues across the north, addressed by senior Sinn Féin leadership figures. 
The series of meetings got underway last night in Dungannon and will continue throughout the week in Newry, Toome, Cookstown, Enniskillen, Derry, Ballycastle and Belfast. 
They will be addressed by a panel of Sinn Féin leaders including; Sinn Féin leader Mary Lou McDonald, vice president Michelle O'Neill, party chairperson Declan Kearney, MLAs Conor Murphy, Alex Maskey, Gerry Kelly, Carál Ní Chuilín, Elisha McCallion MP, Pearse Doherty TD and Seanadóir Padraig MacLochlainn. 
Encouraging as many people as possible to attend the meetings, Michelle O'Neill said: 
"We are the only party that regularly engages with the public in this way by holding Town Hall-type meetings to give citizens an opportunity to engage directly with the Sinn Féin leadership.
"These engagements will obviously be focusing on the current political impasse caused by the DUP's decision to collapse the power-sharing negotiations rather than accept rights which are afforded to citizens everywhere else on these islands.
"While the talks process has been collapsed, standing still is not an option. Citizens have rights, and we must continue campaigning and demanding that those rights are implemented and outstanding agreements honoured.
"I would encourage people to come along to their local meetings as we plan the way forward for this society and ensuring the two governments now move to convene the British Irish Intergovernmental Conference to ensure the full implementation of agreements and to protect and promote the rights of all citizens."
Full list of meetings
Monday 26th February 7.30pm The Junction Dungannon 
Panel: Michelle O Neill Alex Maskey 
Chair: Colm Gildernew.    
Tuesday 27th February 7.30pm Canal Court Newry 
Panel: Mary Lou Mc Donald Conor Murphy 
Chair: Megan Fearon. 
Tuesday 27th February 7.30pm O Neill Arms Toome 
Panel: Michelle O Neill Declan Kearney 
Chair: Anne Marie Logue.  
Wednesday 28th February 7.30pm Greenvale Hotel Cookstown
Panel: Michelle O Neill Gerry Kelly 
Chair: Linda Dillon.  
Wednesday 28th February 7.30pm Westeville Hotel Enniskillen 
Panel: Conor Murphy Declan Kearney 
Chair: Jemma Dolan.  
Thursday 1st March 7.30pm City Hotel Derry
Panel: Conor Murphy Padraig Mac Lochlainn 
Chair: Elisha Mc Callion.  
Thursday 1st March 7.30pm Marine Hotel Ballycastle
Panel: Michelle O Neill Caral Ni Chuilín 
Chair: Philip Mc Guigan   
Thursday 8th March 7pm Balmoral Hotel Belfast
Panel: Michelle O Neill Pearse Doherty 
Chair: Deirdre Hargy.