22 February 2018
Sinn Féin bill to establish digital safety office gains Government support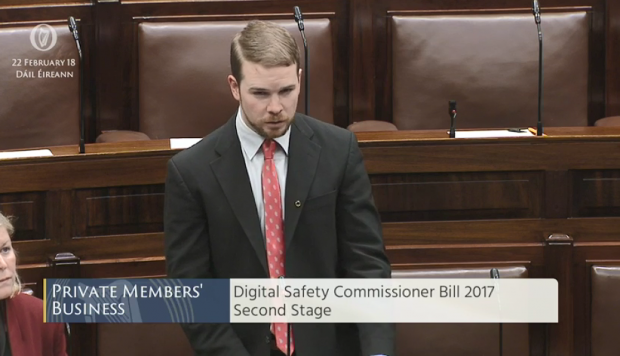 "I am delighted that Minister Naughton has supported this Bill. Some of the Taoiseach's comments in the recent past, have been quite equivocal on whether he would support such a proposal, so it was important to force the matter." - Donnchadh Ó Laoghaire TD
The Digital Safety Commissioner Bill, which was introduced by Sinn Féin's spokesperson for Justice Donnchadh Ó Laoghaire TD, has passed through to Committee stage after a debate in the Dáil earlier this evening.
The bill aims to establish the Office of the Digital Safety Commissioner which will have the responsibility for promoting digital safety online, reviewing and regulating harmful digital communications on the internet and other digital platforms. The intention of this is to establish safer and healthier attitudes for all users of digital platforms.
Deputy Ó Laoghaire has welcomed support from Communications Minister Denis Naughten TD for the bill.
The TD for Cork South Central said: "I am delighted that Minister Naughton has supported this Bill. Some of the Taoiseach's comments in the recent past, have been quite equivocal on whether he would support such a proposal, so it was important to force the matter.
"The Office of the Digital Safety Commissioner we believe is an absolutely crucial step in enhancing the protections available online, not only to young people, but to all."
The bill intends to promote a positive online culture in a way that makes the internet, apps and other related technologies and platforms, safer and hospitable for users.
It is not intended to as an office solely responsible for child protection functions, but the office could deal with issues such as online abuse, harassment, hate speech and other related incidents.
Deputy Ó Laoghaire continued: "The office would be responsible for the promotion of digital safety for all, supporting and implementing measures to improve digital safety.
"Crucially, it would be responsible for ensuring digital service providers, such as websites, social media platforms, and apps, and so on, abide by minimum Codes of Practice, and National Digital Safety Standards. Central to this would be 'takedown mechanisms' to remove harmful communications."
The bill also proposes to establish an advisory committee on a statutory basis, which would be made up largely by members of civil society organisations as well as representatives from industry groups, government departments, and Children & Youth organisations. The committee would give regular feedback to the Commissioner on changes in online platforms and technology and to inform how best to tackle issues.
Deputy Ó Laoghaire concluded: "Online safety, including online bullying, which is an issue that is becoming ever more prevalent amongst adolescents; or the posting of harmful materials, are some of the biggest child protection issues of this generation.
"I look forward to Committee Stage and hope both Minister Naughten and the Government will work with us to get this bill through the Houses in a prompt manner."