20 February 2018
Sinn Féin calls for immediate government action on vulture funds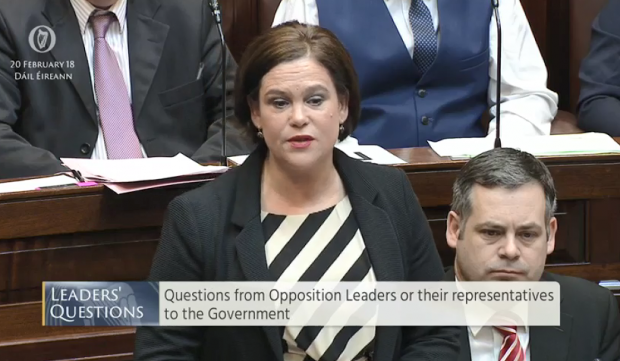 "Fine Gael and Labour in government refused to support Sinn Féin in making sure vulture funds were fully regulated. Fianna Fáil also failed to support our proposal. In fact, they didn't even bother turning up for the vote." - Mary Lou McDonald TD
Sinn Féin President, Mary Lou McDonald TD, has called upon the Taoiseach Leo Vardakar to protect homeowners from having their domestic mortgages sold to vulture funds.
 Speaking in the Dáil this afternoon, at her first Leader's Questions since being elected as Uachtarán Shinn Féin, Teachta McDonald discussed how state owned bank Permanent TSB is preparing to sell 20,000 mortgages to vulture funds and how officials from the Department of Finance met with vulture funds sixty times in less than two years under the watch of former Minister Michael Noonan.
 Teachta McDonald said: "The Minister for Finance, Paschal Donohoe is the majority shareholder of Permanent TSB. It is shameful that you are allowing him to abdicate his responsibility to protect these mortgage holders.
 "It also exposes a lack of concern for those affected. You are standing by as 20,000 families are thrown to the mercy of international profiteers. These are ordinary working people who are already suffering significant stress and strain - citizens who deserve far better from you."
 Vulture funds are run by private equity firms and hedge funds and they buy loan books at massive discounts and then try to maximise their profits as fast as they can.
 Vulture funds have bought up a huge amount of distressed assets from both domestic and foreign banks which were set up in Ireland during the Celtic tiger era and left when the recession hit.
 In 2015, Sinn Féin introduced an amendment bill to ensure regulation of vulture funds but this was voted down by Fine Gael and Labour while Fianna Fáil was not present for the vote.
Teachta McDonald continued: "Fine Gael and Labour in government refused to support Sinn Féin in making sure vulture funds were fully regulated.
"Fianna Fáil also failed to support our proposal. In fact, they didn't even bother turning up for the vote. The hypocrisy is odious as Fianna Fáil now pretends to champion the very people they helped feed to the vultures three years ago.
"On the watch of former Minister Michael Noonan, officials from the Department of Finance met with vulture funds sixty times in less than two years."
The Dublin Central TD advised the Taoiseach to contact Permanent TSB to tell them that the government would not permit the sale of the 20,000 mortgages, and to issue direction to the banks and NAMA stating that no domestic mortgages should be sold to a vulture fund.
Teachta McDonald said: "To deal with the current situation, you can support the legislation tabled by Sinn Féin to protect the homeowners affected by sales to vultures by fully regulating the actual owner of the credit.
"Will you make that phone call? Will you support Sinn Féin's legislation? And will you issue that direction to the banks and NAMA?"