20 February 2018
The road between Aughnacloy and Emyvale
"The British government should be cooperating with the McAnespies and all the other families from every section of society whose loved ones were killed as a result of decisions and actions on behalf of the British state." - Declan Kearney
Saorlaith passed her driving test a few weeks ago.
She's now in her last year at the 'Ranch', on placement at Gaelscoil an tSléibhe Dhuibh and loving every minute of it: she's a Gaeilgeoir and also a good Gaelic footballer.
She was raised to be proud of her Irish cultural traditions and national identity, and to be very respectful of other traditions and identities.
Last weekend she asked for directions to go to a party in Emyvale.  I told her to drive through Aughnacloy.
After she left, I started thinking… about that road between Aughnacloy and Emyvale.
Thirty years ago Aughnacloy was a much different place. It was a heavily militarised border post between counties Tyrone and Monaghan.
This week in 1988 Aidan McAnespie was murdered by the British army as he walked through the permanent military checkpoint towards a football match.
I remember that day well.
Aidan was 23 years-old. He played football with Aghaloo O Neill's GAC.  He was also continuously threatened and harassed by the British army.
His sister Eilish had stood as a Sinn Féin council candidate.  Aidan worked on her election campaign.  For many years Eilish lead a campaign to get  truth and justice for Aidan and the family, until she herself died too young from illness.
The McAnespie clan is steeped in the GAA.  They are strong Gaels and cherish their Irish identity.
Vincey McAnespie, Aidan's brother is married to Brenda.  She had an outstanding Emyvale club and Monaghan county football career, and was also a Sinn Féin county councillor.
Now their children Aoife, Ciara and Ryan all play senior county football with Monaghan.
Maybe the old Aughnacloy British army checkpoint was no worse than many of the others which existed during the war, but the received wisdom in the day was to avoid Aughnacloy if possible.
Even some years after the permanent checkpoint was dismantled, as the peace process began to consolidate, I remember coming upon a British army foot patrol, not far from where Aidan was shot dead, and being subjected to a very 'heavy' search.
He was killed on 21 February 1988, a few months before the SDLP and Sinn Féin talks were revealed.  He never got to see the peace process begin.  He never got to see that permanent British checkpoint dismantled.
He never got to walk the road between Aughnacloy and Emyvale unhindered.
Since Aidan McAnespie was killed with a British army machine gun his family has never had justice or truth.
And that is exactly what I said directly to the British Prime Minister Theresa May in Stormont House last week, when I, Michelle O'Neill, Mary Lou McDonald and Conor Murphy met her and the British Secretary of State, and their officials.
The meeting occurred on the 29th anniversary of Pat Finucane's murder.  I also reminded Theresa May that Pat's family is still campaigning for a full independent inquiry into his killing by a British state-sponsored death squad.
Earlier we raised Aidan's case with Leo Varadkar and Simon Coveney and called on An Taoiseach to fully disclose the Crowley Report on his killing.
The previous week Michelle O'Neill asked An Tánaiste to meet with the McAnespie family.  He said he would do that.
Today young Gaels and Gaeilgeoirí can expect to pass safely without hindrance through Aughnacloy to attend parties, play football and live their lives.
Thirty years on Aidan's nieces and nephews don't face the same daily threats which he endured as they continue to excel in their own football careers.
That is how it should be.
But the McAnespie family is also still campaigning to get justice and truth for Aidan.
That is not how it should be!
During the most recent negotiations Sinn Féin secured commitments from the British government to release the legacy inquest funding requested by the Lord Chief Justice, and to commence the consultation on legacy legislation.
Notwithstanding the DUP decision to collapse the latest negotiations, the British government now should honour those commitments.
It should also end its veto on maximum information disclosure on the past actions of its forces and agents.
The British government should be cooperating with the McAnespies and all the other families from every section of society whose loved ones were killed as a result of decisions and actions on behalf of the British state.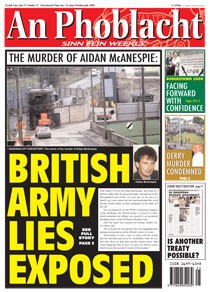 The Irish government should actively support the McAnespie's campaign, meet with the family and release the report of Deputy Garda Commissioner Eugene Crowley into the shooting of Aidan McAnespie.
Saorlaith is a year younger than Aidan McAnespie when he was killed 30 years ago.
He would have been 53 this week.
It is time that he and his family got truth and justice.