13 February 2018
Ó Broin calls for Taoiseach to implement urgent affordable rental scheme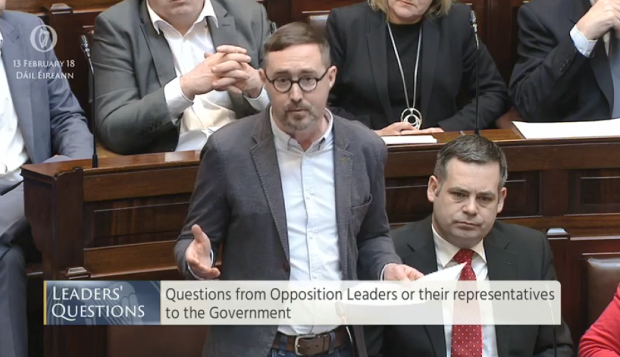 "The reality is that this government doesn't really care about tenants. Ordinary people are paying up to 50% of their income on rent in Dublin and Cork." - Eoin Ó Broin TD
Sinn Féin spokesperson for Housing, Eoin Ó Broin TD, speaking in the Dáil this afternoon has called on the government to urgently roll out an affordable rental/cost rental scheme.
This comes after a report published by Daft.ie showed that the average rent is now €1,227 per month, with Dublin rents now 26%, or €4,500 a year, higher than their previous high in 2008.
Addressing the Taoiseach Leo Varadkar, Deputy Ó Broin, pointed out that in December last year, An Taoiseach Leo Varadkar told the Dáil that 'Rent Pressure Zones' were working and that 60% of renters had the assurance that their rent cannot rise by more than 4% per year.
The Dublin Mid-West TD described Taoiseach Varadkar as being "out of touch" with renters and questioned whether the fact that so many of his parliamentary party members are landlords, is blinding him from the plight of tenants.
The report by Daft.ie confirms that after a year since 'Rent Pressure Zones' were introduced; rents have increased by 10%. This is the seventh report on rent increases published in the last 12 months. Four reports from Daft.ie show rent increases above the 'Rent Pressure Zone' 4% cap. Three ESRI/RTB reports also show rent increases above the 4%.
Deputy Ó Broin said: "The reality is that this government doesn't really care about tenants. Ordinary people are paying up to 50% of their income on rent in Dublin and Cork. 
"The government's solution is to avoid rolling out a comprehensive affordable rental scheme and to continue to convince them that the private market will provide sustainable tenancies."
Since 2011, rent prices have increased by 65% and they are now 19% higher than at the peak of the housing boom. Deputy Ó Broin questioned the Taoiseach on how ordinary people were going to be able to afford this.
He continued: "Young working people, average income couples, students, later in life couples – does the Taoiseach really believe that these people can afford such excessive rents?
"Have their incomes increased by 65% since 2011? Maybe you think they should ask their parents for the rent? Taoiseach your 'Rent Pressure Zones' are not working. We need real rent certainty measures to be urgently introduced to provide some relief to renters."