24 January 2018
Government challenged on building standards for homeowners and council tenant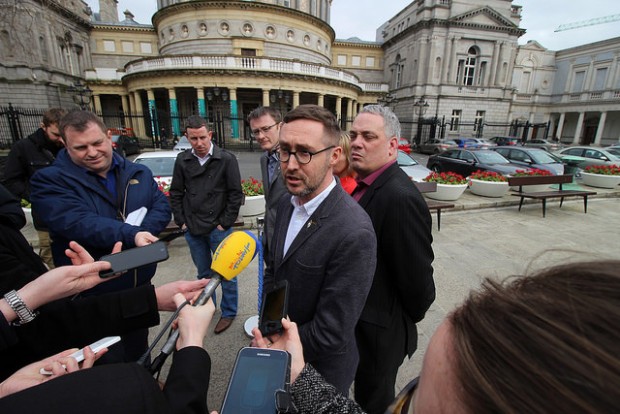 "The government needs to recognise and accept responsibility for the failures of oversight in the past. Consumers must be provided with greater legal protections when they purchase a home. A redress scheme to assist home owners with latent defects should be established. Mandatory latent defects insurance and a range of law reforms including transferable warranties should also be introduced." – Eoin Ó Broin TD
The Oireachtas housing committee has today published a report authored by Sinn Féin Housing Spokesperson Eoin Ó Broin TD. 
The report, titled 'Safe as Houses', seeks to ensure better compliance with building standards for council tenants and homeowners while also strengthening consumer protections.
The Dublin Mid-West TD has called on the Government to act on the recommendations contained in the report.
Speaking at the launch, Ó Broin highlighted that "for most people, the purchase of a home or the signing of a council tenancy is one of the biggest commitments they will make in a lifetime. As residential construction resumes in this State, we need to ask if the current building control system in place is robust enough and if consumers are sufficiently protected."
Among the key proposals outlined in the report is the creation of a Building Standards and Consumer Protection Agency. The agency would work with local authorities on the issue of applications for building regulations across the State.
The report comes days after Housing Minister Eoghan Murphy launched a proposal for creating more affordable housing, which fell flat on delivery.
The new scheme allows first time buyers to breach the lending rules of the central bank in order to buy overpriced homes, but fails to actually offer a mechanism that delivers affordable housing.
At a time when the housing crisis continues to spiral out of control, the government routinely fails at each opportunity to tackle the crisis at each turn.
This includes repeatedly failing to legislate for an affordable housing scheme, which the government agreed to in 2014. The only follow up to this from the Fine Gael led government is that there will be a pilot scheme at some undefined point in the future.
Struggling renters continue to ask themselves why this is taking so long to get off the ground.