24 January 2018
New round of talks begins at Stormont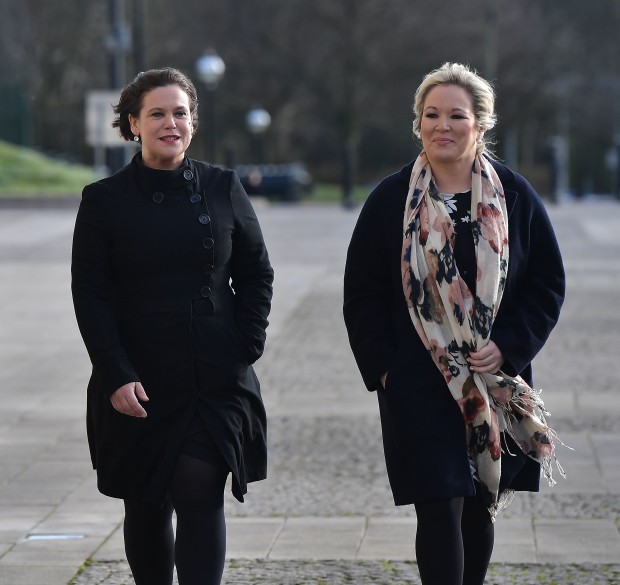 "The public want these institutions to work but they will only work if the people have confidence in them." - Michelle O'Neill
A new round of talks got underway at Stormont today with Sinn Féin leader in the north Michelle O'Neill stating the party is entering negotiations to try to secure genuine power-sharing. 
Sinn Féin President-elect Mary Lou McDonald joined the party's negotiating team at Stormont for talks with the recently appointed British Secretary of State, Karen Bradley. 
It was Mary Lou McDonald's first visit to Stormont since being named as party President-elect on Saturday. 
Irish government minister Simon Coveney was also in Belfast for the meetings with the five main political parties at Stormont's Parliament Buildings. 
Speaking ahead of the meetings, Michelle O'Neill said her party's negotiating team are prepared for a "short, sharp phase of negotiations." 
"Sinn Féin said we will enter these negotiations in order to try and resolve the issues at the heart of the current political impasse," she added. 
"Issues like marriage rights, language rights, the Bill of Rights and legacy inquests should not be politically contentious.
"They should be issues that we are able to resolve here as part of the current discussions.
"We believe that the biggest threats facing this Executive are Brexit and Tory austerity and that the institutions are the best mitigation against those twin threats," she added. 
Michelle O'Neill also said that only genuine power-sharing institutions could command the confidence of the electorate. 
"The public want these institutions to work but they will only work if the people have confidence in them.
"The way to achieve that is to work for genuine power sharing and political institutions operating on the principles of mutual respect and equality," she said.