18 January 2018
Sinn Féin TD's call on Government to reverse inequitable changes to state pension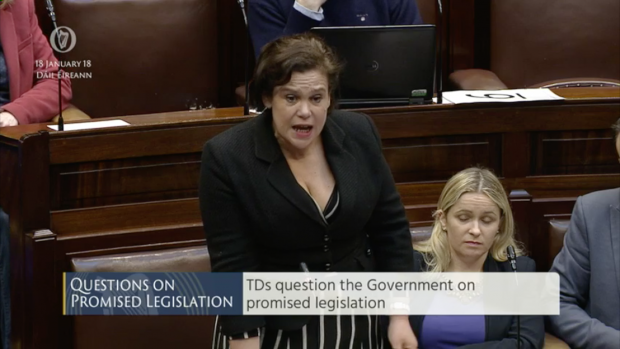 "It is time for the over 42,000 people who are wrongly in receipt of reduced State Pensions to receive what they are entitled to from this Government." - John Brady TD
Sinn Féin TD's Mary Lou McDonald TD and John Brady TD have today called on the Government to reverse the discriminatory 2012 changes to the state pension, which were introduced by the Labour Party's Joan Burton and have disproportionately impacted on women, with some losing up to €30 a week in their payment.
By changing the eligibility criteria for the higher pension rates, the Government made it more difficult for people with irregular Social Insurance contributions to get a decent pension. The fact that the vast majority of people affected by these changes were women, has added to an already serious inequality between the pensions of men and women.
Speaking during Leaders Questions in the Dáil this afternoon, the Dublin Central TD said: "People who are being discriminated against when it comes to the state pension are today protesting outside the Dáil again, to demand full restoration of their pension entitlement. Some are losing out on nearly €30 a week as a result of changes introduced in 2012.
"This discrimination disproportionately affects women who exited the workforce to raise children and look after families, and who then returned to employment later in life to qualify for the maximum payment. These changes hurt some men too.
"The Fine Gael led Government of the day made these changes in the full knowledge of the weekly cut to payments and that the change would disproportionately impact women.
Sinn Féin has called on Government on numerous occasions since 2012 to sort this out.  In December 2016 the party brought forward a Dáil motion to address this injustice, and that was rejected by Fine Gael and Fianna Fáil. 
Teachta McDonald continued: "The Government is now considering some partial restoration. The Minister for Social Protection has acknowledged that these citizens have been wronged and whilst she has vowed to fix it, she has expressed the view that something magical will have to happen to find the money.
"This is the Government who infamously conjured up €5 million to fund the Taoiseach's vanity project in the form of the Strategic Communications Unit, and could find financial space to introduce tax cuts that disproportionately benefited higher earners.
"Sinn Féin's 2018 Budget proposals demonstrated how the €70 million necessary to correct this injustice could be found. The Government's job now is to provide a solution to right this wrong."
The party's spokesperson on Employment Affairs & Social Protection, John Brady, commended all those who travelled to Leinster House today to make their voices heard for pension equality and fairness.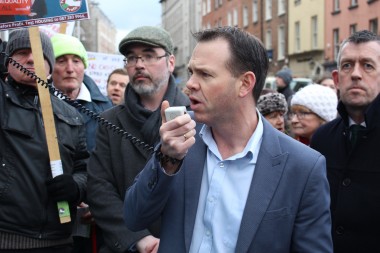 John Brady TD addressing the crowd outside Leinster House this afternoon
Addressing the crowd, Teachta Brady said: "It is time for the over 42,000 people who are wrongly in receipt of reduced State Pensions to receive what they are entitled to from this Government.
"We know that the changes made to the State Pension in 2012 have directly caused this anomaly and this cannot be allowed to continue. If it does continue, then a further 8,000 people will retire on reduced pension payments every year, adding to the figure already of over 42,000."