25 November 2017
Mary Lou McDonald will lead Sinn Féin into any Dáil election, says Pearse Doherty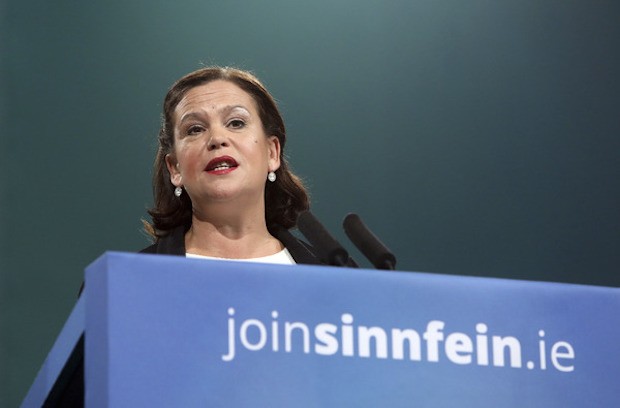 Tánaiste Frances Fitzgerald 'failed to step up' when Garda chiefs tried to smear whistleblower Maurice McCabe
MARY LOU McDONALD will lead Sinn Féin into the Dáil general election if the crisis caused by Fine Gael's mishandling of the Garda Sergeant Maurice McCabe scandal forces the collapse of Taoiseach Leo Varadkar's Government supported by Fianna Fáil and Independents.
 "Mary Lou McDonald will lead the campaign if there is to be one," Donegal TD Pearse Doherty told reporters at Leinster House on Friday afternoon.
He said that as Gerry Adams announced at last weekend's Sinn Fein Ard Fheis that he would be standing down as leader and would not be seeking re-election as a TD in Louth/Meath East, it is automatic for Mary Lou McDonald as deputy leader to head the campaign.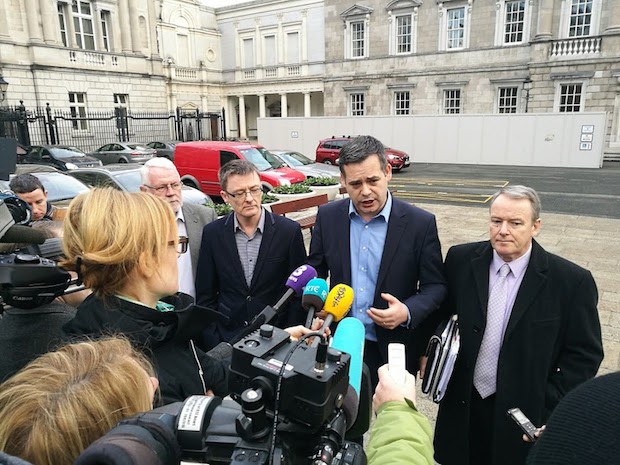 ● Pearse Doherty with fellow Sinn Féin TDs Martin Ferris, David Cullinane and Brian Stanley
Pearse Doherty said it is Sinn Féin's job as the Opposition to hold this "dysfunctional" Government to account. This is what the party is doing because Tánaiste Frances Fitzgerald "failed to step up" when Garda chiefs tried to smear Garda whistleblower Maurice McCabe when she was Justice Minister.
He said that Sinn Féin did not move the motion of 'no confidence' (followed by Fianna Fail's almost-identical motion later) to trigger an election. If one comes, however, then the party will campaign on not just ministerial accountability but on housing and homelessness, the state of the health service and climate change among other key issues affecting families daily.
He added, though, that an election on this issue could still be avoided if the Taoiseach sacks the Tánaiste or she resigns.
He said that Sinn Féin has no intention of putting a motion of 'no confidence' in current Justice Minister Charlie Flanagan "at this time" but this could change if further information came into the public domain that called into question Minister Flanagan's actions.
"If this Government wants to avoid an election then what Leo Varadkar needs to do is ensure that Frances Fitzgerald goes because she does not enjoy the confidence of the majority of the Dáil," Pearse Doherty insisted.