27 November 2017 Edition
We need to talk about Liam
Liam Cosgrave (13 April 1920 to 4 October 2017), Taoiseach 1973 to 1977, Leader of Fine Gael 1965 to 1977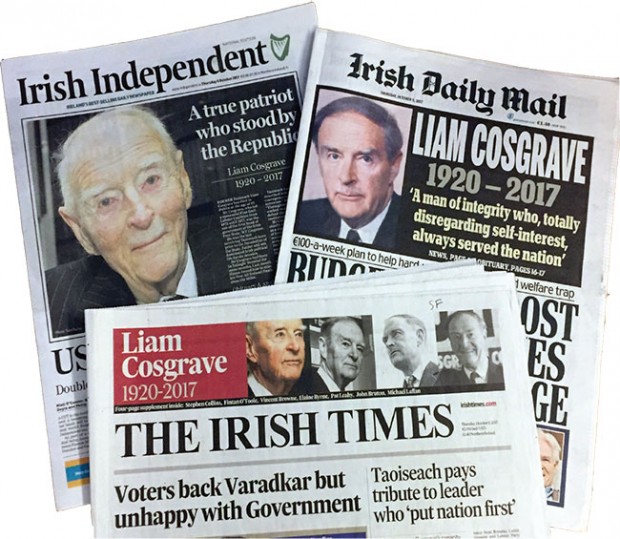 Cosgrave stood over people being beaten and tortured in police custody by the notorious Garda 'Heavy Gang'
"TODAY a grateful country thanks and honours him for always putting our nation first." I wonder just what Fine Gael leader and new Taoiseach Leo Varadkar meant in his endorsement of the deceased Fine Gael leader and former Taoiseach, Liam Cosgrave. 
And how could the Irish Daily Mail and Irish Independent respectively describe Cosgrave as a "real" or "true" patriot when his record in power was one of conservative repression, undermining the office of the President, endorsing Garda brutality, standing over political censorship and practising a denial of social justice. 
Liam Cosgrave, son of William, first President of the Free State, grew up in a life of privilege that few Irish people would recognise as being relevant to their daily experiences. Cosgrave's political record is one of failure to remove the political, social and economic conditions that created conflict on this island during his time as Taoiseach. 
With Cosgrave's passing, all of the Taoisigh elected during the conflict years are now dead. 
Lynch, Cosgrave, FitzGerald, Haughey and Reynolds were in power from 1969 when British troops were deployed on to the streets of the North up until the 1994 IRA cessation. It was Reynolds alone that had the vision and ability to support a peace process in Ireland, to not go down the road of more repression.
Cosgrave's political career was a very different one to Reynolds. 
As Fine Gael leader in 1970, members of the Garda leaked information to him on the alleged role of then Fianna Fáil ministers Charles Haughey and Neil Blaney in enabling weapons be sent to defend Northern nationalist communities under attack from unionist sectarian mobs aided and abetted by the Stormont state's paramilitary police forces in the Royal Ulster Constabulary.
Cosgrave tried to have the Sunday Independent publish the story but ultimately he met with then Fianna Fail Taoiseach Jack Lynch, who sacked Blaney and Haughey. The two were brought to court but eventually acquitted of all charges.
In December 1972, just weeks after the Offences Against the State Act had been passed, a British MI6 (Secret Intelligence Service) officer, John Wyman, and Garda Detective Sergeant Peter Crinnion were arrested. Crinnion had been a British spy. In the subsequent years of Cosgrave's government there was no attempt to follow up and question the role of British Intelligence in Ireland and their penetration of Garda headquarters. 
In 1972, Cosgrave defied his own party in supporting a new Offences Against the State Act, legislation that would erode civil rights in our 'nation'. A key measure was to create the non-jury Special Criminal Court, used almost exclusvely to jail republicans. 
In 1976, Cosgrave's Government – in coalition with Brendan Corish's Labour Party from 14 March 1973 to 5 July 1977 – passed an Emergency Powers Act which allowed the Garda to hold suspects for seven days before being charged with an offence.
• (clockwise from left): Taoiseach Liam Cosgrave, Posts and Telegraphs Minister Conor Cruise O'Brien, and Defence Minister Paddy Donegan
News media commentators have talked of Cosgrave's support for "constitutional nationalism". It was a trait missing when he allowed Defence Minister Paddy Donegan to describe President Cearbhall Ó Dálaigh as "a thundering disgrace" at a Defence Forces function in Mullingar. The office of the President was not part of Cosgrave's constitutional Ireland when he didn't toe the Cosgrave regime's hardline.
Like his father (who introduced the 1923 Censorship of Films Act and the 1929 Censorship of Publications Act) Cosgrave actively supported censorship. An Phoblacht editor Éamonn Mac Thomais was jailed during Cosgrave's premiership.
The notorious Conor Cruise O'Brien, a Labour Party TD, was the Minister for Posts and Telegraphs in the Cosgrave Government who relentlessly imposed broadcasting censorship, keeping files on critics of the unionist Stormont regime's as well as his own administration and was ever-eager to suppress free speech.
There were vicious loyalist bombings in Dublin in 1972 and in Dublin and Monaghan in 1974, which clearly had the aid and approval of British Intelligence and which the British Government continues to withhold its files on.
Cosgrave's 1974 response was that "everyone who has practised or preached violence or condoned violence must bear a share of responsibility for today's outrages".
A foreign government was interfering in and manipulating Irish state politics – as well as murdering its citizens – yet Cosgrave did nothing. Could he not see that the same forces undermining the failed Sunningdale Agreement were active in destabilising the Southern state? The only enemy Cosgrave saw was the IRA.
Cosgrave stood over people being beaten and tortured in police custody by the notorious Garda 'Heavy Gang' in what even the Irish Times headlined in one report as "Gardaí using North-style brutality in interrogation techniques". 
In his last ard fheis address as Fine Gael leader, in 1977, Cosgrave attacked critics, thundering that "Not for the first time has this party stood between the people of this country and anarchy". He went on to attack public detractors, crying that "Some of them aren't even Irish!", going on to call them "blow-ins" who could "blow out or blow up". 
Leo, we need to talk about Liam.