18 November 2017
Fianna Fáil plays at opposing Fine Gael but Fianna Fáil pact with Fine Gael keeps Leo Varadkar in power, Mary Lou says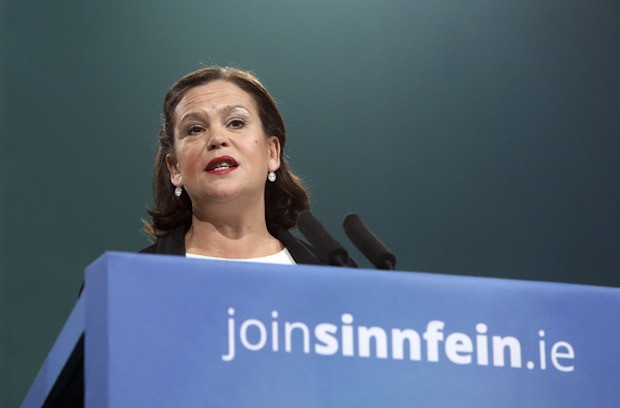 Occasional sham fight, a bit of political horseplay between Leo's lads and Mícheál's lads . . .
FINE GAEL and Fianna Fáil have monopolised power for almost one hundred years, and all the talk of 'new politics' "only emphasises that there is nothing new in Fine Gael and Fianna Fáil monopolising power", Mary Lou McDonald has told the Sinn Féin Ard Fheis.
The 'Confidence & Supply' pact between Fine Gael and Fianna Fáil in the Dáil "serves only to confirm the political establishment's indifference and inability to act in the interests of the many", the Dublin Central TD said on Saturday.
New Taoiseach Leo Varadkar presides over a housing emergency which has left thousands homeless and has moved home ownership beyond the reach of an entire generation, she said.
Leo Varadkar is a Taoiseach who tries to deny and minimise the scale of this emergency, Mary Lou maintained, adding that he is the same Taoiseach who "fights the corner of Corporate Tax avoidance, who defends a sweetheart deal with banks to avoid paying Corporation Tax for decades" and "this Taoiseach says that I'm 'cranky'", adding:
"Leo, you haven't seen 'cranky' – not yet."
Mary Lou continued:
"Of course, Leo couldn't get away with all of this, but for Mícheál Martin and Fianna Fáil.
"You see, Micheál is not 'cranky'. In fact he is very accommodating. Obliging. Docile, even.
"The occasional sham fight, a bit of political horseplay between Leo's lads and Mícheál's lads – that's all just a necessary part of the game of make-believe that Fianna Fáil is a party of opposition.
"None of the contrived political drama of so-called new politics can hide the fact that Fine Gael and Fianna Fáil between them have failed in Government.
"That they continue together to fail in Government.
"Unlike them, we are committed to ending family homelessness and to delivering social and affordable homes for working families.
"Sinn Féin wants to invest in bricks and mortar, delivering social and affordable homes for families.
"Fianna Fáil and Fine Gael want to line the pockets of private landlords.
"And, unlike them, we are not afraid to take on the vested interests, the insiders' culture or white-collar crime."
Sinn Féin represents real new politics, she said.
"We believe in getting things done.
"We have the policies and people to deliver political decisions that will transform Ireland's future and deliver economic stability that lasts.
"Equal opportunities deliver economic stability.
"To those watching in at home this is our pledge to you.
"Táimid ar do thaobhsa.
"We are on your side.
"Join with us in the journey to a new Ireland."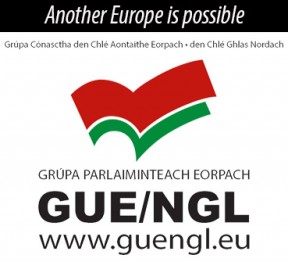 An Phoblacht on Twitter
Premium Online Service For Only €10 Per Year
For less than €1 a month, you get An Phoblacht's Premium Online Service. Sign up today!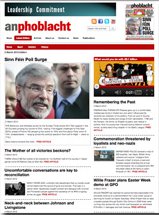 PREMIUM SERVICE:
Full access to all An Phoblacht articles
Interactive online PDF Booklet of each edition
Access to our historic Archives
Discounts for the Online Sinn Féin Shop
An initiative for dialogue 
for reconciliation 
— — — — — — —
Contributions from key figures in the churches, academia and wider civic society as well as senior republican figures