18 November 2017
We are open to engaging with unionism on their vision for the future, Michelle O'Neill says at Ard Fheis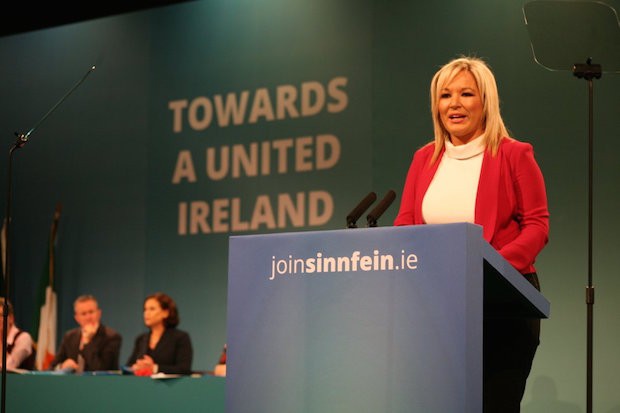 'I believe that Irish unity, on the basis of equality, offers the best future for all the people of this island'
REPUBLICANISM and unionism "must reach a sustainable compromise through respectful dialogue, premised on anti-sectarianism, that will move us beyond the impasse of the present into a brighter future", Michelle O'Neill, the Sinn Féin leader in the North, told her party's Ard Fheis in Dublin on Saturday.
"To achieve that," the Mid Ulster MLA said, "we must explore how we can accommodate each other's aspirations in a manner that does not demand the surrender of cultural or traditional identity.
"I believe that Irish unity, on the basis of equality, offers the best future for all the people of this island.
"Therefore, it is my responsibility to spell out to unionists what sort of united Ireland we as republicans seek and to reassure the unionist people of their place in an Ireland of equals.
"Whilst we demand the entitlement to persuade for our vision of a united Ireland, we are also open to engage with unionism on their vision for the future too.
"Because one thing is for certain – the political landscape is starting to dramatically change.
"The onus is on us to shape that change by organising and intelligently making the case for unity and for a referendum as set out in the Good Friday Agreement."
She continued:
"There is an onus and responsibility on republicans and 'United Irelanders' to persuade others and win hearts and minds to the merits of reunification and how it is in all our best longer-term interests.
"We must advocate for it, campaign for it, and win the debate for it."