15 November 2017
Murdered councillor's family meet Brokenshire in Westminster with Sinn Féin MPs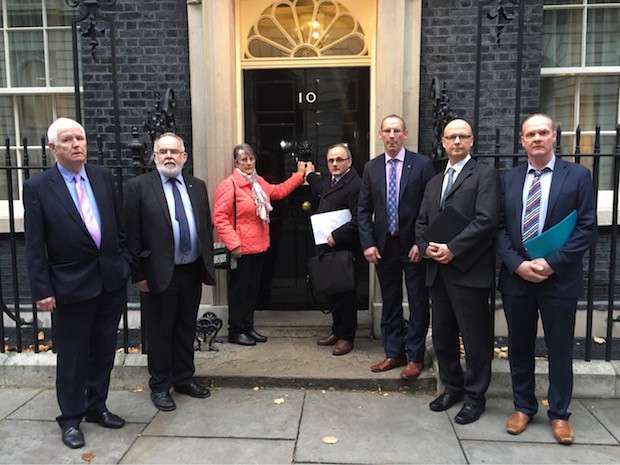 'The British Government must face up to its role and responsibility for the actions of British state forces and their loyalist proxies' – Barry McElduff MP
THE FAMILY of a County Tyrone Independent councillor found murdered in 1974 and last seen alive at an Ulster Defence Regiment checkpoint met British Secretary of State James Brokenshire in Westminster on Tuesday to press their case for the truth.
Relatives of Councillor Patsy Kelly were accompanied in Westminster by Sinn Féin MPs Barry McElduff and Francie Molloy.
The family also presented a petition to Brokenshire over the Ministry of Defence's refusal to co-operate or meet with the family about the role of the British Army's UDR on the night.
Although the killing was claimed by the Ulster Defence Association under its cover name of the Ulster Freedom Fighters, many nationalists believed members of the Ulster Defence Regiment were directly involved in the abduction and murder.
The Royal Ulster Constabulary was accused of not properly following up the police investigation and of colluding with the Ulster Defence Regiment to protect his murderers.
The Kelly family have been frustrated in their attempts to legally compel the PSNI to allow an independent investigation into the circumstances of Patsy's death.
In January 1999, the family said they had been told that former UDR soldier David Jordan (who died in 2001) had broken down in a public house and confessed to involvement in the killing. He had also reportedly named other members of the UDR as having been involved.
Barry McElduff MP said after Tuesday's meeting in London:
"Today was an important step in the Kelly family's 43-year-long campaign for truth and justice.
"While our engagement with James Brokenshire was important, the continued refusal of the British Ministry of Defence to even respond to the Kelly family's repeated request for information or to agree a meeting signals a staggering level of arrogance and disrespect towards the Kelly family.
"The British Government must face up to its role and responsibility for the actions of British state forces and their loyalist proxies."
PATSY KELLY was a farmer who had taken over a pub in the village of Trillick. A Civil Rights Movement leader, he was also an elected Independent councillor.
Patsy (pictured on his wedding day) went missing on the way home from work at the Corner Bar in Trillick on 24 July 1974. His white Mazda car was later found burned out.
Bloodstains, shirt buttons and cartridge cases were found on the Badony Road about two miles from the County Tyrone village, where he is believed to have been abducted by his killers.
Fishermen found Patsy's body three weeks later, ten miles away, in Lough Eyes, near Lisbellaw in County Fermanagh.
He had been shot four times and his killers had used nylon rope to tie two 56-pound weights to his body before dumping it in the lough.