12 November 2017
Gerry Adams in phone call with Prime Minister Theresa May reiterates British Government obligations
'If power-sharing and the Good Friday Agreement are to mean anything, then these rights-based issues must be implemented'
THE British and Irish governments must implement outstanding rights issues from the Good Friday Agreement and agreements made since, Gerry Adams has told British Prime Minister Theresa May in a 20-minute phone call.
Gerry Adams was joined in the phone call on Friday with Michelle O'Neill MLA and Mary Lou McDonald TD while the three were attending the annual Friends of Sinn Féin fund-raising dinner in New York.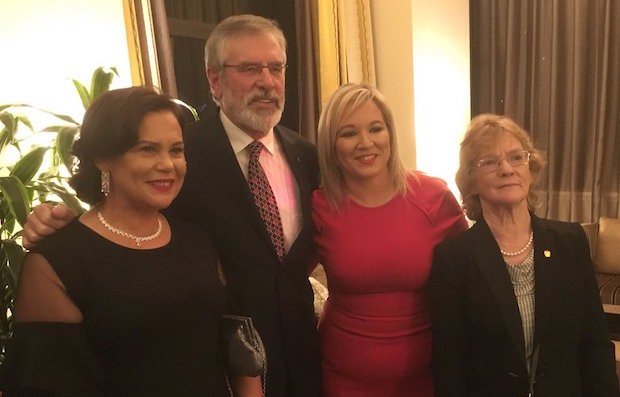 ● Mary Lou McDonald TD, Gerry Adams TD, Michelle O'Neill MLA and Rita O'Hare (Sinn Féin's representative in the US) at the Friends of Sinn Féin annual fund-raiser in New York
Gerry Adams said that Sinn Féin has worked closely with the DUP and the British and Irish governments over recent weeks to find solutions to the current impasse to restore power-sharing and the political institutions at Stormont.
Sinn Féin was flexible and willing to stretch itself in an effort to achieve a breakthrough, he said, but "despite our best endeavours" the discussions were unsuccessful.
Gerry Adams said on Saturday that he had told Prime Minister May that the British Government "must bear the greater responsibility for this failure".
The provision of an Irish Language Act, marriage equality, a Bill of Rights and funding for legacy inquests are all British Government obligations, the Sinn Féin leader reminded Theresa May.
But it appears that the Tory Government's priority at this time is to sustain its political pact with the DUP, Gerry Adams said.
"Consequently, it has acquiesced to the blocking of the equality agenda by the DUP and of measures that are the norm in all other parts of our islands.
"We told the British PM that this is unacceptable. If power-sharing and the Good Friday Agreement are to mean anything, then these rights-based issues must be implemented.
"We also told her that direct rule was not an option and that she must look to the provisions of the Good Friday Agreement for the establishment of an intergovernmental conference involving the Irish and British governments.
"In the absence of the institutions, the two governments must implement those outstanding rights issues."
He concluded:
"Sinn Féin remains committed to the restoration of the institutions and the Executive. However, they will only be credible if they are sustainable, durable and deliver for everyone."