27 October 2017
Theresa May's minister 'too busy' to meet Oireachtas Good Friday Committee but makes time for Orange Order
'As a co-guarantor of the Good Friday Agreement that is completely unacceptable'
THERESA MAY'S minister for the North of Ireland says he could not find time in the past five months to meet the cross-party Oireachtas Good Friday Implementation Committee –but James Brokenshire MP did manage to meet the Orange Order on 19 October.
Sinn Féin figures are not objecting to the Secretary of State's meeting with the Orange Order, which the loyal order described as "useful and constructive".
They do question, however, why the Britsih Government Cabinet minister cannot meet the Irish Parliament's specially-designated oversight body for the Good Friday Agreement.
Foyle Sinn Féin MP Elisha McCallion said:
"As a co-guarantor of the Good Friday Agreement that is completely unacceptable."
She added:
"The failure by the British Government to act with rigorous impartiality as required by the Good Friday Agreement has contributed to the current political crisis."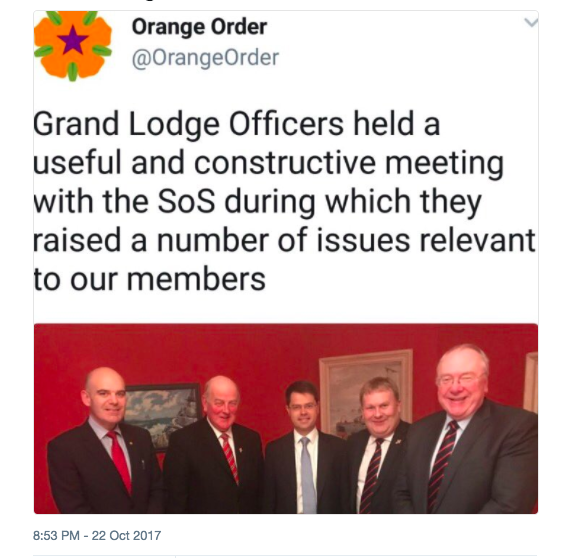 ● The Orange Order's tweet about their meeting with Secretary of State Brokenshire
On Friday, in an official "Houses of the Oireachtas Media Release", Oireachtas Good Friday Implementation Committee Chair Kathleen Funchion TD (Sinn Féin) said that the Irish Parliament body is  "disappointed" with the British Government minister's attitude to requests for meetings.
She said:
"We have written to the Secretary of State twice now, in May and in July, seeking a meeting with him to discuss prison issues and matters of national security in the North.
"The Secretary of State has stated that, due to diary pressures, he is unable to meet.
"The Committee is disappointed with this continued response and again calls on the Secretary of State to meet with us for a frank and open discussion about a range of issues the Committee addresses in its oversight role of the Good Friday Agreement."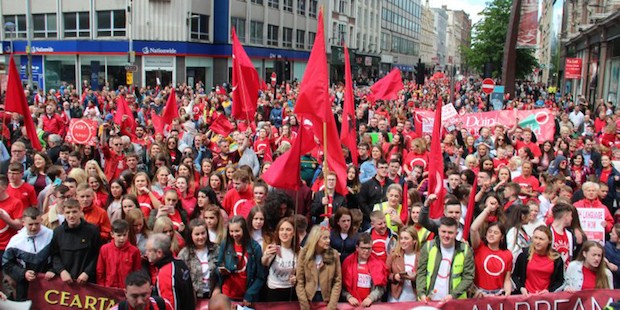 Sinn Féin National Chairperson and South Antrim MLA Declan Kearney had previously described the failure of the British Secretary of State in the North to meet with An Dream Dearg, the umbrella campaign lobby for an Irish Language Act, as "a blatant insult".
"James Brokenshire has been repeatedly asked by An Dream Dearg for a meeting to make its case for implementation of an Acht Gaeilge and language rights in the North," Declan Kearney said.
"It is a blatant insult that he and his officials have failed to meet with the campaign group."
● Oireachtas Good Friday Implementation Committee members are: Chairperson: Kathleen Funchion (Sinn Féin); Deputies: Declan Breathnach (Fianna Fáil), Fergus O'Dowd (Fine Gael), Tony McLoughlin (Fine Gael), Maureen O'Sullivan (Independent), Seán Sherlock (Labour), Brendan Smith (Fianna Fáil); Senators: Frances Black (Independent), Frank Feighan (Fine Gael), Mark Daly (Fianna Fáil), Denis Landy (Labour), Gerard Craughwell (Independent), Niall Ó Donnghaile (Sinn Féin).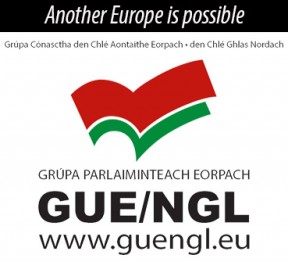 An Phoblacht on Twitter
Premium Online Service For Only €10 Per Year
For less than €1 a month, you get An Phoblacht's Premium Online Service. Sign up today!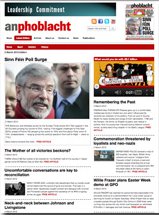 PREMIUM SERVICE:
Full access to all An Phoblacht articles
Interactive online PDF Booklet of each edition
Access to our historic Archives
Discounts for the Online Sinn Féin Shop
An initiative for dialogue 
for reconciliation 
— — — — — — —
Contributions from key figures in the churches, academia and wider civic society as well as senior republican figures