13 October 2017
Unionist ex-minister John Taylor refuses to apologise to UVF bomb victim's daughter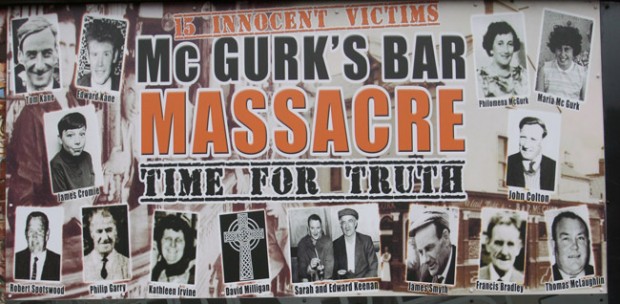 'I wanted him to say to me, 'Yes you're right, it was wrong,' but he wouldn't admit to it.'
JOHN TAYLOR, the Ulster Unionist Party Home Affairs minister in the old unionist regime at Stormont in the 1970s, has refused to apologise to the daughter of a woman killed in the 1971 UVF McGurk's bar bombing over his role in media reporting at the time and hurtful comments he made to her this week on Twitter.
In 1971, Taylor insisted the UVF attack was an IRA 'own goal'; this week he washed his hands of responsibility, refusing to admit he was wrong or to apologise.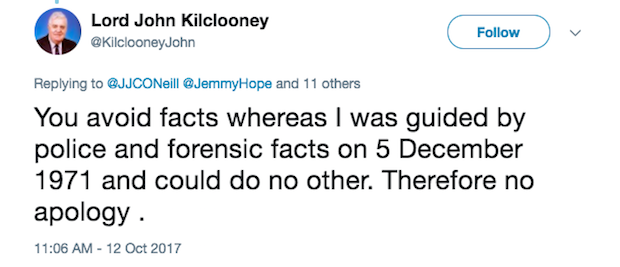 At 8:45pm on 4 December 1971, a bomb planted by the unionist Ulster Volunteer Force ripped through the Tramore Bar on the corner of North Queen Street and Great George's Street, near the nationalist New Lodge Road in north Belfast. The bar was run by Patrick McGurk.
Fifteen men, women and children were to die in the atrocity. The RUC, unionist politicians and the British state were quick to blame the IRA, attributing it to a premature explosion.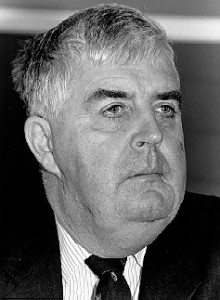 Taylor (pictured), who now holds the title of Lord Kilclooney, was at the forefront of this propaganda drive. 
He was challenged this week on Twitter by Pat Irvine, whose mother was killed in the bombing, to apologise for the erroneous statements he repeatedly made at the time that shaped the official narrative.
But Taylor has refused point-blank to show any sensitivity regarding the hurt he caused to the McGurk's Bar families.
He disowns any responsibility for what he said in 1971 by insisting that he acted on information he was supplied with by the police and British Army at the time.
Pat Irvine was just 14 years old when her mother Kathleen was killed in the explosion in December 1971.
She told the Irish News:
"I wanted him to say to me, 'Yes you're right, it was wrong,' but he wouldn't admit to it.
"The man to me was in denial. He didn't want to say he was wrong.
"He just kept repeating himself, saying he was doing a job and that's it.
"At the end of it I thought to myself, I feel sorry for that man; I really do feel sorry for him."
The Sinn Féin leader in the North, Michelle O'Neill MLA, said the Ulster Unionist Party former minister has an obvious duty to retract and correct "the inaccurate and hurtful comments" he made about the McGurk's Bar Massacre.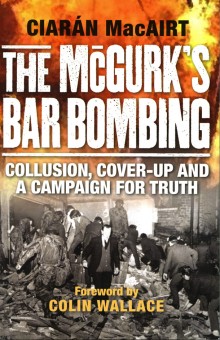 "The fact that he made these comments as a government minister, even as part of a discredited Unionist Party government, places a very clear onus on him to withdraw these remarks about this terrible sectarian attack," Michelle O'Neill said.
"John Taylor was not, as he claims, repeating fact as presented to him; he was promoting the misinformation that was generated to blame republicans for a bombing that was entirely sectarian in nature and which claimed the lives of 15 innocent people, including schoolchildren.
"The relatives of those killed and the survivors need to hear a clear and unequivocal retraction of these hurtful comments by John Taylor."
● In August, Taylor provoked anger when he claimed that a unionist majority in the Six Counties means nationalists could not claim equality – though they were entitled to equality of opportunity.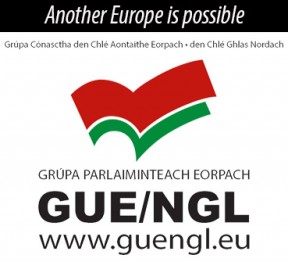 An Phoblacht on Twitter
Premium Online Service For Only €10 Per Year
For less than €1 a month, you get An Phoblacht's Premium Online Service. Sign up today!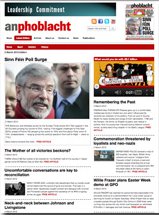 PREMIUM SERVICE:
Full access to all An Phoblacht articles
Interactive online PDF Booklet of each edition
Access to our historic Archives
Discounts for the Online Sinn Féin Shop
An initiative for dialogue 
for reconciliation 
— — — — — — —
Contributions from key figures in the churches, academia and wider civic society as well as senior republican figures