29 September 2017
Fine Gael/Fianna Fáil attacks on Sinn Féin 'giving succour' to opponents of change in North, says Gerry Adams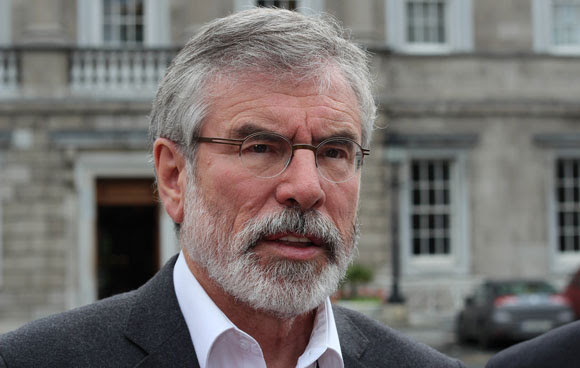 Establishment parties in the Dáil cynically use the situation at Stormont for their own interests
EVERY PARTY has the right to criticise Sinn Féin but "irresponsible attacks" by Fine Gael and Fianna Fáil using the North to try and halt the rise of Sinn Féin in the South encourages opponents of change and make reaching agreement at Stormont harder, Gerry Adams has said.
The exploitation of the crisis in the North for party political ends – particularly by Taoiseach Leo Varadkar and Mícheál Martin – "give succour to the opponents of change", the TD for Louth said.
The Sinn Féin leader was speaking at a celebration event in Omagh, County Tyrone, on Friday night for the former Vice-President of Sinn Féin and recent West Tyrone MP Pat Doherty (pictured).
The Sinn Féin leader said:
"One of the great difficulties in the process of change in the North – and as we seek to achieve the implementation of outstanding elements of the Good Friday and subsequent agreements – is the manner in which Establishment parties in the Dáil cynically use the situation here to attack Sinn Féin.
"While all parties have the right to criticise other parties, it is obvious that the only motivation for the attacks on Sinn Féin by the Southern Establishment parties is their electoral fear of the growth of Sinn Féin.
"A mature and leaderly Taoiseach would make the process of change and the implementation of the Good Friday Agreement a bipartisan one. In this way, maximum political focus could be exerted on the British Government and those opposed to change.
"Instead the party political attacks on Sinn Féin only serve to give succour to the opponents of change."
Gerry Adams added:
"Sinn Féin has continued to engage intensely with the DUP, and while our will and intent is to see the political institutions restored, the responsibility of the Irish Government, like that of Sinn Féin, has to be to ensure that it happens on the basis of the Good Friday Agreement."