29 September 2017
Sinn Féin parliamentary delegation arrives in Catalonia for Sunday's independence referendum
'Recent actions by the Spanish Government and police are deeply concerning'
A SINN FÉIN parliamentary delegation has arrived in Catalonia as guests of the Catalan Government to observe the independence referendum due to take place on Sunday. The poll has been banned by the Spanish Government and attacked by Spanish state forces, including police raids, the shutting down of websites and fines against election officials.
The Sinn Féin delegation includes Lynn Boylan MEP, Martina Anderson MEP, Eoin Ó Broin TD and Senator Trevor Ó Clochartaigh.
The delegation will meet with the Catalan President and Foreign Minister, representatives of political parties, NGOs and other groups. They will also observe the referendum on Sunday.
Speaking on arrival, Lynn Boylan MEP said:
"Sinn Féin has long supported the right of the Catalan people to decide their own future. This weekend's referendum is an important exercise in the sovereignty of the Catalan people. It is an expression of democracy.
"Recent actions by the Spanish Government and police are deeply concerning. What has the Government in Madrid to fear from a democratic vote on the future of Catalonia by the people of Catalonia?"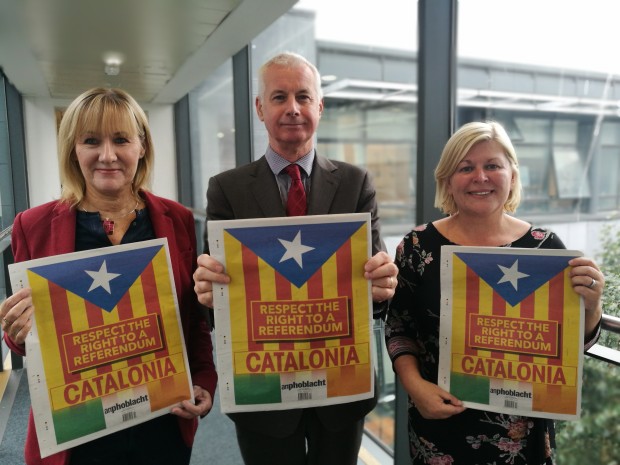 ● TDs Imelda Munster, Seán Crowe and Denise Mitchell support the Catalan Referendum with poster printed in the October issue of 'An Phoblacht'