27 September 2017
50 Irish-language secondary school students study opportunities at European Parliament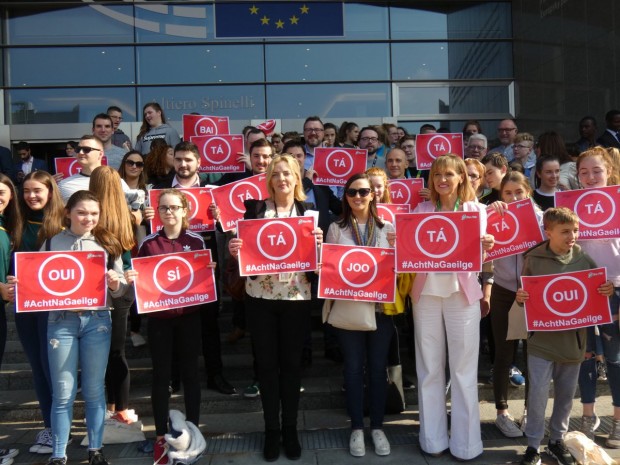 Opportunities exist through Irish in the European Parliament and EU
FIFTY pupils from Irish-language secondary schools from across the North are visiting the European Parliament as part of a delegation hosted by Sinn Féin MEP Martina Anderson.
The MEP is hosting the pupils at the Parliament so that they can see at firsthand the opportunities that exist in the EU for Irish-speakers.
Irish is one of the official languages of the EU and live translation of all debates in the European Parliament is available through Irish.
The students will also learn about the role of the Irish language in the EU and while in Brussels the will also be visit the Parliamentarium, where they will take part in an interactive tour outlining the history of the EU in Irish.
The delegation is made up of pupils from six meanscoileanna from across the North: St Malachy's, Castlewellan; Coláiste Feirste, Belfast; Gaelcholáiste Dhoire, Dungiven; St Cathreine's, Armagh; St Brigid's Derry; and St Joseph's, Donaghamore.
Martina Anderson said:
"The Irish-medium education sector has been going from strength to strength in recent years.
"I am hosting this delegation of meanscoileanna pupils – the first of its kind – to show these young people the opportunities that exist through Irish in the European Parliament and EU.
"The pupils will get the opportunity to see for themselves the role the Irish language plays in the European Parliament as a working language of the EU. They will be able to see the translation services at firsthand during debates.
"They will also meet my colleague Liadh Ní Riada, who will speak to them about the position of the Irish language in the EU and also learn about the opportunities that exist through the Erasmus study exchange programme."