2 October 2017 Edition
75th anniversary of Óglach Tom Williams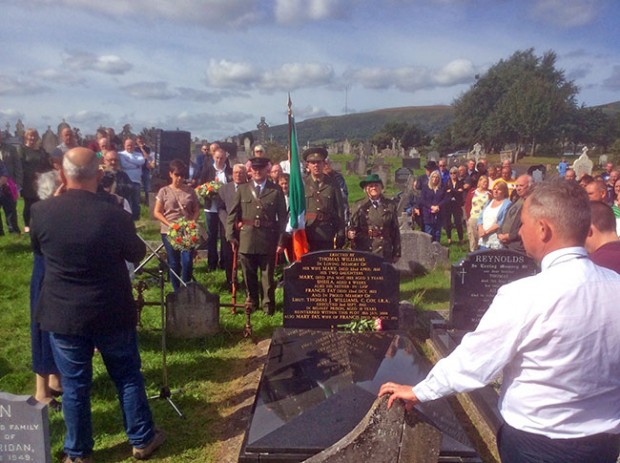 By Pól Wilson,National Graves Association
A SERIES OF EVENTS took place to mark the 75th anniversary of the execution in Belfast Prison of Belfast IRA Volunteer Tom Williams on Saturday 2 September.
As dawn broke over Belfast on Saturday morning, a small floral tribute was placed on the railings of the prison where, on 2 September 1942, Tom Williams was hanged.
At noon, the Belfast National Graves Association held a wreath-laying ceremony at Tom's grave in Milltown Cemetery.
A large crowd of republicans, some of who had travelled from Scotland for the event, paraded from the cemetery gates to the family plot where Tom Williams was finally laid to rest following a prolonged campaign by the NGA and Tom's comrades to have his remains repatriated. 
Joe Austin, NGA Chairperson, chaired the event which commenced with Annie Cahill, widow of Tom's comrade Joe, singing the ballad Tom Williams before wreaths were laid. 
West Belfast Sinn Féin MLA Fra McCann addressed the crowd, paying tribute to Tom and his comrades.
Roseleen Walsh recited Yeats's tribute to those who had been executed following the 1916 Rising.
Later that evening, a successful function was held in the Roddy McCorley clubrooms where tributes were again paid to Tom and his comrades and a launch was held for Councillor Jim McVeigh's book on Belfast IRA leader Joe McKelvey, who was executed by Free State forces in December 1922.  
All proceeds from the sales of Jim's book will go to the Belfast National Graves Association to assist with the care and upkeep of the graves of the Belfast patriot dead.