2 October 2017 Edition
Willie 'Harry' McKenna, Tydavnet, Monaghan
Fógraí Bháis
In his oration, Matt Carthy MEP said that, in terms of republican leadership, Willie was there for some 50 years.
THE death occurred on Saturday 19 August of Willie 'Harry' McKenna at his Clarnagh, Tydavnet, home in County Monaghan. 
Willie is survived by his wife Patricia, sons Paul and Cathal and daughters Ann, Jacqueline, Lorraine and Diane, and by 17 grandchildren. He is also survived by his only sibling, Kathleen, who lives in Scotland.
In his 78th year, Willie was the only son of the late Peter and Sarah Ann McKenna.
Willie gave stoic service to the republican cause throughout his lifetime.
He was an accomplished tractor mechanic who began his working life at the Monaghan Motor Works before working for a time in England, returning to Ireland in the mid-1960s. 
A dedicated member of Alcoholics Anonymous for over three decades, Willie was also a 24/7 support to countless individuals and families, a fact acknowledged in a most thoughtful homily delivered by Fr Hubert Martin in the course of Willie's Requiem Mass in St Dympna's Chapel in Tydavnet.
Willie's Tricolour-draped coffin was escorted from his home by a 30-strong Sinn Féin guard of honour.
Despite torrential rain, the same honours were afforded Willie on his final journey from the chapel to the nearby cemetery, where Dáil Deputy Caoimhghín Ó Caoláin presided over the republican graveside tributes.  
Cathaoirleach of Monaghan County Council Councillor Cathy Bennett laid a wreath on behalf of the Sinn Féin organisation across the county.  
In his oration, Matt Carthy MEP said that, in terms of republican leadership, Willie was there for some 50 years.
"Crucially, Willie's home became an important refuge. Willie and his family provided assistance and back-up to countless Volunteers who were forced to cross the Border. Willie was a pivotal part of that Border community that refused to be divided by an artificially-imposed line on a map."
Willie was a founding member of the O'Hanlon/ South Sinn Féin Cumann, Golan, which he remained an integral part of until his death and a key figure in the electoral rise of Sinn Féin in Cavan/Monaghan, including the election to Monaghan County Council of Caoimhghín Ó Caoláin in 1985 and then as a TD (see centrespread), Sinn Féin being returned as the largest party in County Monaghan on successive occasions, and Matt Carthy's election to the European Parliament in 2014.
Matt Carthy concluded:
"On behalf of all Willie's comrades in the republican family here in north Monaghan, and from all those in Sinn Féin who had the honour of knowing him, I extend once again our heartfelt sympathy to Patricia and to all his loving family."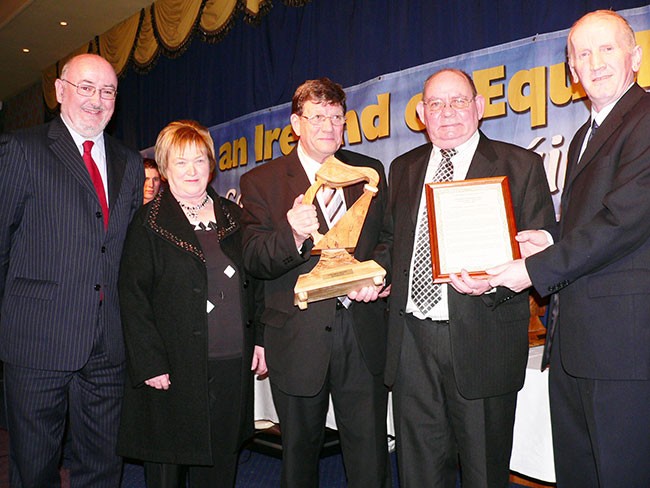 • 2009: Receiving his Sinn Féin Honourees Award at a function in Castleblayney, Dáil Deputy Caoimhghín Ó Caoláin, Willie's wife Patricia, then Sinn Féin Vice-President Pat Doherty, Willie 'Harry' McKenna and Monaghan County Councillor Brian McKenna