2 October 2017 Edition
Another Europe is possible |Treo eile don Eoraip
Funded by the European United Left/Nordic Green Left (GUE/NGL)
EP Brexit Co-ordinator in Ireland to hear Brexit fears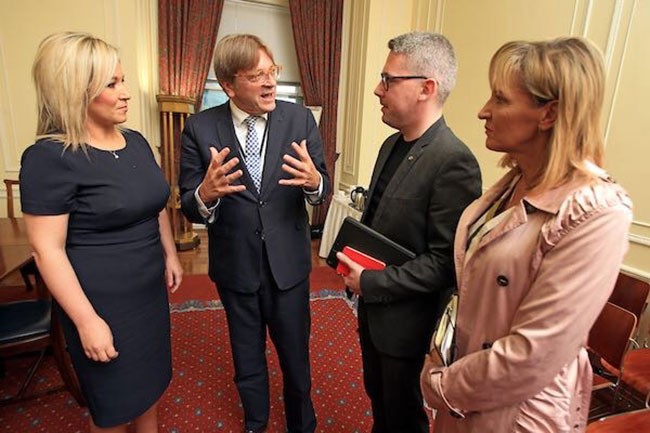 • Michelle O'Neill MLA meeting with Guy Verhofstadt at Stormont Parliament Buildings with Senator Niall Ó Donnghaile and Martina Anderson MEP
MEP MARTINA ANDERSON met with the European Parliament Brexit Co-ordinator, Guy Verhofstadt, in Belfast on 20 September to discuss 'Special Status for the North Within the EU'. 
The Ireland North MEP was part of a Sinn Féin delegation led by the Sinn Féin leader in the North, Michelle O'Neill MLA, which met with Verhofstadt in Parliament Buildings at Stormont. 
The senior Belgian MEP, the European Parliament's point man on Brexit, was in Ireland for a two-day visit to meet political parties to discuss the impact of the Tory Brexit agenda. 
Speaking after the meeting, Martina Anderson said: 
"From my regular meetings with Guy Verhofstadt he is well aware of our concerns over Brexit and the disastrous impact it would have on Ireland. 
"We told him that we could not withstand any exclusion from the Single Market and Customs Union, allow the return of borders of the past, or deny citizens access to the European Courts of Justice.
"We need to see new thinking instead of the confused and unworkable proposals coming from the Tories who regard Ireland who have no regard to Ireland when it comes to their Brexit agenda. 
"We welcome this opportunity to engage with Guy Verhofstadt in Ireland and will continue to engage with people across the EU to build further support for our case for the North to have Special Status Within the EU."
Guy Verhofstadt was also meeting with politicians and community leaders along the Border as well as representatives of the anti-Brexit lobby group, Border Communities against Brexit. 
He then travelled to Dublin where he held a series of meetings with political parties and addressed the Dáil on the impact of Brexit. 
Education – a common good, not an elite privilege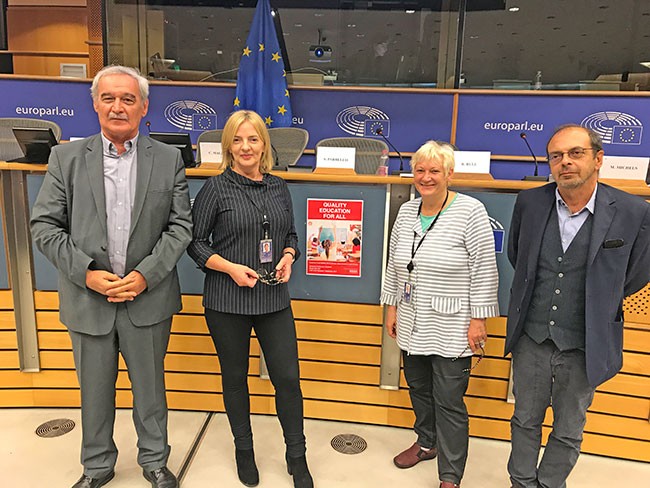 • GUE/NGL MEPs Nikolaos Chountis, Liadh Ní Riada, Martina Michels and Curzio Maltese
FIGHTING funding cuts and working for investment in education across the EU was the focus of a conference 'Quality Education for All', organised by the GUE/NGL group in the European Parliament and co-hosted by Ireland South MEP Liadh Ní Riada in September.
The event heard from experts including teachers, professors and local government officials from across Europe on their own experiences and long-term effects of cuts – as highlighted in a parliamentary committee opinion on EU action for sustainability earlier this summer.
Italian MEP Curzio Maltese says a proper discussion on this subject is now more important than ever:
"Education is a common good that is becoming a privilege for the elite. Ensuring access to quality education must be a priority for the European institutions since the subject is never discussed, or when it is it is merely reduced to a discussion based on economic values."
Greek MEP Nikolaos Chountis, who moderated part of the debate, agreed:
"The neo-liberal perception of education policies in Europe has degraded the very nature of education and has put the emphasis only on simple skills and training – based on market imperatives alone. 
"And let's not forget the additional challenges faced by the education systems posed by the economic crisis and austerity policies alongside the current refugee crisis."
For co-host Liadh Ní Riada MEP, issues such as the cost of education and assisting students with special needs are of great concern:
"In some weeks, students are faced with the decision of buying food for themselves or buying pricey course material to enable them to progress.
"What we do not need is to make a commodity of our education sector or customers out of our students," says the Irish MEP.
German MEP Martina Michels, who delivered the closing remarks, said: 
"Good education ensures democratic participation and interest in the future. 
"Education feeds abilities and motivation for independent learning. 
"Education is a human right. It must be provided by public services for all children, minors and adults, for migrants and refugees, regardless of gender. 
"We must demand this from the political leaders and to accompany it in the European context."
Swiss tax justice whistleblower gets MEP Matt Carthy's backing
SWISS WHISTLEBLOWER Rudolf Elmer's fight for tax justice and transparency has been lauded by Matt Carthy MEP during a fact-finding mission by MEPs to Switzerland – the top-ranking country in Tax Justice Network's most recent Financial Secrecy Index.
Elmer, who has endured harassment and imprisonment by the Swiss authorities over many years, avoided jail last year after he was acquitted of breaking banking secrecy laws, a criminal offence in Switzerland.
The meeting with Elmer came as a delegation of MEPs from the Committee of Inquiry into Money Laundering, Tax Avoidance and Tax Evasion assessed the current state of play regarding tax avoidance and money-laundering in Switzerland, and what the country's authorities have been doing to improve banking transparency.
Commenting on the visit and on meeting Elmer, Irish MEP Matt Carthy said:
"It was an honour to meet Rudolf Elmer who has been fighting a 12-year legal battle against the Swiss state.
"Despite being found not guilty last year of breaching Swiss bank secrecy laws, this whistleblower has been harassed for more than a decade, fined more than €300,000 and denied compensation for having to spend more than 200 days in solitary confinement."
As for the fight for tax justice and greater transparency in the country, Matt Carthy said a lot more still needs to be done:
"Switzerland has made some positive steps forward in terms of adopting certain international standards on exchanging tax and bank account information. But financial secrecy continues – and it is not a victimless crime.
"Last year, the UN criticised Switzerland after it received a submission from a number of development NGOs outlining how Swiss policies of financial secrecy directly and negatively impacted on women's rights, for example," he said.
The Ireland North West MEP also blamed Switerland's right-wing administration for refusing to expand the automatic exchange of banking information with and to see what impact financial secrecy has on dozens of developing countries. 
The ambiguous role played by lawyers must also be scrutinised by the Swiss authorities in cracking down on money-laundering and financial crimes, he said:
"While in the past it was Swiss banks that were the most active in setting up shell companies for tax evasion, 90% of the structures set up by Swiss agents revealed in the Panama Papers were the product of lawyers.
"The Swiss authorities need to act to close these loopholes for promoters of tax evasion schemes and end this excessive secrecy that has made their state a centre of money-laundering and financial crime."
Lynn Boylan MEP fights back against ditching Ireland's neutrality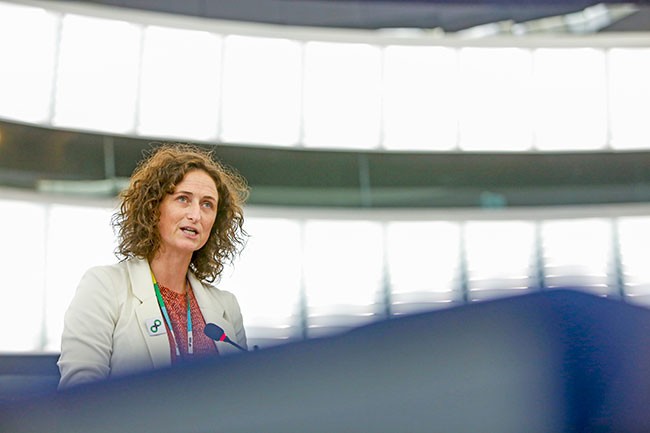 • Lynn Boylan MEP
DUBLIN MEP Lynn Boylan has criticised comments by European Commission President Jean-Claude Juncker once again promoting EU military integration, this time in his 'State of the European Union' address on 13 September.
Juncker said he wants the EU to become "a stronger global actor" and added:
"In order to have more weight in the world, we must be able to take foreign policy decisions quicker. This is why I want member states to look at which foreign policy decisions could be moved from unanimity to qualified majority voting. The Treaty already provides for this, if all member states agree to do it.
"And I want us to dedicate further efforts to defence matters. A new European Defence Fund is in the offing. As is a Permanent Structured Co-operation in the area of defence. 
"By 2025 we need a fully-fledged European Defence Union. We need it. And NATO wants it."
Lynn Boylan said that Juncker's comments are part of the ongoing efforts by a number of leading figures to add a military dimension to the EU.
The Dublin MEP said:
"Neutrality has always been at the centre of Ireland's foreign policy and Irish people overwhelmingly support the continuation of this policy."
She said that a report commissioned by Irish NGO Peace & Neutrality Alliance (PANA) in 2013 showed that 80% of Irish people support neutrality.
"The Department of Foreign Affairs recognises the importance of Irish neutrality," she said.
The Irish Government department says on its website, she pointed out: 
"Irish neutrality goes hand in hand with our promotion of international peace and stability."
Lynn Boylan continued:
"Ireland has a special position within the EU as one of the only neutral member states and this has not limited Ireland's role in humanitarian missions. Any moves towards an EU defence union would be a further erosion of national sovereignty. 
"Much on the instability we are seeing in places such as Iraq and Syria is a consequence of the failed policies of military alliances – policies that were aimed at providing greater levels of global security.
"Any suggestion the Ireland should be part of strengthening Europe's commitment to the failed policies of militarisation does nothing to increase Irish security or seriously address the causes of global instability."