1 September 2017
Arlene Foster's 'new' offer echoed DUP negotiator Edwin Poots back in June – and rejected then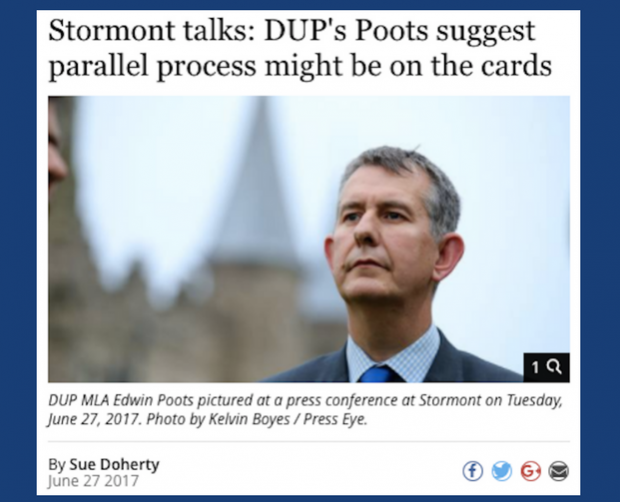 'The DUP have never embraced the principles at the heart of the Good Friday Agreement of equality and mutual respect'
DUP LEADER Arlene Foster's so-called 'compromise' on Thursday night presented by the media as a breakthrough was nothing new, as Sinn Féin's Michelle O'Neill said – and is confirmed by DUP MLA Edwin Poots.
DUP Stormont talks negotiator Poots made exactly the same offer to Sinn Féin in June.
Sue Doherty of the Belfast Telegraph reported on 27 June:
"As Northern Ireland's political parties continue power-sharing talks at Stormont, the DUP's Edwin Poots has suggested that a parallel process may come into effect on Thursday."
Making the point that the DUP leader's speech did not constitute any new offer, Michelle O'Neill restated in response Sinn Féin's commitment to re-establishing the Assembly and the Executive now.
Michelle O'Neill added:
"The issue of a parallel process has been discussed and rejected throughout the course of all the negotiations we have had to date.
"So in essence it was making an offer which the DUP knew would be rejected."
The Sinn Féin leader in the North continued:
"The DUP need to embrace genuine power-sharing.
"They have never embraced the principles at the heart of the Good Friday Agreement of equality and mutual respect.
"They have acted negatively towards Irish national identity and culture.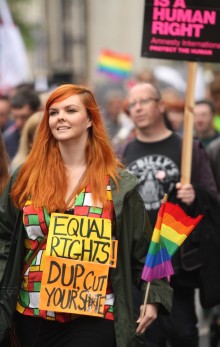 "They have failed to live up to their responsibility to deliver rights for all citizens; language rights, marriage rights, economic rights and cultural rights.
"And the British Government has continually pandered to that approach.
"Therein lies the problem at the heart of the political crisis."
The Sinn Féin MLA repeated that rights remain the fundamental issue.
"The majority of people will not tolerate one section of the community dominating over another.
"We need a society based on rights for all.
"Establishing an Executive that may collapse after a matter of months will only fail all of the people.
"The DUP and the British Government know what needs to be done in order to establish an Executive.
"Sinn Féin is fully committed to re-establishing the political institutions now but an Executive needs to be sustainable and based on equality and respect with integrity at its core."