30 August 2017
'Parachute Regiment, No Apology' flag flown over gate of Catholic church during loyal order parades
'The flag at St Comgall's Church is strategically placed to cause offence'
THE FLYING of a flag bearing the crest of the Parachute Regiment and the slogan "No Apology, No Surrender" right outside a Catholic church in Antrim has been described by Sinn Féin South Antrim MLA Declan Kearney "provocative".
The 'elite' Parachute Regiment is infamous among nationalists in the North as the most violent and murderous in Ireland outside of the SAS.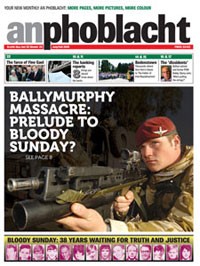 It was responsible for the Ballymurphy Massacre in August 1971 (in which 11 people were shot dead in a post-internment rampage) and Bloody Sunday just a few months later, in January 1972, when 14 civil rights marchers were gunned down.
The deliberate placing of the 'Para flag' during last weekend's parades by the Royal Black Institution loyal order was clearly intended to antagonise Catholics going to Mass.
Declan Kearney said a number of people had contacted him about the flag beside St Comgall's Church in Antrim.
He described it as "a blatant act of provocation and a deliberate attack on the memory of all innocent civilians murdered by the Parachute Regiment during the conflict".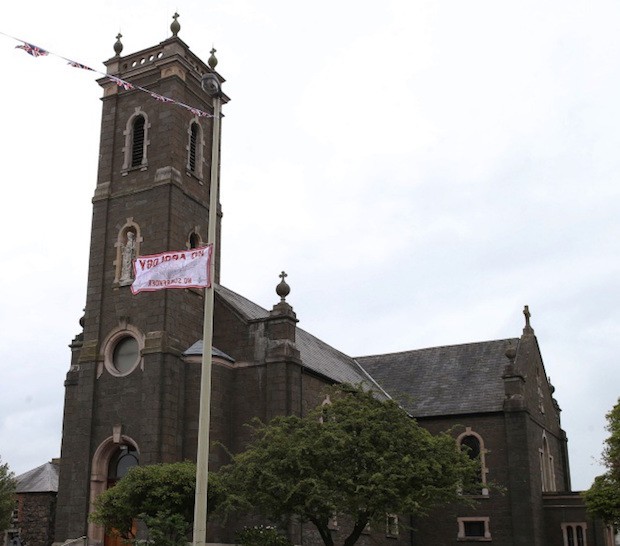 ● St Comgall's Church in Antrim    
The senior Sinn Féin figure added:
"I am on record condemning the use of flags in Antrim town to intimidate and mark territory. This includes my recent statement on the abuse and misuse of our own national flag. 
"I have also clearly stated my support for the legitimate expression of all cultures and traditions where such expression is proportionate and respectful to all. 
"However, the flag at St Comgall's Church is strategically placed to cause offence and raises a question regarding how it became part of the flag display in support of the Royal Black demonstration."