4 September 2017 Edition
That man Myers again and easy rides at RTÉ
THE ONLY SURPRISE regarding the ignominious end to the Sunday Times career of Kevin Myers is that it took so long for him to be given the elbow by one of the so-called 'quality' titles that gave him a platform for his poison over many years. It's a shame, however, that it took a decision in London rather than Dublin to finally put a halt to his privileged, public outpourings.
As noted elsewhere in this edition, Myers's rant nominally about the BBC pay gap in The Sunday Times which saw him insult Jewish people and women in equal measure isn't the first time he's crossed the line. He has a long and appalling record of sexism, racism and class snobbery in his writings over many years.
The condescending Myers is well-known for his reactionary views on the Irish independence struggle and a particularly warped view of Irish history that has portrayed the country as unworthy of self-governance. In this regard he has promoted well-worn racist stereotypes of the Irish.
He even regurgitated a concoction of the 1920s British military propagandist Basil Clarke in The Irish Times which accused former Lord Mayor of Cork Terence MacSwiney of plotting the assassination of the Bishop of Cork! 
While Myers was forced later to apologise for this lie, Terence MacSwiney's daughter had to personally pursue Myers into The Irish Times building in order to get him to listen to her. 
In 1999, The Irish Times was forced to pay a "substantial six-figure sum'' to Derry's Bloody Sunday families in settlement of a libel action over an article written by Myers.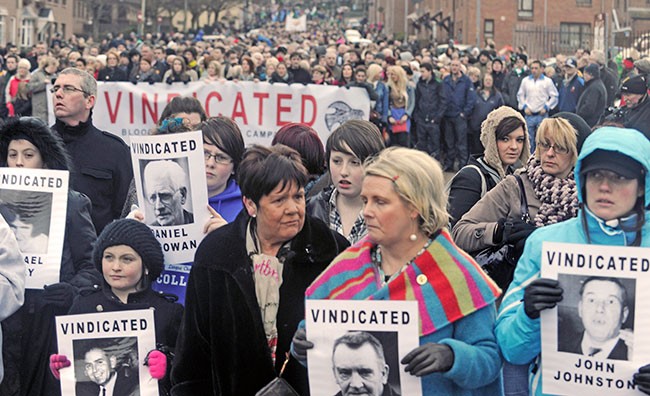 • A piece by Myers in 1999 cost 'The Irish Times' a libel payout to Bloody Sunday families 
While his right-wing views on everything from Irish republicanism to the status of women, race, single mothers and their children, and equality, are anathema to those of the vast majority of Irish people, they have been shared by an influential minority in the Irish Establishment, ensuring Myers a privileged, protected position within the Irish print media for many years.
On the day that the Sunday Times scandal broke, Myers was appearing in west Cork on a panel of history revisionists pushing the fantasies of the late and discredited Canadian historian Dr Peter Hart, a man whose writings have propagated the myth of the Tan War IRA in Cork prosecuting a sectarian campaign against local Protestants.
As well as Myers, panellists at the event in Skibbereen included such anti-Sinn Féin obsessives as Ruth Dudley Edwards and Eoghan Harris (who has traversed the political spectrum from the Workers' Party to Fine Gael, the Ulster Unionist Party and Fianna Fáil).
While Myers's newspaper career may be over, his ideological fellow travellers in the Irish media haven't gone away, you know. 
But if recent circulation figures are anything to go by, a declining number of people are listening to them. 
Independent News & Media recently issued a profit warning amid falling circulation and advertising revenue.
Licence payers are still trying to absorb recent revelations of the exorbitant sums of money paid in salaries to individual broadcasters within RTÉ. The excessive figures (up to €495k a year in one case!) must surely be reviewed as people begin to question where their licence fee is actually going when a staff nurse starts on about €25k, a garda starts on about €28k, and a secondary school teacher starts on about €34k.
Montrose managers who call for jacking the licence fee up to €175 a year first need to show us exactly where our money is going. A good place to start would to look at how the station covers events in the North.
Fine Gael Minister Charlie Flanagan recently claimed on RTÉ Radio that the delay in forming a functioning Assembly was to blame for vandals burning down a credit union in west Belfast! Flanagan's ridiculous claim wasn't challenged once by his RTÉ interviewer.
Right-wing economist Jim 'Soft Landing' Power similarly got the soft touch treatment on the Marian Finucane Show (RTÉ Radio One) with his own bit of blame shifting.
Jim was not only allowed to get away with claiming that the Barack Obama administration in the US had been "extreme Left" (I kid you not) but that this explained the violent actions of white supremacists and neo-Nazis in places such as Charlottesville.
It's not just landings that are soft in Jim's head.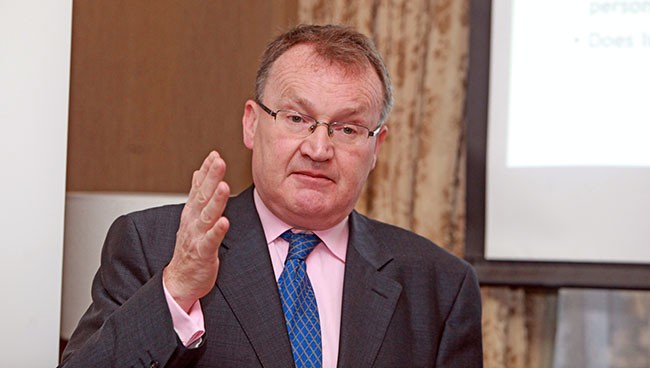 •  RTÉ favourite Jim 'Soft Landing' Power