4 September 2017 Edition
Another Europe is possible – Treo eile don Eoraip
Funded by the European United Left/Nordic Green Left (GUE/NGL) – Aontas Clé na hEorpa/Na Glasaigh Chlé Nordacha Crúpa Paliminta – Parlaimimt na h Eorpa
'Precious' Irish Peace Process must be preserved in Brexit trade talks
GUE/NGL's Helmut Scholz, group co-ordinator at the European Parliament's Committee on International Trade (INTA), has said that any push by the British Government on future trade relations with the EU must go hand-in-hand with the issue over the future of the British border in Ireland and that the Good Friday Agreement must be preserved in all its parts.
"Peace on the island of Ireland is too precious to be used as a bargaining chip during the Brexit negotiations," the German MEP said.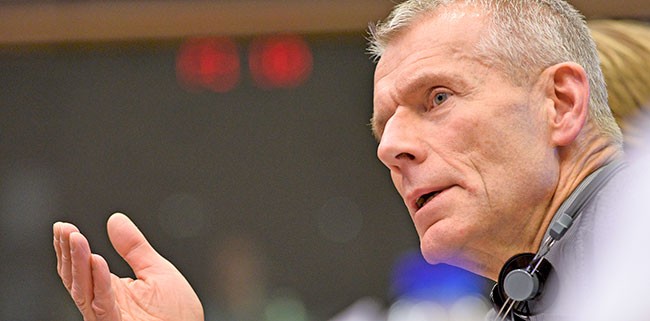 • There must be no hardening of the Border' – MEP Helmut Scholz
"As had already been defined in the negotiation guidelines of the European Commission and under the conditions of the European Parliament, the Irish Peace Process must be protected during all rounds of the negotiations." 
He continued:
"There must be no hardening of the Border and any move that does that would put the Peace Process at risk. 
"We need the EU to stand by the Peace Process and to preserve the Good Friday Agreement in all its parts as voted on by the Parliament and the Council," Helmut Scholz said.
The German MEP also described those who put trade interests ahead of the Peace Process as irresponsible.
"Those who try to jeopardise the positive developments on both sides of the Irish Border in order to gain the upper hand in the negotiations are acting irresponsibly."
'We will protect Good Friday Agreement' – EU Brexit negotiator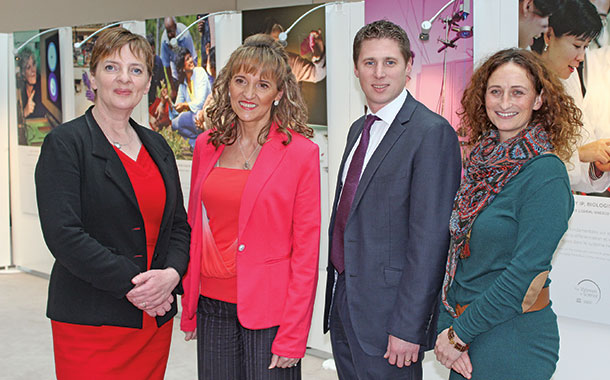 MEP Martina Anderson has welcomed a personal commitment from the EU's chief negotiator on Brexit, Michel Barnier, that he will ensure the Good Friday Agreement is protected in the Brexit negotiations with the British Government.
The North of Ireland MEP said she had sent Michel Barnier a copy of Sinn Féin's document 'Special Status Within the EU – Essential principles concerning the Border in Ireland and the status of the North of Ireland' to emphasise how important it is to protect the Good Friday Agreement during the Brexit negotiations. 
"It is vitally important that the Good Friday Agreement is protected in all its parts in line with the joint resolution of the European Parliament," Martina Anderson said.
She said that Michel Barnier has now responded and said he is "personally committed to make every effort to ensure that nothing in the withdrawal agreement undermines the Good Friday Agreement".
The Irish MEP added: 
"That commitment is welcome and underscores the EU's determination to protect the Good Friday Agreement.
"Securing 'Designated Special Status for the North Within the EU' would not only protect the Good Friday Agreement in all of its parts but it would also protect the rights of Irish citizens."
Ní Riada calls for action plan for improving living and working conditions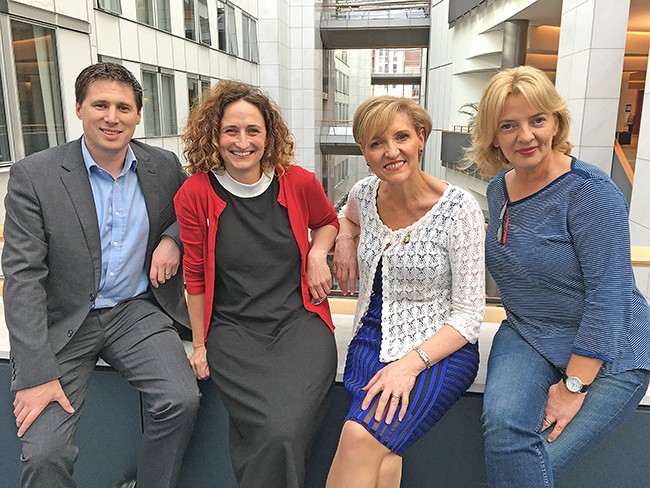 MEP Liadh Ní Riada has said that the European Pillar of Social Rights (EPSR), due to be adopted later this year, cannot be a hollow document and must be followed by action. 
The European Pillar of Social Rights is an attempt by the Commission to strengthen the social dimension of the EU and to create a single framework for improving living and working conditions. 
"It's a welcome attempt, although I believe it falls well short of what workers and their families need," Liadh said.
"This view is shared by the European Trade Union Confederation, which has called for the rights contained in the document to be broader and stronger. 
"In addition to the EPSR, the Commission needs to publish a clear action plan on how the proposals in the Pillar will be implemented."
The Ireland South MEP said she hopes to see an action plan before the European Parliament and the social partners before autumn. 
"If the Commission is serious about making a difference with this ambitious project, it needs to make sure that it achieves tangible progress on the application of the principles and rights laid down in the Pillar such as access to social protections for the self-employed and non-standard workers, work-life balance, income inequality, poverty and parental leave.
"These are real issues that affect real people and if the Commission is serious about addressing these matters, then it must set out how it intends to accomplish that."
Fishing U-turn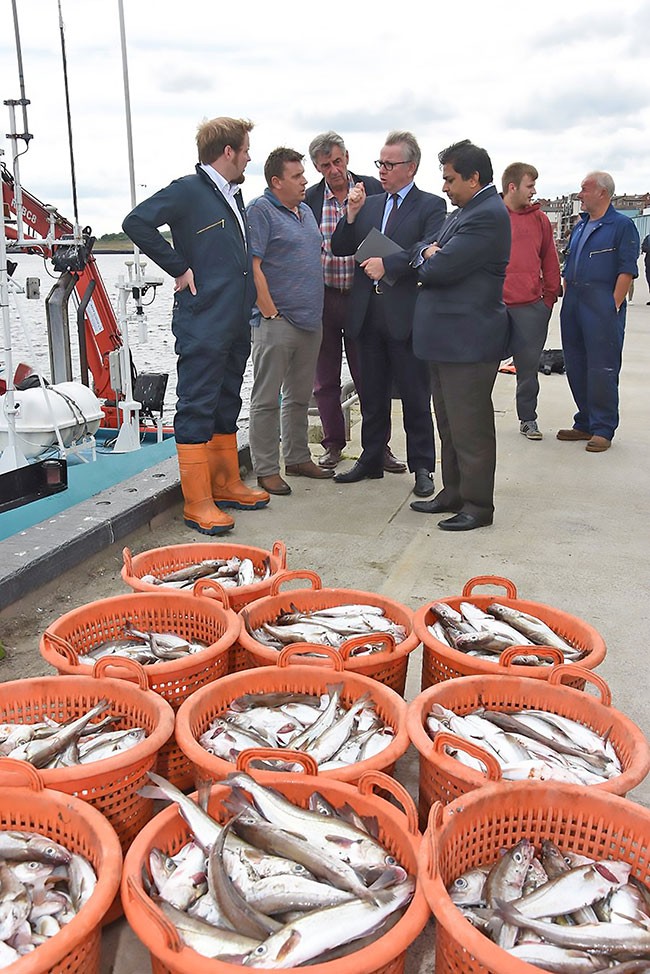 •  British Minister Michael Gove's government has made contradictory statements over fishing rights
A PRONOUNCEMENT by Westminster Environment Minister Michael Gove that EU fishing boats will be welcome in British waters because doesn't have the capacity to catch and process its stocks alone has been welcomed by EU Fisheries Committee member Liadh Ní Riada.
It does, though, expose the British approach to Brexit as "erratic and directionless" after contradictory statements over several months, the Ireland South MEP said.
"Fisheries is one of the main concerns for Ireland post-Brexit. While I welcome Mr Gove's comments on allowing EU vessels to use British waters post-Brexit, they are sure to cause as much confusion as relief," she said.
"There has been no detail given; no word on which countries will be allowed where, much less what quotas they will be offered; and, as we have come to expect, absolutely nothing on how it will affect Irish fishing vessels North and South, so it is a very cautious welcome I give his comments."
She said the fishing industry, "here more than anywhere", needs certainty. 
"It needs to know what is coming down the line so that it can prepare for it. It does not need weekly flip-flopping from the British Government on key issues."
EU in Tel Aviv pulls its video featuring 'wipe out Gaza' advocate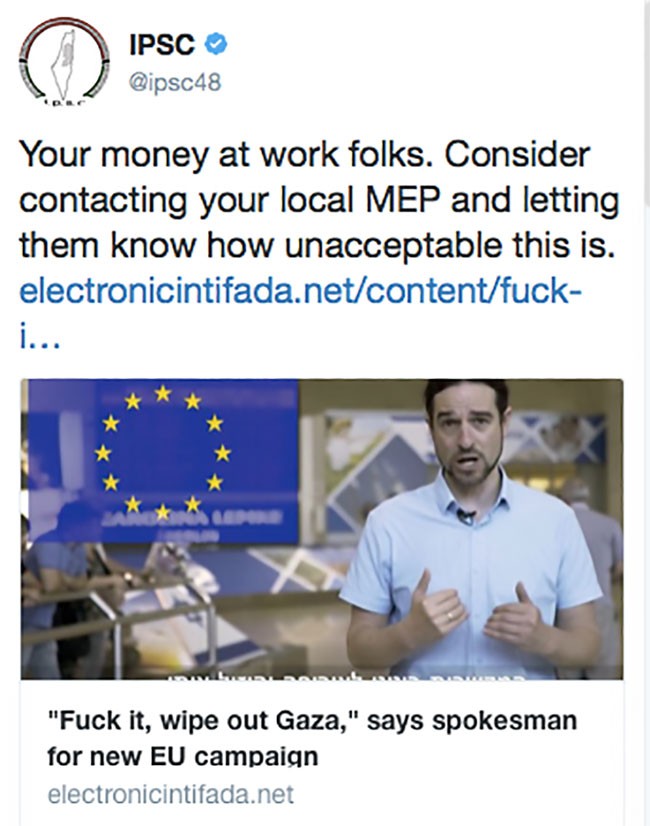 THE EU Embassy in Tel Aviv has removed from its Facebook page an official EU video "to showcase co-operation between EU and Israel" after angry protests about the appearance of Avishai Ivri, a 'comedian' who has publicly advocated murder and genocide against Palestinians.
Dublin MEP Lynn Boylan had written to EU Commissioner for Foreign Affairs, Frederica Mogherini, demanding an explanation.
Ivri has previously called on Israel to kill 1,000 Arabs for every Israeli who dies in conflict-related violence and has urged that Israel "wipe out Gaza".
Announcing on Twitter that it had removed the video, the EU Embassy said: 
"We decided to stop promoting a video on EU-Israel co-operation. We want no doubts that anything we do promotes the values the EU stands for."
Police spying on activist groups – European Parliament event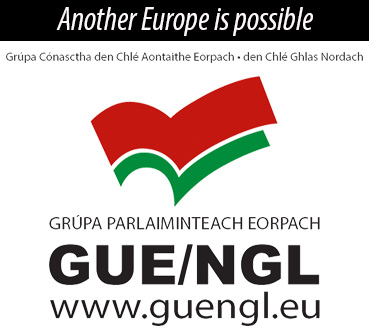 DUBLIN MEP Lynn Boylan is hosting an event in the European Parliament highlighting police spying on activist groups in Europe. 
The event (on Wednesday 6 September) features evidence from activists who have been directly targeted by undercover police operations as well as experts in the area of state surveillance.. 
The level of undercover activities targeting activist groups, sometimes in violation of EU human rights law, has come to light following revelations about 'spy-cops' initially made by activists who had been targeted by British undercover police officer Mark Kennedy. Kennedy is known to have operated in at least a dozen countries across Europe. 
Continuing revelations forced the then British Home Secretary Theresa May to announce the formation of an Undercover Policing Inquiry which has so far revealed that the British state had targeted over 1,000 activist groups. Many of the known groups and operations worked internationally.
Lynn Boylan said it is "very worrying" that European police forces have spent large amounts of public funds on targeting peaceful campaign groups.
Sellafield fears delivered to nuclear safety chief
MIDLANDS NORTH WEST MEP Matt Carthy has met Massimo Garribba, head of the European Commission Directorate-General for Energy (including nuclear safety), about the continuing dangers posed to Ireland and mainland Europe by the Sellafield Nuclear Plant in England.
"Sellafield is a threat to all of Europe," Matt Carthy said.
He said that there has already been a long list of contamination incidents at Sellafield, which is "a grave threat to the health of citizens" not just in Britain itself but in Ireland and other European countries.
"I outlined my belief that Sellafield must be closed and there should be a halt to the construction of any further nuclear power plants near the Irish Sea."
A BBC Panorama investigation into Sellafield broadcast last September was prompted by a whistle-blower who had been a senior manager there. He said his biggest fear is a fire in one of the nuclear waste silos or one of the processing plants and that Sellafield often didn't have enough staff on duty to meet minimum safety levels:
"If there is a fire there it could generate a plume of radiological waste that will go across Western Europe," he said.