28 August 2017
'Incredible' – Fine Gael minister blames Dublin/Monaghan bombings on the IRA
'Is journalist Niall O'Connor not aware of the real perpetrators?'
CAMPAIGN GROUP 'Justice for the Forgotten' has described as "incredible and rather sad" that Fine Gael Junior Finance Minister Patrick O'Donovan has claimed in a newspaper interview the IRA was to blame for the 1974 Dublin/Monaghan bombings and not the unionist paramilitary Ulster Volunteer Force.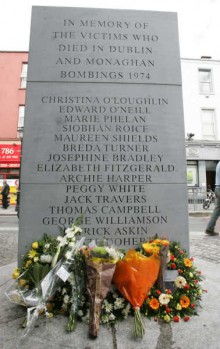 The double bombing was claimed by the UVF with widely-suspected support from British Army Intelligence.
Thirty-four people were killed some 300 injured in attacks on Dublin and Monaghan on 17 May 1974.
The British Government has ignored repeated calls from the Irish Government and Dáil motions for Whitehall to release all its military and security files relating to the attacks.
On Monday, Junior Finance Minister and Limerick TD Patrick O'Donovan, in an interview with the Irish Independent, launched an attack on Sinn Féin in which he accused the IRA of carrying out the Dublin/Monaghan bombings.
In an immediate response, Justice for the Forgotten said:
"Incredible and rather sad that a Government Minister believes that the Dublin/Monaghan bombings, which saw the greatest loss of life in a single day of the Northern conflict, were carried out by the IRA!
"Also, is the journalist, Niall O'Connor, not aware of the real perpetrators – the mid-Ulster UVF in collusion with members of the RUC, UDR and British Intelligence?"