24 August 2017
'Brexit is Bad for Your Health,' all-island health forum hears in Derry
'A special, unique arrangement that allows the North to remain in the Customs Union and a member of the single market is a reasonable demand in the face of something that will destroy or economy, destroy our communities and destroy our health service'
BREXIT will have devastating consequences for health services and patients, North and South, a public information meeting held in Derry by Martina Anderson MEP has been told.
The event brought together health experts from across Ireland to discuss the impact of the Tory Brexit agenda on health services.
'Brexit is Bad for Your Health' was held in Catalyst Inc in Derry this week. 
Speakers included Dr Paul Darragh from the British Medical Association, Ruth Tallion from the Centre for Cross-Border Studies, Gina McIntyre from the Special European Union Programmes Body (SEUPB), and Sinn Féin Dáil Health spokesperson Louise O'Reilly TD as well as Martina Anderson MEP and Foyle Sinn Féin MP Elisha McCallion.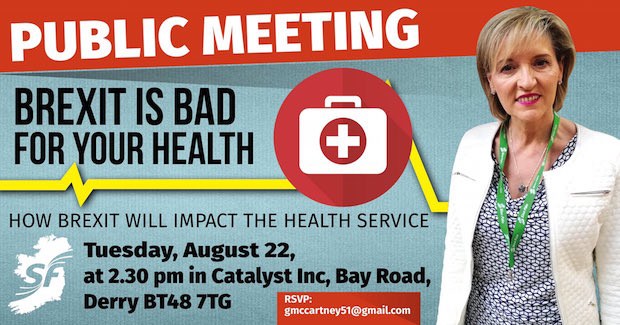 Opening the event, Martina Anderson said the Tory Brexit agenda threatens future North-South health co-operation, with patients ultimately losing out.
"The direction of travel for our health service for quite some time has been towards shared services across the island and this had led to improved outcomes," the North of Ireland MEP said.
"Shared services on all-island basis, shared staff and common standards make clinical as well as financial sense and all this could be lost through the imposition of an EU frontier as a result of Brexit."
The Sinn Féin MEP also explained how staff levels, equipment and areas of specialist care such as cancer treatment could be at risk because of the Westminster Brexit agenda.
"All of this is disastrous for our health service. But all of this can be avoided if these negotiations deliver 'Designated Special Status for the North of Ireland Within the EU'.
"It is clear from the reaction to Britain's paper on the Border produced on 16 August that its proposals for a 'frictionless' Border are unworkable and are in fact disingenuous.
"We have ensured that the EU negotiators are mandated to protect the Good Friday Agreement in all of its parts and to ensure there is no hardening of the Border.
"There is really only one way short of a united Ireland to square that circle and that is through a special, unique arrangement that allows the North to remain in the Customs Union and a member of the single market.
"This is a reasonable demand in the face of something that will destroy or economy, destroy our communities and destroy our health service," Martina Anderson explained.
● Louise O'Reilly TD speaks at the Derry conference 
Prior to the event, Louise O'Reilly TD joined Martina Anderson and Elisha McCallion on a visit to the North West Cancer Care Centre at Altnagelvin Hospital, which caters for cancer patients from both sides of the Border.
The Sinn Féin Dáil Health spokesperson said it is an example of what could be achieved through all-Ireland co-operation on health.
"The continued development of an all-Ireland health care system simply makes sense," Louise O'Reilly said. "It does not make any sense at all to put it and patient health and safety at risk through Brexit.
"So much good work has been done in recent years across a range of healthcare services to promote and develop all-Ireland co-operation. We can't allow that to go by the wayside because of Brexit.
"Special Status for the North Within the EU makes sense on so many fronts, but particularly on healthcare," she said.