18 August 2017
Barcelona – Gerry Adams TD and Michelle O'Neill MLA extend sympathy and solidarity to victims
'The horrific attack in Barcelona was an appalling and indiscriminate slaughter of men, women and children' – Michelle O'Neill
SINN FÉIN President Gerry Adams TD has extended his sympathy and solidarity to the victims of the terror attack in Barcelona.
Deputy Adams said:
"I want to extend my sincerest and heartfelt sympathy and solidarity to the families and friends of those killed and the survivors of the despicable act of brutality witnessed in Barcelona.
"My thoughts and prayers are with all of them at this time."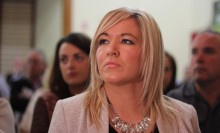 The Sinn Féin leader in the North, Michelle O'Neill, has condemned the Barcelona attack as a "horrific attack on men, women and children".
Expressing sympathy and solidarity with the families of those killed and injured, Michelle O'Neill said:
"The horrific attack in Barcelona was an appalling and indiscriminate slaughter of men, women and children.
"The scale of the devastation caused is heart-breaking.
"It is sickening to think that people deliberately set out to kill and maim people who were simply out enjoying a summer evening in one of the world's most beautiful and welcoming cities.
"My thoughts are with the families and friends of all those who have lost loved ones and those who were injured, as well as the emergency services who attended the scene."