10 August 2017
Martin McGuinness unique personal photo exhibition unveiled at Derry's Gasyard Féile 2017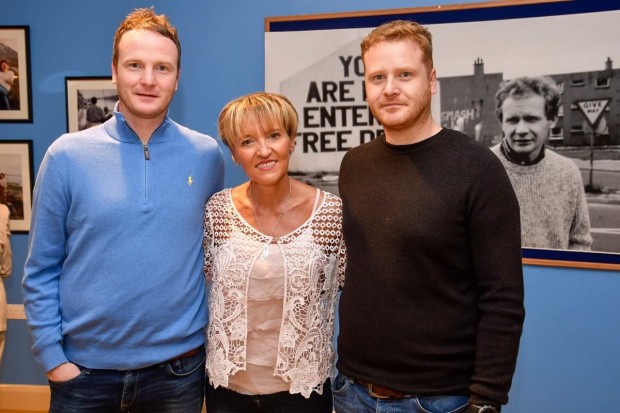 'A number of the photos come from our own family archive and have never been seen in public before'
A UNIQUE photographic exhibition on the remarkable life of the late Martin McGuinness has been launch in his native Bogside in Derry as part of the Gasyard Féile 2017.
The exhibition, which was curated by the McGuinness family, contains photographs from all stages of his life, including family photos from their personal archive.
It runs in the Gasyard Centre until Tuesday 15 August.
Hundreds of people attended the opening of the exhibition in the Gasyard Centre, which was launched by former Assembly Speaker and long-time friend and comrade of Martin McGuinness, Mitchel McLaughlin.
Ahead of the launch, the McGuinness family explained to An Phoblacht why they shared their photos with a wider audience.
"Martin was recognised all over the the world, regularly pictured alongside international leaders and was one of the most photographed people in Ireland.
"Many aspects of his life were lived in the public eye and were captured and chronicled by the media.
"But to us he was a husband, father, grandfather and brother who lived for his family," the family said.
The McGuinness family said the photos represent all stages of his life – from childhood, through to his early political activism, to his place on the international stage, as well as his family life.
"In curating this photographic exhibition of Martin's remarkable life, we have chosen photos that cover all aspects of his life, both in the public eye and away from the cameras, relaxing with his family.
"A number of the photos come from our own family archive and have never been seen in public before.
"All show his warmth, spirit, humour, dedication to his beliefs and love for his family," they said.
Speaking at the launch (above), Mitchel McLaughlin said:
"It would be very difficult to sum up Martin's life but the spread of these photos tell his story.
"We see how much he gave to this city and to the rest of us through his public life, but we also see his life with his family.
"I regard this photographic exhibition as a reflection of his life and I would like to thank his family for giving us the opportunity to share their memories with the rest of us."
A spokesperson for Gasyard Féile '17 said:
"Martin McGuinness was a proud supporter of the Gasyard Féile from the start and it is fantastic to have the McGuinness family curating this exhibition of truly historic photos.
"We thank the McGuinness family for allowing us the opportunity to share these photos with the community to celebrate his life."