11 August 2017
Glasgow remembers the Hunger Strikers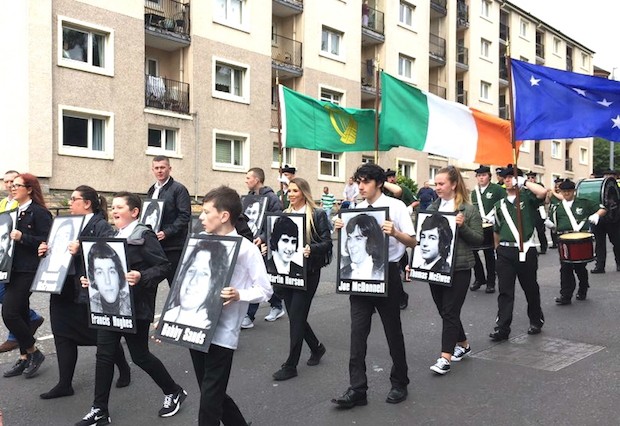 'It's a credit to the people of Glasgow and the surrounding areas that, 36 years, on we are still honouring these brave men. They are our heroes'
ON the 36th anniversary of their deaths, the 1981 H-Blocks Hunger Strikers were remembered in Glasgow last month in a series of commemorative events organised by Cairde na hÉireann.
The weekend started with Cairde na hÉireann showcasing their Hunger Strike Exhibition, 'Stailc Ocrais', which provides a historical account of hunger strikes throughout the republican struggle.
Guest speaker at a meeting on the period, Sinn Féin Councillor Séanna Walsh recalled his involvement in the struggle and in particular his experiences in the H-Blocks during the Blanket Protest and the 1981 Hunger Strike.

The following day saw Cairde na hÉireann host their annual Hunger Strike Commemoration which saw republicans from all over Scotland joined by comrades from the Liverpool Irish Republican Flute Band, which led the parade through Glasgow City Centre.
Following the parade, a successful social function was held in the Woodside Halls addressed by Séanna Walsh and also Cairde na hÉireann National Organiser Franny McAdam.
Franny McAdam said:
"We have honoured the Hunger Strikers every year since and it's a credit to the people of Glasgow and the surrounding areas that, 36 years, on we are still honouring these brave men. They are our heroes. They showed us what the struggle was all about and we will never stop honouring the Hunger Strikers."
He added:
"It is great to see so many young people, who weren't even born at the time of the 1980/1981 Hunger Strikes, taking part in this weekend's events. In particular, it is a credit to Cairde na hÉireann that Cairde na hÉireann Youth led today's march carrying portraits of the ten brave men. These young people deserve special thanks – they are the future of our organisation."
Information on future events can be found at Cairde na hÉireann's Facebook page www.facebook.com/CNEScotland
● Cairde Glasgow Regional Organiser Anthony Kennedy, Sinn Féin Councillor Séanna Walsh, Cairde Education Officer Peter McKeown and Cairde Vice-Chair Stacey McNeill