9 August 2017
More private rented accommodation inspections needed to ensure basic safety and living standards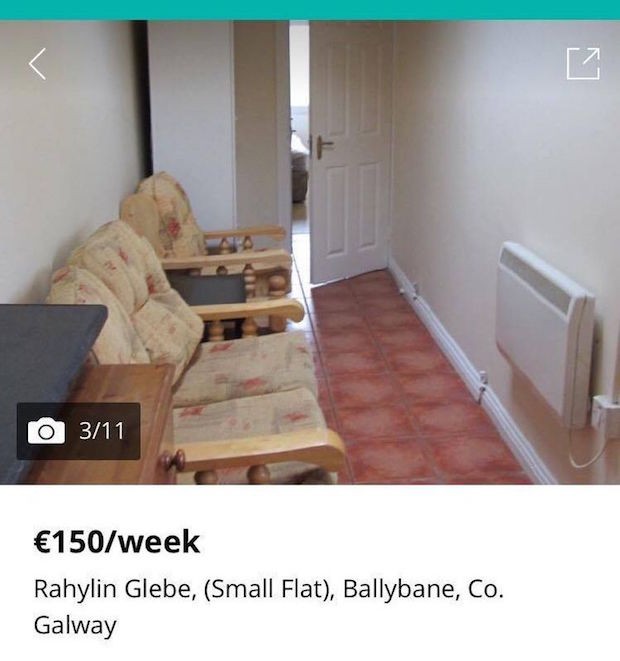 Of the 1.3% of private rented premises inspected in Galway City in 2014 – 74% failed inspection. Only 1% of private rented premises in Galway County were inspected – with a 100% failure rate
SINN FÉIN Senator Trevor Ó Clochartaigh is calling for more resources to inspect private rented accommodation in Galway City and County Galway after estate management agencies advertised what he calls a "glorified corridor being dressed up as a flat" for rent at over €600 per month.
The Galway West/South Mayo senator (pictured) said:
"It is absolutely disgraceful that estate management companies are advertising properties for greedy landlords who are in breach of standards for rented accommodation and Galway City and Galway County Council must fulfill their duties to stop it.
"I have been shown a property advertised recently by a prominent local property management company for letting in Rahylin Glebe, in the east of Galway City, which is nothing more than a dressed-up corridor."
Senator Ó Clochartaigh said it is "almost certainly in breach of the standards laid down in regulations by the Department of Housing" which outline the minimum conditions that must be complied with in relation to health and safety for tenants.
He said that Galway City and Council has "an abysmal record" when it comes to inspecting private rented accommodation.
According to a report published by the National Oversight and Audit Commission (NOAC) in October 2016, Galway City Council had the lowest inspection rate in the country at 1.3% and Galway County Council was third-worst in the country.
Of the 1.3% of private rented premises inspected in Galway City in 2014, 74% failed inspection. Only 1% of private rented premises in Galway County were inspected, with a 100% failure rate.
The only properties inspected in Galway City and County were those being assessed for HAP or RAS payments, Trevor Ó Clochartaigh said. None of the others on the open market was inspected.
Galway City Council also had the lowest staff complement in the state allocated for inspections of properties in the private rented sector.
"This all indicates to me that we need far more resources and a much more robust inspection regime in Galway City and County councils to ensure that our private rented accommodation sector reaches the minimum standards required," Senator Trevor Ó Clochartaigh said.
"Agencies and landlords advertising and supplying substandard properties must be taken to task. The practices we are seeing of unscrupulous people taking advantage of those desperate to find accommodation and charging them exorbitant rents must be stopped.
"I am calling on the Chief Executives and Directors of Services for Housing in both Galway and City County Councils to outline what they intend to do to address these matters which they have responsibility for enforcing."