2 August 2017
Taoiseach to meet Gerry Adams in Belfast on Friday
Taoiseach's attendance at Gay Pride event in Belfast 'important act of solidarity with the LGBT community'
GERRY ADAMS has said he is looking forward to meeting Leo Varadkar in Belfast on Friday during the Fine Gael leader's first visit to the Six Counties as Taoiseach. And he rejected claims by DUP leader Arlene Foster that Sinn Féin is not serious about talks to restore the Executive and Assembly at Stormont.
The Sinn Féin leader was speaking at the party's offices on the Falls Road in Belfast on Wednesday afternoon on his return from briefing Irish-American leaders and policy makers on the political situation in Ireland.
He rejected comments by DUP leader Arlene Foster earlier on Wednesday that republicans are not serious about restoring the Executive and Assembly at Stormont.
"Let no one – in any circumstances, in any way – underestimate Sinn Féin's preparedness to make talks work," Gerry Adams said. "Our record is there for all to see."
He added:
"You could write a thesis on Arlene's remarks this morning.
"She starts off by saying that the talks will begin again in earnest in August. I presumed, until now, that because we were there that the talks were in earnest."
He said Sinn Féin will put a negotiating team in now to deal with outstanding issues.
"They're all about rights. They're all very straightforward. They threaten no one," he insisted.
Gerry Adams said that "the big question" which no unionist leader has been able to get away from is whether unionism is prepared to embrace "a new dispensation" in which everyone's rights are respected and actively promoted and defended or whether they "want to cling to the remnants of the old unionist way of doing things".
"That's the profound question for unionists."
The Sinn Féin leader also said he is "delighted" that the Taoiseach is taking part in the Official Pride Breakfast in Belfast on Saturday morning.
"That's good and an important act of solidarity with the LGBT community," Gerry Adams said, noting that Michelle O'Neill, the Sinn Féin leader in the North, will also attend.
The Taoiseach's presence will help focus attention on the need for marriage equality, "available elsewhere throughout these islands", to be extended to citizens in the North.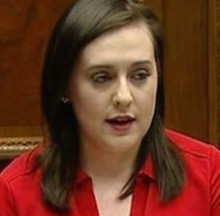 ◼︎ Sinn Féin MLA Megan Fearon (pictured) has welcomed an initiative that will see uniformed PSNI officers march in Belfast's Pride Parade for the first time.
The party's spokesperson on Equality and Social Justice said:
"Sinn Féin is a party committed to the equality agenda. We believe that all citizens – regardless of race, religion or sexuality – should be treated as equals in the eyes of the law.
"The rights of the LGBT communities and human rights are not separate; they are one and the same."