1 August 2017
Francis Ledwidge Centenary in Kilmainham Gaol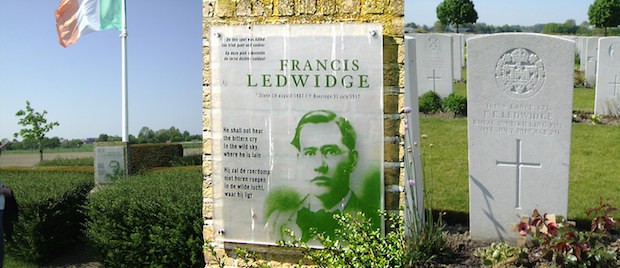 'I have no doubt, from all I have read of Ledwidge, that he would, on his return to Ireland, have thrown his lot in with the independence movement, as so many of his fellow Irishmen in the British Army did after the war'
THE Inchicore Francis Ledwidge Society hosted an evening of poetry and song in Kilmainham Gaol in Dublin on Monday to mark the 100th anniversary of the death of the poet Francis Ledwidge.
Great credit due to Michael O'Flanagan and Liam O'Meara for the event.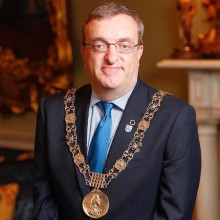 Ard Mhéara Bhaile Átha Cliath Mícheál Mac Donncha (pictured) gave the following opening address.
A Chairde,
Curieann sé áthas orm a bheith libh agus muid ag comóradh an file agus an tírgráthóir Francis Ledwidge anseo sa phríosún stairiúil.
Molaim Cumann Ledwidge Inse Chóir as an obair atá déanta agaibh le blianta anuas.
Is mar file thar aon rud eile ba choir dúinn cuimhniú ar Francis Ledwidge.
Ba thubaisteach an rud é gur fuair sé bás ar an lá seo céad bliain ó shin, díreach mar a bhí sé tubaisteach gur cuireadh a chairde, filí an Éirí Amach 1916, chun bás sa phríosún seo.
Cé go raibh sé ag troid in Arm Impiriúlach ní doigh liom go raibh sé i gceist riamh ag Francis Ledwidge an Impireacht sin a chur chun cinn. Ar dtús gan amhras bhí sé den tuairim go raibh sé ag troid ar son na hÉireann. Faoi dheireadh ba léir go raibh sé ag troid ar son a gcomrádaithe amháin agus thuig sé go mbeadh troid na hÉireann sa bhaile in Éirinn.
It is a great honour to join you in this most historic and poignant place on the centenary of the death of Francis Ledwidge.
Francis Ledwidge deserves to be remembered primarily as a great poet. His death ended a promising literary career and a life that surely would have been lived at home in Ireland and as a part of the national cultural revival.
Ledwidge's poetry captures in concise yet deeply resonant lyrics his love for the Irish countryside, especially his beloved Contae na Mí. It also speaks of a deep patriotism, that patriotism which led him to fight in France, believing as he did, and as did thousands of others, that he was serving Ireland.
His death in France was a tragedy, just as the executions of his friends, the 1916 poets, was a tragedy when they were put to death in the Stonebreaker's Yard of this jail. So it is appropriate and poignant that we remember these poets together here in one of the most sacred places in Ireland.
Thomas Ashe, who died on hunger strike in 1917, two months after Ledwidge died, wrote earlier that year that a new Ireland had arisen in the aftermath of the 1916 Rising. To read the poems of Francis Ledwidge after the 1916 executions is to see another poetic manifestation of that change. He was deeply moved by the bravery of the Easter Week insurgents and appalled by the executions.
Roger Casement was prophetic at the start of the First World War when he said that young Irishmen were being induced to join the British Army to fight for an illusion of Home Rule, for what Casement called "a promissory note payable only after death".
Tens of thousands of Irishmen were sacrificed on the altar of both so-called constitutional nationalism and unionism in what was, without question, an imperialist war. Ireland was pulled into that war only because of the then regrettably unbroken connection with England and Irishmen were sent to fight Germans, Austrians, Hungarians and Turks with whom we had no quarrel.
Francis Ledwidge had much in common with another artist, another Francis, the German painter Franz Marc, who perished in May 1916.
These two young artists, cut down before they could reach their prime, had more in common with one another than they had with the war-mongering collection of emperors, kings, aristocrats, capitalists and field marshals who sent millions to be slaughtered as cannon fodder.
It is right that all sections of the community should have the space and the respect to remember their dead. For that reason as Ard Mhéara I recently attended the British Legion commemoration at Islandbridge, as previous first citizens of Dublin have done. That said, it has to be recognised that there are many, many people in Ireland who have ancestors who died in the First World War but who do not find the British Legion an appropriate body through which they would commemorate their relatives. Those people deserve space and respect also.
Just last week, on 26 July in the Mansion House, we honoured another death centenary, that of William Partridge.
Trade unionist, socialist, Citizen Army leader, republican soldier in 1916, Partridge died after imprisonment in England. Partridge and Ledwidge were likely known to one another.
Their deaths occurred but a few days apart – both patriots, both men who would, unquestionably, have played a key role in the struggle for Irish freedom had they lived. Because I have no doubt, from all I have read of Ledwidge, that he would, on his return to Ireland, have thrown his lot in with the independence movement, as so many of his fellow Irishmen in the British Army did after the war.
Of course we cannot know any of this for certain. What we have definitely is the poetic legacy of Francis Ledwidge. I commend the Inchicore Ledwidge Society for all your efforts and I will conclude with this short poem from Ledwidge, one of his tributes to insurgents of 1916:
O'Connell Street
A noble failure is not in vain
But hath a victory all its own.
A bright delectance of the slain
Is down the generations thrown.
And, more than beauty understands,
Has made her lovelier here, it seems.
I see white ships that crowd her strands,
For mine are all the dead men's dreams.