29 July 2017
'Belfast Telegraph' starts a war with Sinn Féin senator over UTV reporter's British Army tweet
'Paul and I subsequently engaged in, as always, an amicable and respectful exchange'
TWITTER can be a funny old place – a place to share knowledge and views and news even though it's also the haunt of nasty trolls dishing out abuse.
As a public representative, I have always tried to never shy away from engaging, debating, arguing and sometimes even disagreeing with others online.
I think even my fiercest critics would concede that I do my best to take part in discussion on Twitter whereas many involved in political life simply don't bother, which is fair enough too.
It was in this same spirit that I recently took issue with a tweet from well-known UTV journalist and newscaster Paul Clark.
I've know Paul for a good few years now, going back to my days in the Sinn Féin Press Office at Stormont. I've spoken to him off-camera many times and also gone up against him in live studio debates on things ranging from the MTV Music Awards coming to Belfast to unionist attacks on the Short Strand during the now infamous 'flag protest' era.
Paul and I often speak in Irish to each other as well. We've even managed on occasion to slip in some Gaeilge live on air. I like doing that.
A few days ago, Paul, who is well-known for his longstanding coverage of and support for the British Army, tweeted from his trip covering the Royal Irish Regiment's operation in Afghanistan where he posed the question: "How do our soldiers stay sharp?"
Unsurprisingly, I took issue with the term "our".
The British Army isn't "my" army.
I know I'm not alone in that viewpoint. I don't think my sentiment would come as a great surprise or indeed be considered offensive by a large swathe of the unionist and loyalist population either. Why? Because I'm an Irish republican!
So I quoted Paul's tweet, clarifying on my Twitter feed that: "Paul ain't speaking for me or many other UTV viewers when he uses the term 'our'."
No harm. No foul. No biggie – right?
Well, that remained to be seen.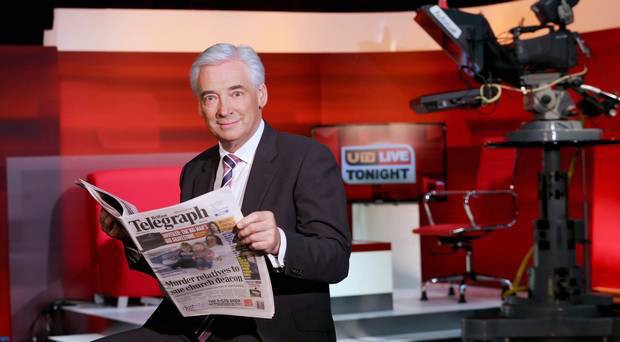 Amicable exchange
Paul and I subsequently engaged in, as always, an amicable and respectful exchange. We conducted some of it, as usual, in both the Irish and English language.
Paul asserted: "I'm Irish too."
He is indeed. I didn't and wouldn't ever contest otherwise.
But then Twitter kicked in.
Very soon afterwards, the Belfast Telegraph were carrying an online article with the headline: "I'm Irish too, you know: UTV's Paul Clark hits back in Gaelic after SF man's soldiers jibe."
(Note the absence of the word "Senator" here. A common feature of the BelTel when covering news from myself.)
The main body of the article then had to concede that the exchange ended with myself and Paul "agreeing to disagree" and arranging, as we did, to discuss the matter over a cup of tea in Leinster House. I'm genuinely looking forward to that.
It quoted a response from a UTV spokesperson who also reiterated the fact that Paul and I had a friendly and amicable exchange.
The BelTel didn't ask me for a comment.
The online article was tweeted several times by the BelTel that day, prompting at least one user to ask: "How many times are you going to tweet this article today?"
It didn't end there.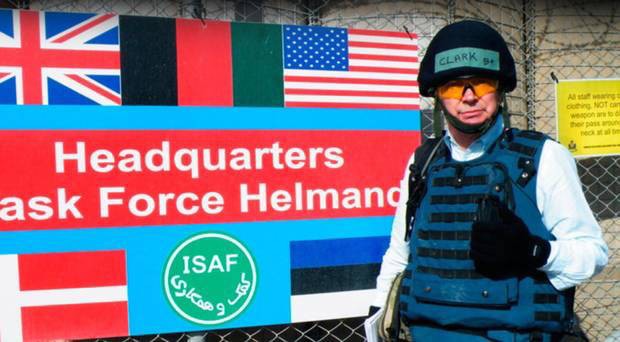 ● UTV's Paul Clark embedded with the British Army in Afghanistan
On the attack
The following day, the print edition carried the "story" on its front page with the headline: "UTV's Paul Clarke hits back in Irish after Sinn Féin man goes on the attack over Twitter reference to 'our soldiers' in Afghanistan."
So my disagreement or alternative view to Paul's moved from "jibe" in the online article to "attack" in the print version. (Note once again the absence of the title "Senator".)
Both the "jibe" and "attack" headlines prevailed despite the articles going on to admit that our exchange was friendly and respectful.
What an unusual choice of words for the headline which surely contradict the tone of the exchange but also the premise of the main articles on both occasions.
What's that all about?  Could it be that 'disagrees with' wouldn't make such a juicy shock headline?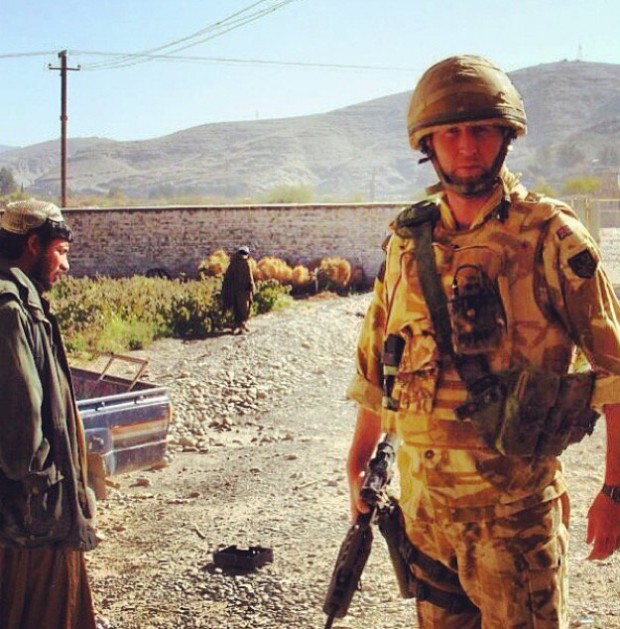 ● Ulster Unionist MLA Doug Beattie when he was serving with the British Army in Afghanistan
UUP's Doug Beattie joins battle
Shortly after the print edition was released I got a text from a journalist at the BelTel, "Hi ,Niall. We are running a follow-up on Paul Clark tweet. Can you give me a call? Thanks."
'Another follow-up?' But at least they were asking me for my view this time.
So I rang the journalist. This time they wanted a response to tweets and views expressed by Ulster Unionist Party "war hero and MLA" Doug Beattie.
(The fact that Doug Beattie gets his MLA title and I'm just plain "Mr Ó Donnghaile" rather than Senator hints at the BelTel's perspective on equality and respect for the Oireachtas as a national parliament.)
It appeared British Army veteran Doug wanted to inject some "fury" into the whole situation.
"Dia ár sábháil," I thought.
Doug argued that my tweet showed there would be no place for British soldiers within a united Ireland. Utter bruscar!
Doug's input showed a negative side of Twitter, taking an exchange that was courteous and respectful and warping it in order to support your own political objective or assertion and then obtaining coverage from your willing partners in "UNIONIST FURY", the Belfast Telegraph.
The journalist conceded he had gone to Doug seeking comment after his tweets. Isn't Doug lucky? It took them two days to come looking a comment from me on mine!
So I spoke to the Telegraph about Doug's assertions and you can read some of my responses here http://www.belfasttelegraph.co.uk/news/northern-ireland/sinn-feins-united-ireland-not-safe-for-unionists-war-hero-beattie-weighs-into-twitter-row-over-our-soldiers-35973050.html
The article quotes Doug as saying my tweet was evidence that a united Ireland would be "scary" for British ex-soldiers and that they would "not be safe". He also accuses me of considering them "an underclass".
This is a heck of a lot of presumptuous assertions from Doug when you consider my initial tweet only allowed me 140 characters within which to write!
At no point did I say any of the things Doug claims. I didn't even suggest it.
At no point either did I call into question anyone's "Irishness" – not Paul's, not Doug's or anyone else's – yet that became the false premise of both articles and associated coverage.
As I said, Twitter can be a funny old place.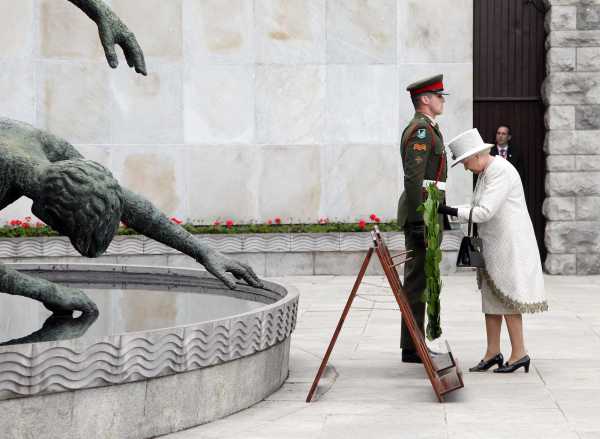 ● Queen Elizabeth lays a wreath at the Garden of Remembrance in Dublin in 2011 to those who died for Irish freedom 
Challenged by unionism
Sinn Féin has a proud record of engaging broad opinion on the merits of a united Ireland and the inevitable shape it will take. We have challenged unionists and equally been challenged by them (and in the pages of An Phoblacht too in the Uncomfortable Conversations series). This is healthy. It is the right thing to do to advance our core republican and egalitarian ideals.
It is worth pointing out, however, that I'm not aware of any efforts by Doug or his colleagues in the Ulster Unionist Party or the British Army to follow the example of their Commander in Chief and the monarch they profess allegiance to, Queen Elizabeth, in acknowledging and respecting the experience of Irish republicanism in the history and context of conflict here in Ireland.
Doug's singular focus is on republicanism, wilfully ignoring the unprecedented initiatives undertaken by Sinn Féin leaders to stretch themselves and the broader constituency in remembrance and reconciliation efforts – with no such efforts coming back on the part of political unionism. That's a great pity, something I regret and something I would like to engage more on with my unionist colleagues, neighbours and friends.
It was not that long ago that Doug's colleagues in Belfast City Hall failed to attend a civic dinner commemorating the 1916 Easter Rising.
At that dinner I spoke to former British Army soldiers and victims of the IRA who were profoundly disappointed at political unionism's boycott of the event. 
This boycott took place in the full knowledge that Sinn Féin councillors had previously attended civic dinners to mark the Ulster Covenant and the Battle of the Somme. I myself was one of those who attended the civic dinner marking the awarding of the Victoria Cross to Royal Navy submariner J. J. Magennis in the Second World War and pictured in the mural below.
Add these to our attendance at Armistice Day events at Islandbridge in Dublin, the laying of laurel wreaths on July 1st, our engagements with the Royal British Legion ex-services charity, meetings with members of the British royal family, all in a spirit of reconciliation, mutual respect and understanding.
We will continue to undertake our reconciliation efforts because – despite the at times challenging and difficult nature of our politics – we believe it is the right thing to do.
All of these efforts have been met with zero reciprocation from political unionism. Not even an acknowledgement of the nationalist and republican experience here and yet Doug Beattie tells us a united Ireland would be a "scary" place for former British soldiers?
Perhaps he should reflect on his and his colleagues' own efforts thus far in reaching a better understanding and degree of respect for those of us with a different experience, narrative and understanding.
I aspire to Irish unity, an Ireland where Doug and his fellow British citizens will be cherished, respected and understood.
He should not presume, based on one short tweet, to know the entirety of my political experience in terms of engaging with his colleagues and constituents within the unionist community, something I have done for many years in east Belfast, often during very testing and stressful periods of tension. I'm proud of that work, however, and would never shy away from doing more.
In the past, I have also caused upset and offence within the unionist community and I have acknowledged and apologised for that. It would never stop me, however, from seeking a greater understanding and experience of my fellow Irishmen and women from within the unionist tradition, those who are of a solely British tradition here and those who also want to be part of the journey towards an agreed and reconciled Ireland, at peace with its rich tapestry of difference and diversity.
So let's bring my musings right back to where they started.
● Ballymurphy Massacre families take their campaign to the Ministry of Defence in Whitehall
It's good to talk
The British Army isn't "mine". I don't want it to be for very considered, legitimate, ethical and core republican reasons.
The history of the British Army here in Ireland and its current escapades globally are something that I and many others want no truck with or have an affinity for and are opposed to in principle.
That's not to say that the British Army isn't Doug's other people's army. It patently is – and I respect that. I simply wish that he and Paul would, in return, respect me and the many like me for whom it isn't.
They should not presume when speaking about or covering these issues to make universal assertions that we all agree on this when we obvious and understandably don't.
That doesn't make it "dangerous" or "unsafe" for anyone, nor does it create an "underclass"; rather if we acknowledge our difference it indicates a healthy divergence of opinion, experience and expression.
I fail to see how that's a bad thing.
As I said to Paul Clark in our initial exchange: "It's good to talk" and he offered to buy me a cup of tea. I encourage Doug and his colleagues to take part in that conversation. I hope he might even consider joining Paul and I for our cup of tea.
Beadh fáilte romhat, Doug.