1 August 2017 Edition
The spear in the thatch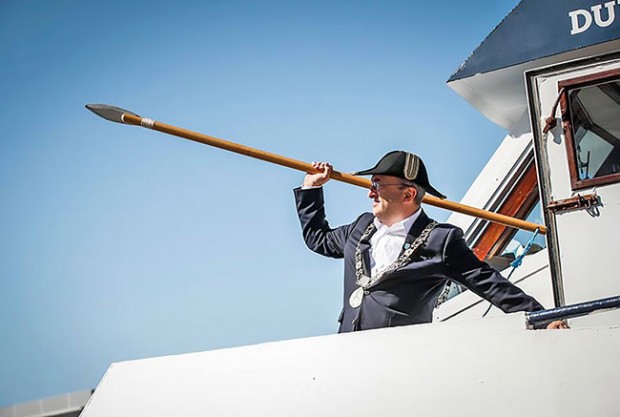 IT'S NOT a remake of Mutiny on the Bounty or Zulu Dawn in our main photo but the new Sinn Féin Ardmhéara Bhaile Átha Cliath, Mícheál Mac Donncha, taking part in 'The Casting of the Spear', a maritime tradition to commemorate the setting of Dublin City's boundaries dating back to 1488.
Long-time readers will recall that Mícheál was once Editor of An Phoblacht and still pens our 'Remembering the Past' column. He's not only the Mayor of Dublin now but he can add to his esteemed titles the rank of "Honorary Admiral of Dublin Port". 
After the ceremony they made him give his admiral's hat back but don't be surprised if Mícheál launches an armada to take back Rockall.
Antiques Roadshow at Stormont
THE BBC's Antiques Roadshow appearance at Parliament Buildings and Stormont Estate on Saturday 29 July is not connected to the thoughts of DUP relics such as climate change denier Sammy Wilson and creationists in the party.
Unionist pensioners who stood in massed ranks on hillsides with Ian Paisley's 'Third Force' loyalist militia in 1981, openly threatening to use their legally-held weapons against nationalists,  probably thought this BBC Antiques Roadshow guideline was just for them:
"Any firearms brought to the Roadshow must have a Firearms Certificate."
Brings back memories, eh, Third Forcers?
Neigh buyer for Billy's bits
UNIONIST RELICS that haven't galloped away at auction are the riding stirrups worn by King William of Orange at the Battle of the Boyne.
These authentic bits of King Billy failed to whip up enough interest at the famous Christie's in London and they had to be put back in the box.
Touted around Ireland back in the 1790s as a recruiting tool by Lieutenant Colonel William Blacker (one of the founders of the Orange Order in Armagh and a participant at the Battle of the Diamond.), the reserve auction price of £40,000 seems like it was a non-runner for the horsey set.
Tribute band hit by unfriendly ire
A UNIONIST BAND taking part in an Orange Order parade in Bangor on the Twelfth wearing British Army combat uniform has come under fire – from the British Army.
Two-dozen members of the Newtownards Melody Flute Band thought dressing up as soldiers (complete with Royal Irish Regiment headgear) would go down well but the British Army instead tore them off a strip.
Declaring that it "takes a dim view on those in society who misuse and abuse military equipment and regalia", the British Army big brass said:
"Such practice is an insult to the men and women who serve with distinction on behalf of all."
War News
THE LEADER of the far-Right Britain First, Paul Golding, is a figure of fun for many but the Saxon warrior showed little fear when he rolled up in the nationalist stronghold of west Belfast after sharing the Orange Order's Twelfth celebrations.
The "lifelong British patriot" and his goons are fond of barging into mosques in England to harass and harangue Muslims peacefully at prayer but in Belfast he was careful not overstep the mark.
That said, he did produce not one but TWO loaded thumbs to declare later on Twitter:
"Showing my contempt for Sinn Fein/IRA at their HQ on the Falls Road, West Belfast! GSTQ NS."
The big kid also stuck his tongue out as he was driven away and returned safely to base.
'So you've got an Irish passport because of Brexit'
THE MASSIVE RISE in the number of people in Britain applying for Irish passports because of Brexit (100,000?) has prompted Mary Bourke to write some helpful tips in England's Guardian newspaper as a guide to what being Irish really means when they rock up here on the Emerald Isle from John Bull's Island.
Mary includes "the precise etiquette of when to take tea" and other valuable suggestions, including this:
Be culturally sensitive
Aldi does a range of spirits that include something called Oliver Cromwell London Dry Gin.
Demand to see the manager and ask why they are selling "genocide gin". They'll probably give you the email address of head office but at least you've made your point. 
Now that you're an Irish passport holder, Cromwell is not a revolutionary hero but a genocidal war criminal.
• Mary Bourke's 'I Want An Irish Passport' runs as part of the Edinburgh Fringe Festival from 4-27 August