1 August 2017 Edition
Another Europe is possible - Treo eile don Eoraip
Funded by the European United Left / Nordic Green Left (GUE/NGL) – Aontas Clé na hEorpa/Na Glasaigh Chlé Nordacha, Crúpa Paliminta – Parlaimimt na h Eorpa
New EU budget must not be 'military slush fund'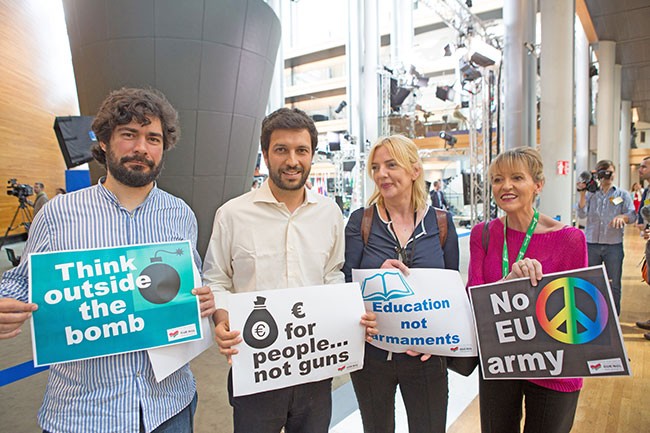 • MEPs protest in the European Parliament against EU militarisation
EU Budget Committee member MEP Liadh Ní Riada has called on the European Parliament to return to its roots by developing a social Europe and to resist the drive to militarising the EU as an adjunct of NATO.
The Ireland South MEP made the comments in Brussels during a debate (14 July) on the Parliament's priorities for the 2018 budget.
Its central priorities should be sustainable economic growth, stable and high quality jobs, socio-economic integration, migration "and our humanitarian duty as well as tackling climate change", she said.
"Social integration is a basic right and in the context of the hardship experienced by many immigrants it is even more crucial that it be addressed and suitable resources provided to enact it in the 2018 budget."
The Ireland South MEP said that, in addition, the people of the EU need specific measures to support the regions, particularly in Ireland, a country that is going to be enormously adversely affected by Brexit. 
"The European Fund for Strategic Investments (EFSI) has failed to fill the investment gap across the EU. The same mistakes cannot be made with its successor," she said.
"We must implement an ambitious public investment plan in the EU that will support strategic and structural investment, providing added value to the economy, the public sector, the environment and society in general."
Liadh added that she and her colleagues will resist any attempts to divert resources towards the militarisation of the EU. 
"We are strongly against any steps towards the creation of a European Army or military co-operation in the style of NATO. 
"The EU and NATO are not and must not be the same," she said.
"It is our duty to ensure the 2018 Budget helps those most in need right across Europe and is not used as a slush fund for big business or the military-industrial complex."
Brexit talks: Citizens' rights must be urgently addressed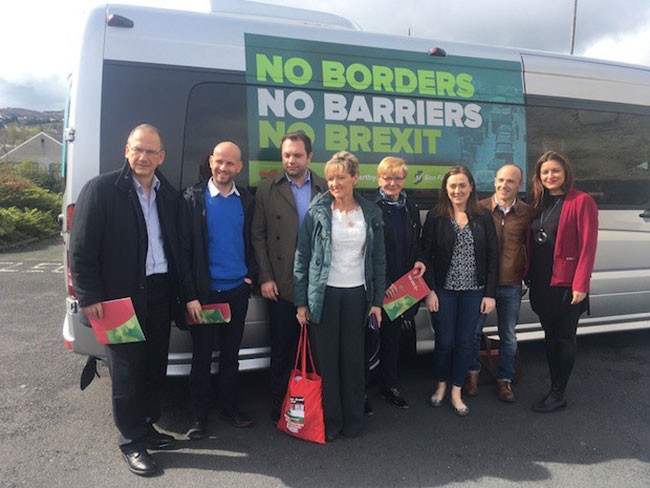 • MEP Gabi Zimmer (fifth from left) with the GUE/NGL Brexit fact-finding visit in Ireland, March 2017
SPEAKING ahead of the substantial negotiations that began on 16 July between the European Commission and the British Tory Government on the Brexit withdrawal process from the EU, GUE/NGL President Gabi Zimmer issued a statement on behalf of the GUE/NGL Brexit working group on citizens' rights and with particular regard to the North of Ireland.
"Brexit affects around 1.2million British people living in other EU member states and over 3million EU nationals living in Britain – not including the 1.8million people in the North of Ireland who are legally entitled to Irish citizenship and, by virtue of that, to EU citizenship. 
"The EU has committed itself to uphold The Good Friday Agreement in all its parts: this includes human rights, constitutional and legal rights, and political rights."
The German MEP recently visited Ireland as part of a fact-finding mission on the potential effects of Brexit.
She noted that up to 30,000 people cross the Border in Ireland every day to work and study, in addition to movements for normal societal, domestic and recreational purposes. Many businesses and farms straddle or have premises on both sides of the Border as well, she pointed out. 
The border in Ireland has been open for the last 20 years and any border in Ireland risks being exploited by the enemies of peace and endangers the peace process, the GUE/NGL President said.
"At a time when the British Government and its allies in the Democratic Unionist Party have prevented the establishment of an Executive in the North of Ireland on exactly this issue of citizens' rights and their failure to respect the Good Friday Agreement, it is essential that the EU urgently pursues this issue of the rights of citizens in the North of Ireland. 
"This would be best achieved through a 'Designated Special Status for the North of Ireland Within the EU'."
EU must act on rise in HIV-AIDS, TB, HepC
• MEP Lynn Boylan
DRUG-RESISTANT diseases are on the rise because of an over-use of antibiotics by humans and animals, MEP Lynn Boylan told the European Parliament in July.
The Dublin MEP made her comments in the European Parliament, which was calling on the European Commission to address the increase in life-threatening diseases such as HIV-AIDS, tuberculosis (TB) and Hepatitis C. 
MEPs say the number of people affected by drug-resistant epidemics is spreading. They're calling for a plan of action to address that increase in deadly diseases.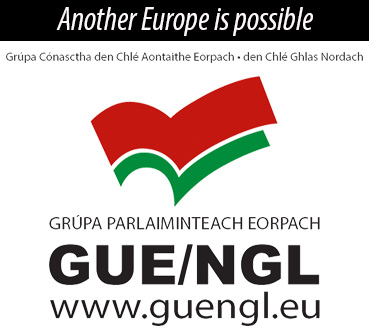 EU multinational tax transparency weakened
MEP Matt Carthy has welcomed the European Parliament's vote in Strasbourg to introduce public country-by-country reporting of turnover, profit and tax information for multinational giants but criticised conservative groups' forcing through a so-called 'safeguard clause' loophole that significantly weakens the proposal.
The Ireland Midlands North West MEP said it was "appalling" that conservatives had sided with multinationals against full public transparency.
Telling the European Parliament debate this, Matt said:
"Public country by country reporting is the single most important action we can take to lift the veil on the profit shifting by multinationals which results in $500billion in tax being lost each year. 
"Tax justice activists and development NGOs have been campaigning for this measure for more than a decade. We need to get it right."
He said that limiting the requirement to companies with a turnover of more than €750million excludes 85% of multinationals. It should apply to all those with a turnover of more than €40million, he said.
Turning to conservative MEPs resisting the moves, he said:
"The only people with anything to fear from tax transparency are tax cheats and their cheerleaders. Why are you helping them?"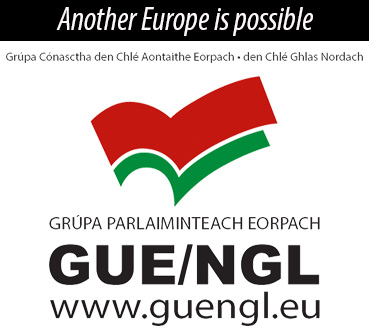 MEP meets BMA over NHS fears after Brexit
HEALTH PROFESSIONALS are concerned about the impact of Brexit on patient care and access to services, Martina Anderson MEP said after meeting representatives of the British Medical Association (18 July).
She said they are very concerned that Brexit would reduce patient access to services and clinicians and that doctors and other health care staff will not be able to move freely or have their qualifications recognised across Europe.
"They want to see increased all-Ireland co-operation on healthcare, not increased barriers or borders."
Separately, Martina said warned that NHS patients in the North may have to wait longer for vital new medicines as a result of Brexit because they would no longer be part of the EU.
All new medicines and drugs set to enter the healthcare system are currently regulated and approved by the European Medicines Agency, which is based in London at the moment.
"There is considerable doubt about what will happen if Britain leaves the European Medicines Agency as a result of Brexit," the Derry-based MEP said.
Young farmers 'being let down by EU' says report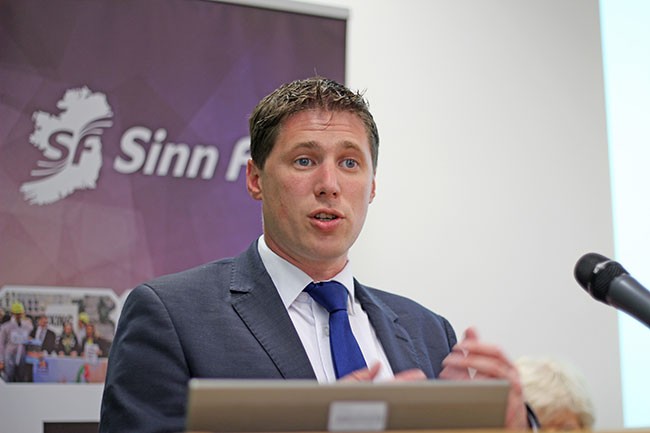 • MEP Matt Carthy
A NEW EU report reinforces the widely-held view that CAP is not delivering for young farmers, said Matt Carthy MEP, who is a member of the European Parliament's Agriculture & Rural Development Committee.
He was responding to the publication of the Court of Auditor's Report on EU support to young farmers.
"Over the next few weeks I will be meeting with farming organisations across Ireland to discuss the best ways to both help young farmers and protect older people who may not be socially or economically secure enough to exit the sector," Matt Carthy said.
Britain's 'Trumpesque' fishing withdrawal 'rash and reckless'
BRITAIN'S decision to withdraw from the London Fisheries Convention has been described by Ireland South MEP Liadh Ní Riada as rash, reckless and "Trumpesque".
The EU Fisheries Committee member said the move is worryingly typical of a British Government careering into a hard Brexit with little purpose or direction.
"This announcement will only serve to harden attitudes in Europe on all sides and if nothing else is wildly premature as quotas and fishing rights will all form part of the Brexit negotiations taking place over the next two years.
"As is becoming the norm, Ireland is once again left as collateral damage in the Tory quest for a hard Brexit. This move will have a damning effect on centuries of Irish and British boats sharing waters, not to mention the problems it will cause for fishermen North and South."