1 August 2017 Edition
Naked sectarianism at bonfire 'hate-fests' must be confronted by unionism, says Gerry Adams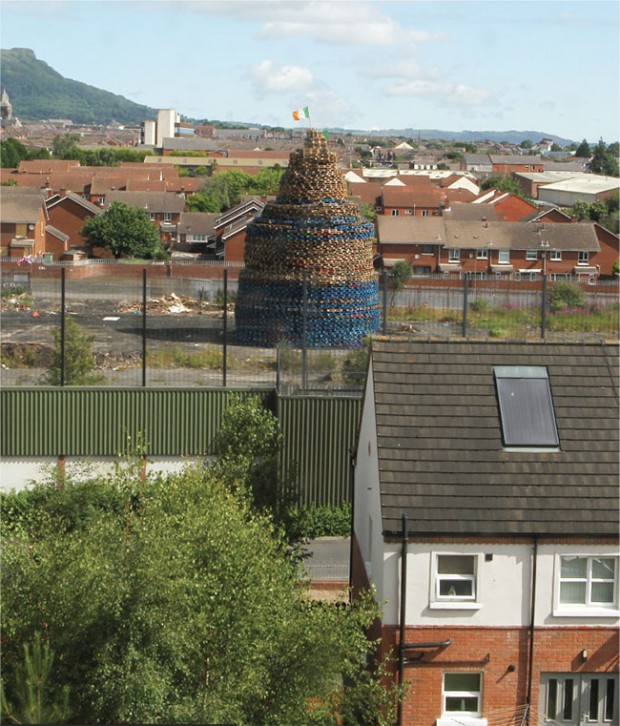 'I am sure the vast majority of unionists, including members of the Orange, are appalled at the aggression and sectarianism around some bonfires' – Gerry Adams
THE "nakedly sectarian strand within Orangeism" exposed during this year's bonfire celebrations of the Battle of the Boyne must be confronted and challenged by the leaderships of the loyal orders, political unionism and civic society, Sinn Féin leader Gerry Adams has said.
The former MP for West Belfast was speaking after an effigy of the late Martin McGuinness was burned on an Eleventh Night bonfire. Other bonfires saw the burning of the images of Sinn Féin, SDLP and Alliance Party candidates along with Irish national flags, GAA banners, and racist and sectarian slogans.
The Orange Order protests that it does not organise or control these bonfires but it does defend them as an expression of unionist culture.
"I am sure the vast majority of unionists, including members of the Orange, are appalled at the aggression and sectarianism around some bonfires," Gerry Adams said.
"They know that there can be no place in our society for sectarianism, bigotry, racism or incitement to hatred."
Unionist leaders, he said, need to clearly and publicly challenge those who are reducing Orange celebrations to a "hate-fest".
Pointing out that there were more than 500 Orange marches held across the North without incident over the Twelfth and there would 2,500 loyal order parades during the year, the Louth TD added:
"Each of these was an opportunity for the loyal orders to express their sense of culture and identity, to fly the Union flag, and to march and play their music. All passed off without incident and peacefully."
The Sinn Féin leader dismissed claims by unionist political leaders and others of a so-called 'cultural war' by republicans against the Orange tradition.
"Orange is one of our national colours," he said.
"Irish republicans accept the right of the loyal orders to parade and to promote their sense of identity. However, this has to be on the basis of respect and tolerance for other opinions and identities."