1 August 2017 Edition
The privatisation of the Irish state's social welfare system
Jobpath exposed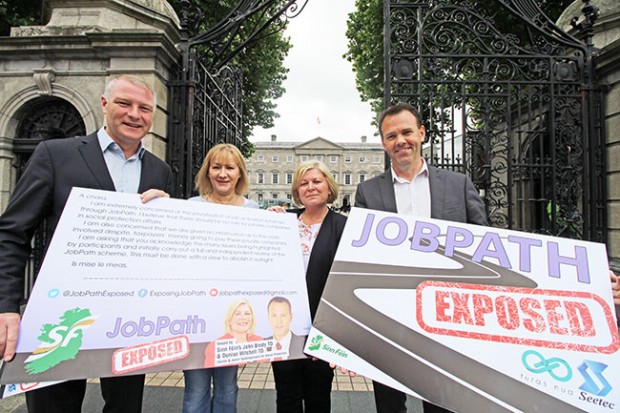 SINCE the winding-down of the discredited JobBridge programme – which saw unemployed people being exploited to work full-time for a paltry €50 on top of their dole – a new 'job activation' scheme has slowly been rolled out across the state.
There hasn't been as much media coverage but the scheme has come in for major criticism from those forced to take part in it, even the staff at the private companies who are tasked with implementing it, and groups in the Community Employment sector.
"It's a crock of shit; it is definitely not randomly selected," 'David' tells me over the phone. He worked for one of the private companies contracted by the Department of Social Protection to deliver their JobPath programme for several months. 
He is contesting claims by the department that long-term unemployed people are selected at random to go onto the job activation scheme.
Instead, he says, the Department of Social Protection's own case workers are picking and choosing who to send on it. He has anecdotal evidence to suggest it is almost being used as a punishment so the department can wash their hands of individuals they do not like dealing with.
"The referrals are the ones that are pissing the case officers off or are a nuisance. It's like putting out the rubbish," he says. 
The JobPath scheme is supposedly only targeted at long-term unemployed. After being piloted in Bray and Longford, it was implemented across the state in mid-2016. The two companies who received the tender are Seetec and Turas Nua.
Both companies receive an initial fee for every jobseeker with whom a "personal progression plan" is prepared. They also receive "job sustainment fees" for the length of time a person who has found a job via JobPath stays in that position. These fees are paid at 13, 26, 39 and 52 weeks. Attempts to find out what these fees are have hit a brick wall as the department cites "commercial sensitivity" and refuses to answer the question. 
Our contact 'David' says he believes the initial fee is worth approximately €300 per person and that staff were essentially told to not let anybody out of the building without signing that contract. Once this contract is signed, jobseekers are locked into JobPath for 12 months. They cannot transfer to Community Employment or other training schemes.
The process
After their first group meeting, at which the contract is signed, jobseekers then meet with their personal adviser where they are subjected to a 90-question profile known as "The Catalyst".
"Some of these questions are highly personal, and shouldn't be asked," says David. "They deal with things like mental state, financial situation and general health. If a Garda asked me I wouldn't answer them. 
"From those, they derive a chart that is supposed to tell the person in what areas they are lacking – this could be in confidence or even their appearance. After this meeting, however, this chart is put away and may never be seriously referred to again."
There are concerns about the retention of personal data from such forms and also the transfer of personal data between the Department of Social Protection and private companies running the scheme.
From here on out, the jobseekers receive little training or support. Many jobseekers explained how they may have been required to travel for upwards of 90 minutes to their local office only to sit in front of a computer sending out CVs for an hour. 
David explained that the huge pressure local office staff are under to meet 'targets' (upwards of 100 clients a week) means they have no ability to dedicate adequate support or training to individual jobseekers.
One of the easiest ways to "get your numbers up" is to invite all your clients in on a certain afternoon and have them sit at the computer bank firing off CVs. If the client has no experience in using computers or limited literacy skills, well that's just tough – the staff don't have time to engage.
The Department of Social Protection's focus on hitting targets and getting people into a job, no matter what type it is, means that the best interests of jobseekers are not at the heart of the scheme. Part-time or substitute teachers find themselves being pressured to take jobs in the services industry; tradespeople are in a similar boat. The entire focus seems to be pushing people into employment whatever their skills-set.
Jobseekers who miss meetings are often warned about cuts in their dole. 
Many jobseekers have expressed frustration that JobPath does not take into account that some of those on the course are working part-time and find themselves unable to attend meetings due to work commitments. In one case a man explained how he was threatened with having his benefits cut because he failed to make a meeting – he was with his wife as she gave birth to their child.
In a response to Denise Mitchell TD in July, Social Protection Minister Regina Doherty said there were "approximately 22,000 cases of customer non-engagement" in the JobPath scheme out of a total of 105,000. ("Non-engagement" includes those people who often cannot make meetings due to legitimate reasons.)
Of these a "reduced payment rate has only been applied in approximately 5,000 cases". 'David' explains that there is no set criteria for staff on how to deal with non-engagement cases.
The Department of Social Protection is quick to point to its own surveys which claim satisfaction levels of 81% as opposed to dissatisfaction levels of a mere 8%. However, many claim that the fear of benefit cuts means a reluctance to openly criticise the scheme.
Even jobseekers who find employment on their own initiative aren't free of JobPath. They explain how they were hounded for months afterwards by former personal advisers (themselves under pressure) looking for details of the employment they had gained themselves. Companies can claim "employment sustainment fees" from the department for the next year.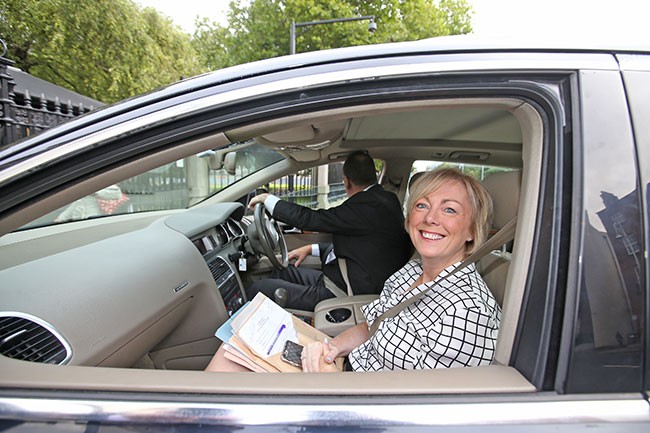 •  New Social Protection Minister Regina Doherty is all smiles as she's driven to her job interviews
Jobpath exposed
Sinn Féin TDs John Brady and Denise Mitchell have been leading the charge against the scheme. 
In July, they launched the "JobPath Exposed" campaign which aims to highlight the deficiencies in JobPath and is calling for a full review of the scheme with an aim to ultimately end it.
"Over 105,000 jobseekers have been referred onto JobPath so far," John Brady tells An Phoblacht. "We've been overwhelmed by damning stories from participants on JobPath as to how they have been treated on these schemes. We want the Minister for Social Protection to initiate an immediate review of the scheme with the view to abolishing it outright. 
"It's a disgraceful privatisation of the job activation area."
Denise Mitchell adds:
"It's not just about the unemployed people on these schemes either. The people who are actually working in the companies who are delivering these schemes have contacted us to say how they feel jobseekers are being insulted by the standard of support they are receiving. 
"The people who are employed to help others get a job are questioning their own training to deliver the scheme – that should raise serious concerns."
'David' agrees.
He describes the initial four days of training for staff as "an absolute joke", adding that most staff only stay for a few months:
He also criticises the lack of knowledge amongst Department of Social Protection staff as to how the JobPath scheme operates. Individuals over the age of 62 are being referred despite the fact that people of that age are exempt from job-activation schemes. In other cases, teachers are being referred to the scheme during summer holidays despite the scheme supposedly only catering to the long-term unemployed.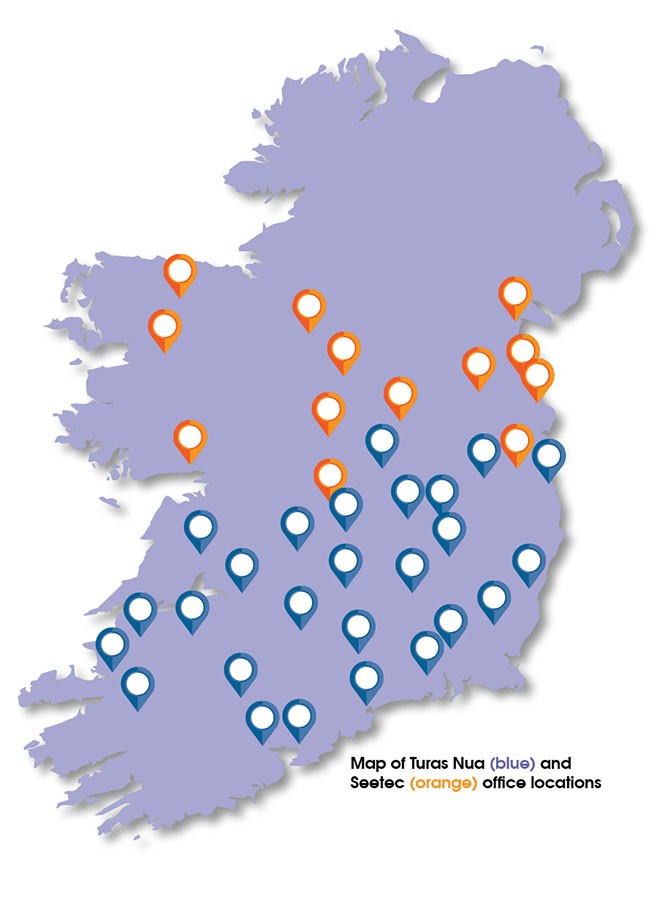 Knock-on effects
JobPath is not just a source of frustration for jobseekers and staff in the companies tasked with delivering it. The Community Employment sector is finding its referrals dwindling.
Eoghan Brunkard of the Campaign for Community Employment Reform says JobPath represents a "huge threat" to the viability of Community Employment (CE) schemes.
"The companies' profit is derived from outcomes. Therefore, for the company to achieve the most profit from a client, it is obviously in their interest to source employment of any kind. 
"The participant becomes a product that must be sold. This mechanism creates an immediate disconnect between the participant's best interests and that of the company," he says.
"By contrast, Community Employment Schemes – which are not-for-profit by nature – source specific training to the needs of the participant. 
"CE recognises the problems in confidence, ability and experience that long-term unemployed people face. Onsite supervisors provide support for people who are becoming adjusted to the labour force. CE schemes bring long-term unemployed back into the culture of work while providing a public good, such as community crèches, sports clubs and youth projects."
The outlook for many such projects is bleak. 
With unemployment rates dropping, it seems more and more jobseekers are being forced into JobPath so as to keep it profitable for the companies involved. In turn, referrals to CE schemes are drying up.
Summing up the situation, 'David' says:
"JobPath could have been the answer to our long-term unemployment problem. However, I have yet to come across a private company who were in it solely for the good of the service user.