1 August 2017 Edition
What celebration should be about
Féile an Phobail | Festival of the People – Ireland's Biggest Community Festival (1 - 13 August)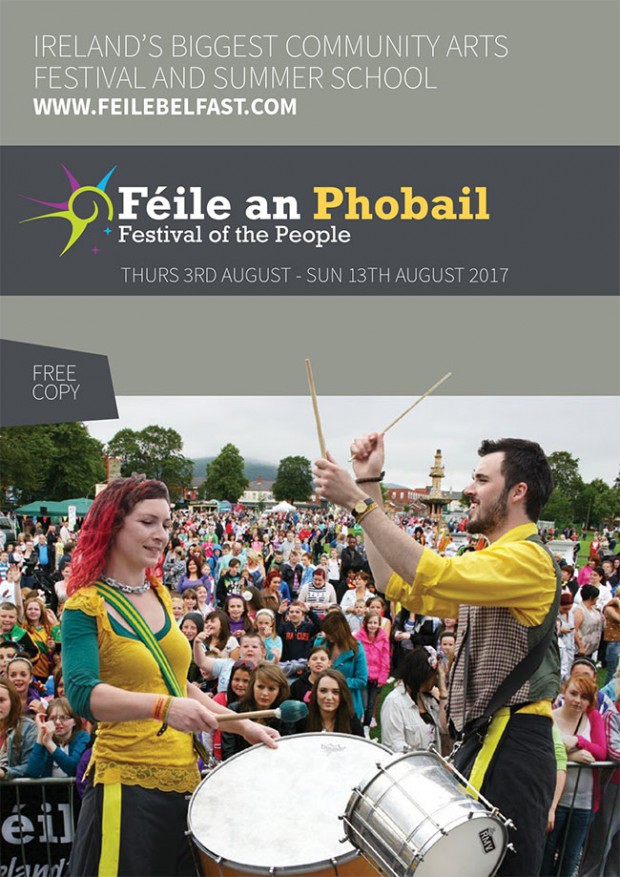 Féile's carnival parade routinely brings thousands of participants onto the streets and many more into its family and kids' events as well as the comedy, arts, music and debates
FOR thousands of people in the North, August means Féile an Phobail and a celebration of what is good, positive and welcoming in west Belfast – "The heart of modern Belfast, where our communities are increasingly multilingual and multicultural," says Féile Director Kevin Gamble.
As the tensions of the unionist Twelfth of July dissipate along with the echoes of the drums of the 'Kick the Pope' bands strutting their stuff on the Orange Order parades fade away for a while with the smoke of the Eleventh Night bonfires, the mood across Belfast lifts noticeably.
The city landscape takes on a different complexion.
The burning effigies are replaced by the influx of visitors who travel from all corners of the world for the street carnival, the music, the debates and the fun and craic associated with the biggest community festival in Ireland and probably in Western Europe. 
In the aftermath of the killings of three mourners at the funerals of three IRA Volunteers killed in Gibraltar in 1988 and the deaths of two British soldiers during the subsequent funerals, there was a media campaign of vilification of the people of west Belfast. Sinn Féin leader Gerry Adams, working with community groups and stakeholders, set out to develop a programme of events that would challenge the stereotypical portrayal of west Belfast in the Establishment media.
Féile an Phobail was born out of that adversity.

Its purpose was to celebrate the positive side of the community, its creativity, its energy, its passion for the arts, and for sport. It furthermore aimed to provide events and entertainment at a price that the majority of the community could afford. 
In August 1988, the first Féile opened with a relatively humble parade of floats, bands and GAA clubs walking in their club regalia to an open-air party in Dunville Park. Street parties were organised throughout west Belfast. Door-to-door collections were made to fund day trips to the seaside for pensioners and outings for young people. 
Soon the street confrontations associated with the week around the anti-internment anniversary of 9 August were displaced by a positive display of the community and its creativity. 
The August Féile has proved a resounding success, growing from strength to strength and inspiring other troubled areas to organise similar festivals. 
Féile's carnival parade routinely brings thousands of participants for a colourful, musical procession with specially-designed floats representing a chosen theme, dancers and children in costume and face masks. 
Féile an Phobail has grown from a one-week festival to being the largest community arts festival in Ireland with a year-round programme of events including its flagship festival, the August Féile.
Full Féile programme can be downloaded from feilebelfast.com