1 August 2017 Edition
Joe McDonnell, Fian John Dempsey and Nora McCabe remembered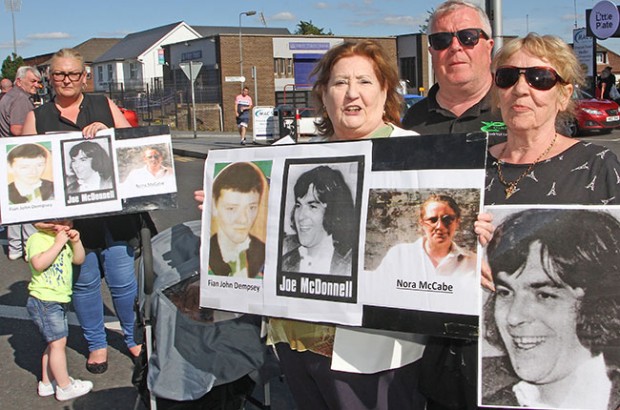 AS REPUBLICANS gathered in Belfast on Saturday 8 July to mark the 36th anniversary of the hunger strike of IRA Volunteer Joe McDonnell, it was fitting that they also paid tribute to two other Belfast people,  Fian John Dempsey and Nora McCabe
Fian John Dempsey was cut down by British soldiers within hours of the death on hunger strike of Joe McDonnell.
The young Fian and two comrades were on active service when they come under fire from troops at the Falls Road bus depot in Belfast. He died later in the Royal Victoria Hospital.
Hours later, and also on the Falls Road, in one of the most controversial incidents involving the use of plastic bullets, 30-year-old mother of three Nora McCabe was shot dead by the Royal Ulster Constabulary.
The order to fire the weapon came directly from RUC Chief Superintendent Jimmy Crutchley.
Secret state papers from 1985 made public in 2014 reveal that the high-ranking RUC officer gave the order to fire on Nora McCabe returning from the shops.
This information was in a report given to then British Secretary of State Douglas Hurd in 1984.
These revelations help to expose the litany of attempts by the authorities in the North to cover up the killing of the mother of three.
Speaking to An Phoblacht at the Joe McDonnell white-line picket, Robert McClenaghan, who campaigns on behalf of people killed by state forces during the conflict, said:
"We shouldn't forget that 1981 was a year in which the Thatcher Government and the unionist regime in the North did everything they could to break the nationalist community and a lot of people paid with their lives, including Fian John Dempsey and Nora McCabe, whose family are still fighting for justice."