1 August 2017 Edition
Sinn Féin Bill to outlaw tactical insolvencies gets green light
Over the last few years we have seen case after case of workers made redundant frozen out of their entitlements
THE Dáil has agreed to allow to proceed to committee a Sinn Féin Bill I have tabled that will make tactical insolvencies a fraud on employees and therefore illegal.
Over the last few years we have seen case after case of workers frozen out of their entitlements, the most high-profile example being that of the iconic Clerys department store opposite the GPO in Dublin's O'Connell Street. 
On 12 June 2015, its 130-strong workforce was sacked without notice; another 330 workers employed by the store's concession outlets were locked out of their jobs and left facing an equally uncertain future. 
Clerys was bought by Natrium some time between midnight and 1:15am on that day and was declared insolvent that afternoon. 
The workers did not receive the statutory redundancy lump sum from the new owners and nor were they paid monies owed in lieu of redundancy and holiday pay. 
In fact, many of them only found out that their jobs had gone through social media rather than hearing it first from the company. 
The state was obliged to pay those debts under the insolvency payment scheme. A company that made tens of millions of euro was away on its toes and the workers and the state were left high and dry.
In the wake of the Clerys closure, a report was written and my Dáil Bill will give legislative support to the main recommendations of that report.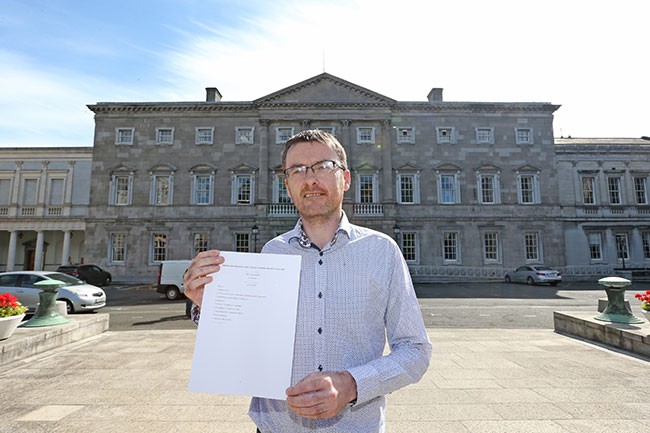 • David Cullinane TD with his Protection of Employeess (Collective Redundancies) Bill
The majority of employers in the state act responsibly and were as horrified as everyone else were when they heard of the tactical insolvency that took place in Clerys. 
That makes it all the more urgent for action to be taken. 
Not only did the workers suffer but taxpayers were affected because they had to pick up the tab, as do companies when situations such as this one emerge.
The Sinn Féin Bill will provide protection for employees in collective redundancy cases where the employer is insolvent. It will give powers to the High Court to return assets which have been improperly transferred and give preferential status to employees. 
Tactical insolvencies are effectively fraud and amount to theft – the theft of workers' pay and pensions, the theft of goods and services from other companies, and the theft of revenue from the state. 
At present, all of this is perfectly legal even though everyone knows it is wrong. Consequently, there is a responsibility on politicians as legislators to fix this problem. 
I have endeavoured to do so and hopefully we can get the Bill across the finishing line after the Dáil summer recess and before we are faced with another Clerys, Vita Cortex, La Senza or Lagan Brick scandal.