26 July 2017
South Belfast DUP leaders refuse comment on controversial UDA memorial parade

Joe Bratty and Raymond Elder are associated with the sectarian murder of five Catholics and the wounding of seven others at the Seán Graham Bookmaker's in 1992 as well as numerous other UDA attacks
LOCAL DUP LEADERS are failing to speak out on controversial unionist displays for the second time this month when asked about a memorial band parade in south Belfast this Friday for two senior UDA men who led sectarian death squads.
A dozen bands are expected to take part in the parade on Friday evening from 7pm.
DUP South Belfast MP Emma Little-Pengelly and DUP Assembly member Christopher Stalford have declined media requests for comment on the event to commemorate UDA gunmen Joe Bratty and Raymond Elder that has been held since 2014.
The pair are associated with the sectarian murder of five Catholics and the serious wounding of seven others at the Seán Graham Bookmaker's shop on the Ormeau Road in 1992 as well as numerous other UDA attacks.
The DUP's Emma Little-Pengelly and Christopher Stalford have faced criticism over their questionable responses to unionist bonfires bearing sectarian and racist messages and the flying of UVF/UDA flags in mixed residential areas.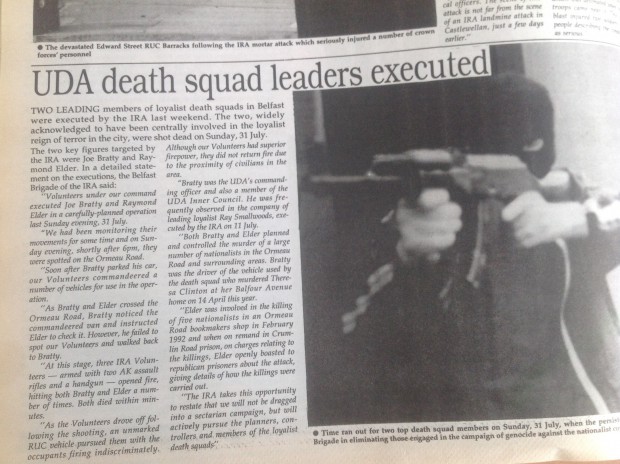 IN a statement published in An Phoblacht on 4 August 1994 (see above), the IRA described Joe Bratty and Raymond Elder as "leading members of loyalist death squads widely acknowledged to have been centrally involved in the loyalist reign of terror" in Belfast City.
The IRA said Bratty was "the UDA's commanding officer and also a member of the UDA's Inner Council".
While Elder was on remand in Crumlin Road Prison, the IRA said, he had "openly boasted to republican prisoners about the [Seán Graham bookies] attack, giving details of how the killings were carried out".