11 July 2017
'Cultural traditions' or pyres of prejudice?
Few will forget the image of then Stormont Minister for Communities Paul Givan of the DUP smiling and posing for pictures while actually lighting a bonfire in 2016
NO ONE can have escaped the naked sectarianism that accompanies Eleventh Night bonfires across the North down the years. And this year is no different.
Pictures of towering bonfires, bedecked with Tricolours, stolen election posters, effigies and religious items – and anything else perceived as representing Irish identity or culture ­– have circulated widely on social media.
Even the mainstream media can't ignore the blatant sectarianism of these intended infernos.
These bonfires are rightly condemned annually by many in the community – including by people within the unionist community.
Sadly, there is an ambivalence towards such blatant sectarianism among some in positions of responsibility and influence within political unionism, including elected representatives.
Few will forget the image below of then Stormont Minister for Communities Paul Givan of the DUP smiling and posing for pictures while actually lighting a bonfire in 2016.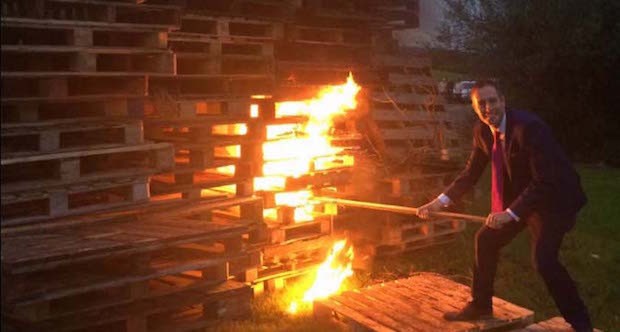 Many within unionism are quick to defend these bonfires by describing them as traditional or cultural.
It's hard to see how the burning pyres of pallets, tyres, flags, and stolen election posters is cultural; or the endangerment of life or the destruction of property.
Regrettably, it is traditional only in that it has happened repeatedly in the past.
For some, repetition of an event seems enough to qualify as a tradition, with all the quaint and historical associations of the word.
This ignores the huge social, environmental and health problems associated with bonfires as well as the cost of repairs to be picked up by local ratepayers.
While bonfires are not unique to the unionist community in the North, they have come to be associated with unionism and loyalism in the same manner as flags and painted kerbstones.
Will we hear unionist political leaders unequivocally speak out on these pyres of prejudice or will they again this year turn a blind eye while the Orange Order wash their hands of the unsavoury race hate linked to their hallowed 'cultural traditions'?
An Phoblacht Magazine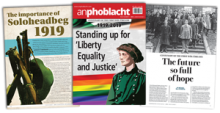 AN PHOBLACHT MAGAZINE:
Don't miss your chance to get the first edition of 2019 published to coincide with the 100th anniversary of An Céad Dáíl and Soloheadbeg.
In this edition Gerry Adams sets out the case for active abstentionism, Mícheál Mac Donncha takes us back to January 21st 1919, that fateful day after which here was no going back and Aengus Ó Snodaigh gives an account of the IRA attack carried out on the same day of the First Dáil, something that was to have a profound effect on the course of Irish history.
There are also articles about the aftermath of the 8th amendment campaign, the Rise of the Right and the civil rights movement.
An Phoblacht on Twitter
An initiative for dialogue 
for reconciliation 
— — — — — — —
Contributions from key figures in the churches, academia and wider civic society as well as senior republican figures