29 June 2017
July issue of 'An Phoblacht' in shops now – or subscribe online for just €10 for 12 issues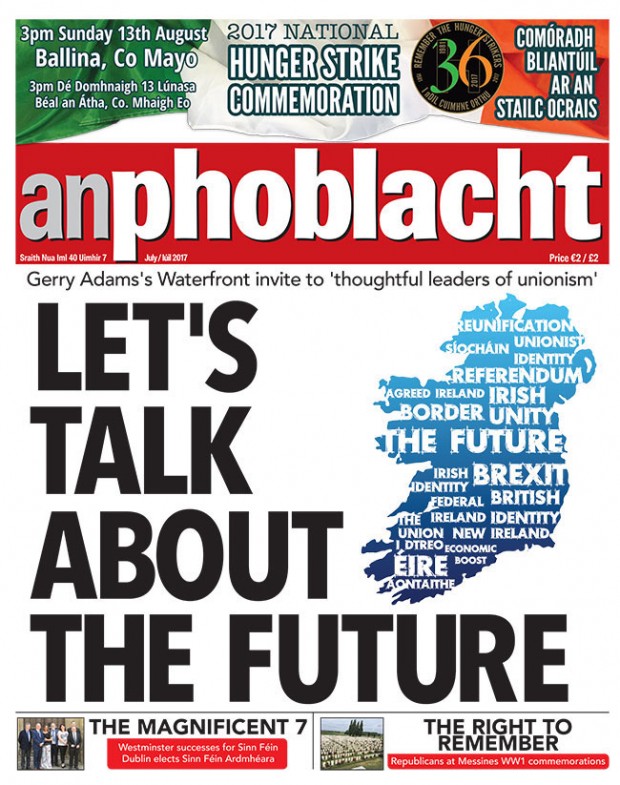 Gerry Adams's Waterfront speech appeals to 'thoughtful leaders of unionism'
Some of what's in the July issue of An Phoblacht . . .
EDITORIAL: The talks at Stormont – Sinn Féin is engaged and working for an agreement

'New approach' needed to convince unionists about a united Ireland – Gerry Adams's Waterfront address invites Orange Order to talks, appeals to 'thoughtful leaders of unionism'

Theresa May finds 'magic money tree' to buy DUP support for Conservatives: DUP/Tory deal – 'A blank cheque for a Tory Brexit that threatens the Good Friday Agreement'

The Magnificent Seven in Westminster – Sinn Féin's new MPs attract global attention as Tory election gamble backfires

'We live in interesting times' – Peadar Whelan spends time behind the scenes at the Westminster election counts

Shine is wearing off 'New Iron Lady' Theresa May

SDLP flounders in Sinn Féin tide

Uafás na Palaistíne ar Scáileán

Prison struggle was about the Republic declared in Easter Week 1916 – Caoimhghín Ó Caoláin TD, Director of Elections for H-Blocks Hunger Striker Kieran Doherty TD in 1981, ahead of the National Hunger Strike Commemoration in County Mayo

Tamil exiles visit Belfast and Derry to tell of the genocide by Sri Lanka highlighted by Channel 4

Bodenstown Wolfe Tone Commemoration – 'Advancing towards Irish unity in the United Irish tradition' (Sinn Féin National Chair Declan Kearney)

Marco Vernon came to Ireland from Brazil 17 years ago to publicise the plight of the Amazon's Guarani-Kaiowá people then was murdered by a rancher's hirelings when he went home – his son returned this year to meet Sinn Féin

Erin's Hope – Aengus Ó Snoadigh writes on the 150th anniversary of the US gun-running ship

Not on the Nine O'Clock News – Seán Mac Brádaigh casts his eye over RTÉ, the elections and Brendan Howlin's Labour Party cashing in on Jeremy Corbyn's popularity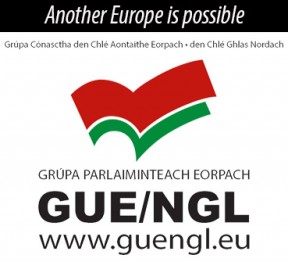 An Phoblacht on Twitter
Premium Online Service For Only €10 Per Year
For less than €1 a month, you get An Phoblacht's Premium Online Service. Sign up today!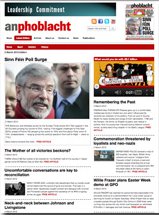 PREMIUM SERVICE:
Full access to all An Phoblacht articles
Interactive online PDF Booklet of each edition
Access to our historic Archives
Discounts for the Online Sinn Féin Shop
An initiative for dialogue 
for reconciliation 
— — — — — — —
Contributions from key figures in the churches, academia and wider civic society as well as senior republican figures