24 June 2017
200 rally against loyalist flags in south Belfast and DUP inaction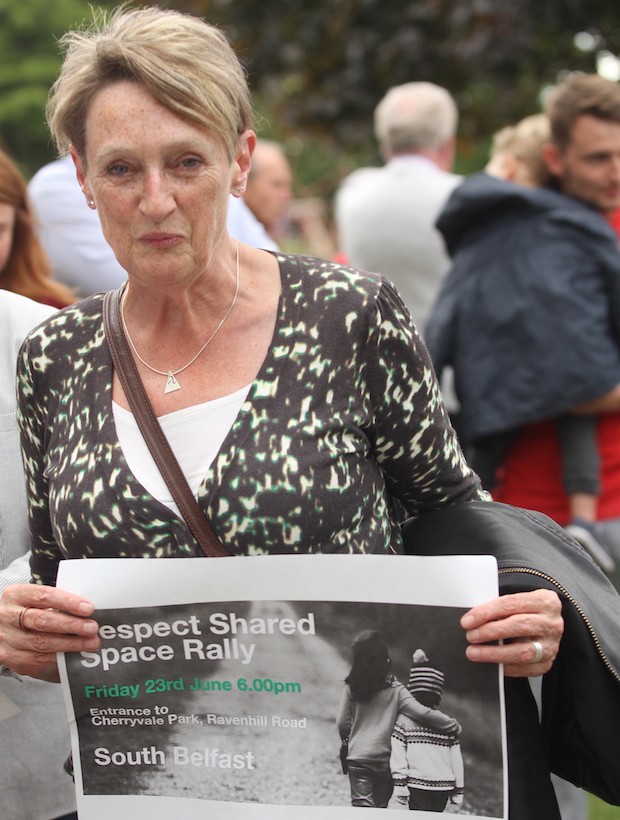 'Where were the PSNI when these UVF flags were being erected and residents intimidated?'
MORE THAN 200 residents, angry at the display of loyalist flags in south Belfast, turned out on Friday evening for a rally on the Ravenhill Road calling for their removal.
Local resident Dominica McGowan said the protest wasn't a "political" rally but rather "an organic response to frustration, fear and lack of action".
Residents of the area are particularly annoyed at the inaction of the newly elected DUP MP, Emma Little-Pengelly.
Her 'let it be' attitude is seen as support for the unionist gangs who invaded the Ormeau Road on Tuesday 20 June to hang flags from lamp-posts along the busy thoroughfare.
This included her refusal to act over the flying of Union flags and Ulster Volunteer Force flags in the mixed Global Crescent and Cantrell Close housing developments ­– part of the "Together Building United Communities" programme!
The DUP MP told the media there was "no widespread demand for the removal of flags".
It was clear from Friday night's rally, though, that people are angry and want the UVF flags – "aimed at claiming territory" as one resident put it to An Phoblacht – removed.
The same resident expressed her anger that a PSNI Land Rover sat across the road from where the rally was taking place: "Where were the PSNI when these flags were being erected and residents intimidated?"
● Dominica McGowan addresses the rally as a PSNI patrol sit across the road (right, background)
This was referring to when Dominica McGowan challenged the loyalists putting up UVF flags only to be told: "We've been doing this for 30 years and we'll keep doing it." Then they took mobile phone footage of her and her car.
Among those at the rally were Sinn Féin representatives Máirtín Ó Muilleoir, Geraldine Holland, Deirdre Hargey and Ryan Carlin with Claire Bailey of the Green Party and the SDLP.