21 June 2017
UVF flags erected in cross-community housing scheme brushed off by new DUP MP
'The DUP MP should use her influence with those responsible to demand they be removed' ­– Sinn Féin MLA Máirtín Ó Muilleoir
DUP MP Emma Little-Pengelly has tried to brush off the erection of Union and loyalist flags on the Upper Ormeau Road in south Belfast by supporters of the unionist paramilitary Ulster Volunteer Force even though it is a mixed unionist/nationalist area.
One resident who challenged several men putting up the flags was bluntly told: "We've been doing this for 30 years." They then camera phone pictures of the woman's car in a blatant act of intimidation.
When the woman phoned the PSNI, the police said they were 'working with Belfast City Council' on the issue.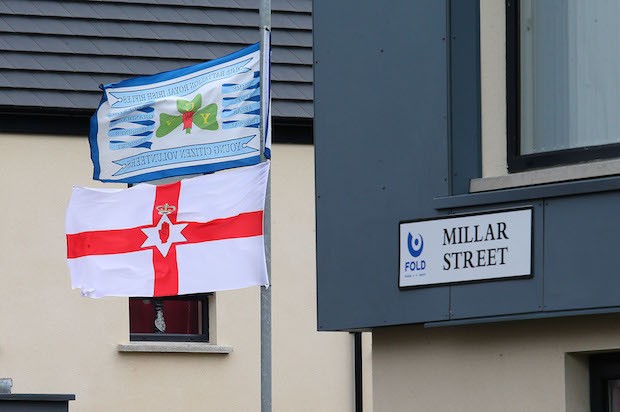 Local Sinn Féin MLA Máirtín Ó Muilleoir – who is meeting the PSNI on Friday about the flags – called on Emma Little-Pengelly MP to call  for the flags to be removed.
"This is a mixed and diverse area," the Sinn Féin MLA said. "These flags are not wanted.
"They serve only to heighten tension and widen divisions. The DUP MP should use her influence with those responsible to demand they be removed."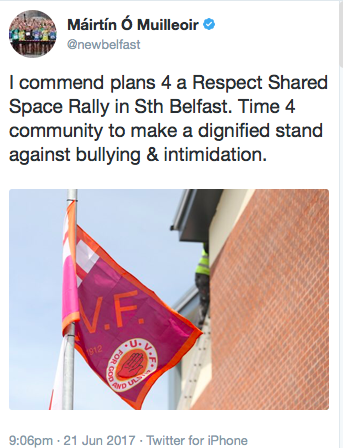 The flying of Union flags and Ulster Volunteer Force flags in the mixed Global Crescent and Cantrell Close housing developments – part of the Together Building United Communities programme – left the DUP MP seemingly unconcerned.
The DUP MP said there was "no widespread demand for the removal of flags" in a comment that clearly misses the point that residents are afraid to speak out in case they are targeted.