16 June 2017
'National Homeless Demonstration' in Dublin on Saturday as new Taoiseach Varadkar moves Housing Minister
'While 180,000 dwellings sit empty, this government's attempts at addressing homelessness have led to record high figures and we feel enough is enough'
THIS SATURDAY (17 June), Inner City Helping Homeless says it will attempt to shine a light on the homeless and housing crisis as it holds a National Homeless Demonstration from the Department of Housing on Custom House Quay to the Dáil.
On Wednesday, new Taoiseach Leo Varadkar's Cabinet reshuffle saw Housing Minister Simon Coveney and replaced by Eoghan Murphy just 12 months into a six-year Housing Action Plan. 
Sinn Féin Housing spokesperson Eoin Ó Broin (pictured below) said this means that Leo Varadkar is not taking the housing crisis seriously. "Minister Coveney's move to Foreign Affairs is a slap in the face to the homeless families he vowed to help," Eoin Ó Broin said.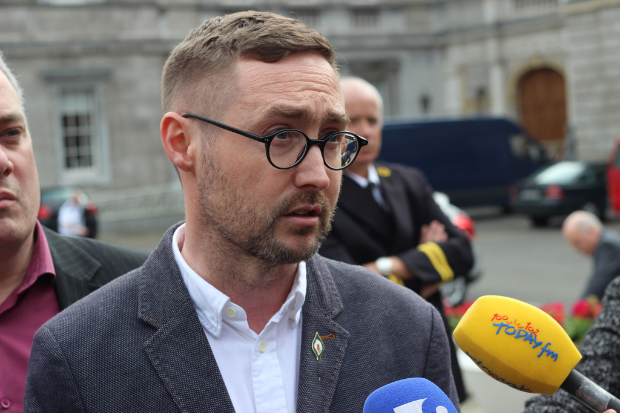 The ICHH organisers of Saturday's demonstration say:
"With the housing and homelessness crisis fast becoming a humanitarian issue, ICHH is calling on supporters to join us in walking in solidarity with the 7,680 homeless people (as of April's figures, still no figures released for May).
"With 2,708 children currently living in emergency accommodation we have to stand together for our future generations, some of whom go to school not certain where they will sleep that night."
ICHH says that the Government is attempting to reclassify these families by moving them into family "hubs".
One such hub was bought for over €2million, another is a former B&B, one is over a pub, and yet another is a former Bargaintown furniture showroom in an industrial estate.
"This isn't money being spent to fix the homeless problem," ICHH says, "it's pouring money down a black hole.
"We need more social housing, we need affordable rents and we need children to have proper homes to live in.
"While 180,000 dwellings sit empty, this government's attempts at addressing homelessness have led to record high figures and we feel enough is enough."
ICHH is asking that anyone in emergency accommodation, sleeping rough or currently within the homeless system to come out on the day and support the demonstration as well as everyone concerned by the ongoing crisis in housing.
Speakers at the Dáil will include representatives from Inner City Helping Homeless, Irish Housing Network, Dublin Tenants' Association as well as homeless campaigner Erica Fleming and Cheryl Barnewell , who is currently homeless.
◼︎ ICHH is asking that people support the demonstration on social media by using the hashtag #HomelessDemonstration and we also have a campaign around the hashtag #HomesNotHubs.