14 June 2017
'Sun' stitch-up – story that Sinn Féin MPs could take seats in Westminster 'rubbish', says Pearse Doherty

'I just want to check if you know this piece is total BS or are you completely clueless?'
A STORY by the Sun suggesting Sinn Féin's seven MPs might renege on their election pledge to voters and take their seats in Westminster has been contemptuously dismissed by Pearse Doherty TD as "rubbish".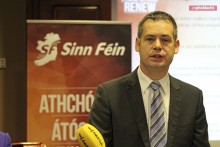 Pearse (pictured) was in London on Tuesday with the seven Sinn Féin MPs elected last Friday. They had invited a number of parties to meet them, including Labour, over two days. They also met Tory Secretary of State James Brokenshire.
Detailed briefings were held for the British and wider world media on the party's policies and its historic, principled reasons for not sitting in the House of Commons.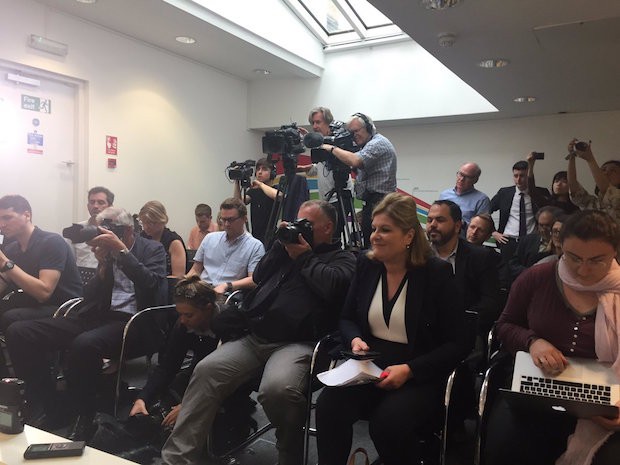 ● One of the press briefings in London
The Sun was present at the briefings but Political Correspondent Matt Dathan nevertheless ran a story on Wednesday under the sub-headline: "There is speculation that Sinn Féin and Labour could unite to keep the Tories out of power".
It was under the main headline: "SEVEN DEADLY SINNS – Labour set for talks with Sinn Féin's seven MPs amidst fears of a stitch-up deal".
It continued:
"The nationalist party's seven MPs are in London for two days of talks with parties – but they refused to say what they would discuss with Labour.
"The Tories fear Sinn Féin could bring down Theresa May's government by taking their seats in the UK Parliament for the first time and voting against her Queen's Speech next week.
"The PM's wafer-thin majority would be reduced to just four seats – which would take just two rebel Tory MPs to topple the government."
(Why two Tory MPs would defect to Labour to bring down their own party and end their political careers with a reinvigorated Labour Party under Jeremy Corbyn with a new-found public respect and itching for a general election wasn't explained.)
The Sun continued:
"And Sinn Féin triggered further speculation it could help Mr Corbyn into No10 by refusing to rule out backing a Labour Queen's Speech if they were offered a referendum on unifying Ireland."
The Sun fantasised that Paul Maskey MP's restatement of Sinn Féin's longstanding practice of MPs working in London "every week" was "a further hint that Sinn Féin could take their seats to prop up a Corbyn government".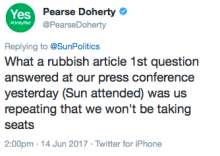 Exasperated (but hardly surprised) at the shoddy journalism, Pearse Doherty TD tweeted in response to the Sun:
"What a rubbish article. 1st question answered at our press conference yesterday (Sun attended) was us repeating that we won't be taking seats."
One of many respondents to the article tweeted:
"I just want to check if you know this piece is total BS or are you completely clueless?"
The article was still on the Sun website late on Wednesday.