9 June 2017
McCallion first in Foyle – 'The SDLP citadel has fallen'
She dedicated her victory to the late Martin McGuinness – 'Martin, we did this for you'
SINN FÉIN scored a historic win in Derry with Elisha McCallion being elected as the first republican MP to represent the city since 1918.
The 35-year-old's victory bring to an end decades of SDLP dominance in Westminster elections in the city.
It was of such seismic political proportions that UTV Deputy Political Editor Tracey Magee tweeted as the stunning news was materialising:
"Sinn Féin's Elisha McCallion takes Foyle from Mark Durkan. Stunning result. The SDLP citadel has fallen."
The city is now firmly in republican hand with Sinn Féin overtaking the SDLP to become the largest party in Derry at the recent Assembly elections and now taking the coveted MP seat.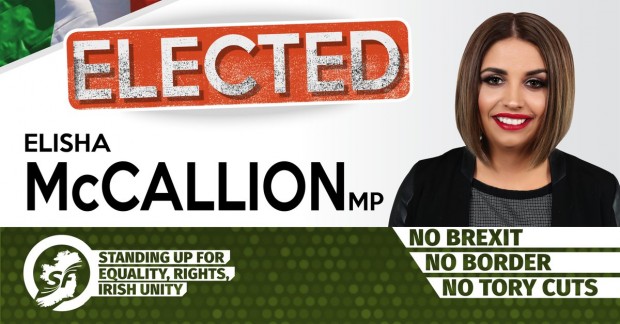 Elisha McCallion won the seat after polling 18,256 votes, 169 ahead of the SDLP's outgoing MP, Mark Durkan.
Following a recount, Elisha was declared the winner and her election was greeted with rapturous cheers from republicans who had gathered at the Foyle area to celebrate the historic victory.
It is not the first time the new MP and former Mayor of Derry has had cause to celebrate at the venue. Earlier this year, it was the scene of her topping the poll in the most recent Assembly elections.
The Sinn Féin leader in the North, Michelle O'Neill, was on hand to celebrate with the city's new MP at the count centre. 
Michelle then travelled on to the count centre in Omagh, where both Barry McElduff and Michelle Gildernew were elected for West Tyrone and Fermanagh & South Tyrone respectively, joining Sinn Féin's increased crop of MPs including Mickey Brady (Newry & Armagh), Paul Maskey (West Belfast), Francie Molloy (Mid Ulster) and Chris Hazzard taking another SDLP leader's seat in South Down.
In her victory speech, the new Foyle MP thanked all those who had supported her. She dedicated her victory to the late Martin McGuinness ("Martin, we did this for you") and added that he would continue to be an inspiration in everything she does.
Bernie McGuinness, widow of the late Martin, was among the first to congratulate Elisha McCallion on her success.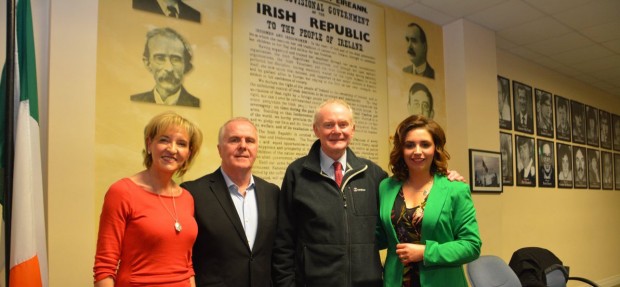 ● Martina Anderson, Raymond McCartney and Elisha with the late Martin McGuinness in Derry